---
Gannett, MediaNews Form Texas/New Mexico Partnership
Following a very successful three-year partnership in California, Gannett and MediaNews Group formed another partnership with their Texas and New Mexico newspaper operations.
Unlike the California partnership, however, which includes Stephens Media Group and is controlled and managed by MediaNews Group, the Texas/New Mexico partnership will be operated and controlled by Gannett. Gannett will own 66% and MediaNews Group the remaining 34%.
The new partnership will include Gannett's daily in El Paso and MediaNews Group's five dailies and two non-dailies in New Mexico.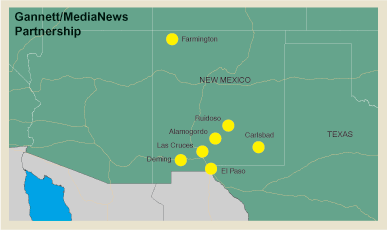 Dean Singleton, vice chairman and CEO of MediaNews Group, said, "As we looked at the growth pattern in and around our markets in southern New Mexico and Gannett's El Paso market, it was clear to us that these newspapers will work well together."
Gary Watson, president of Gannett's Newspaper Division, indicated he felt the partnership represented the best use of Gannett's assets in the region and that this partnership had great promise.
Large Area
The partnership's newspapers cover a 10-county area with 386,000 households. The combined paid weekday circulation of the newspapers is just under 140,000. The combined retail sales in these counties is just over $12 billion.
Dirks, Van Essen &Murray estimates the total revenue of this partnership is $90 million with cash flow between $30 and $35 million.
Most of the area covered by the partnership newspapers falls into the El Paso television DMA, which is the 96th largest television market in the country. Based on comments made recently by executives of both Gannett and MediaNews regarding their interest in acquiring television stations in markets where they own newspapers, El Paso potentially becomes an ideal market to test this new business model if regulations change later this year.
Gannett acquired the El Paso (TX) Times in 1972 for $26.7 million, and it has remained the company's only Texas daily.
Dean Singleton, who is a Texas native, made his first daily acquisition in New Mexico in 1989 with the purchase of the Las Cruces (NM) Sun. He bought the Farmington (NM) Daily Times in 1997, the Deming (NM) Headlight in 1999, the Carlsbad (NM) Current-Argus in 2000, and the Alamogordo (NM) Daily News in 2001. MediaNews Group also owns New Mexico weeklies that are part of the partnership.
MediaNews' minority interest in the Gallup (NM) Independent was excluded from the partnership. The deal also excludes MediaNews' newspapers in central Texas, including one in Singleton's hometown of Graham, Texas.
Finding Paradise
Meanwhile, the California partnership has not been idle. The California Newspapers Partnership acquired the thrice-weekly Paradise (CA) Post and a large commercial printing operation in the first quarter of 2003.
Former owners Rowland Rebele and Lowell Blankfort bought the then-weekly Paradise Post 25 years ago. In subsequent years they built Paradise Post Printing into one of the largest commercial press operations in Northern California.
Gannett also stayed busy in the United Kingdom. The largest newspaper company in the U.S. agreed to buy the Greater London regional publishing business of Independent News & Media PLC for $94 million. The Greater London group consists of 45 regional newspapers.
Since making its first acquisition in the UK in 1999, Gannett has built its Newsquest division into a major force. Prior to this latest addition, Newsquest consisted of more 300 titles, including 18 dailies with annual revenue of more than $800 million.
Westward Ho
A New York private-equity investment firm acquired a controlling interest in Westward Communications, which publishes groups of primarily non-daily newspapers in suburban Houston, east Texas, and the Denver/Colorado Springs area.
The deal represents the first newspaper industry investment for American Securities Capital Partners. The company was acquired from another investor group led by Stonehenge Partners of Columbus, Ohio.
The suburban Houston group, which includes two daily newspapers and a USA Today print site, represents the largest portion of the company. In addition to the daily Conroe Courier and Pasadena Citizen, Houston Community Newspapers publishes a series of paid and controlled-distribution weekly products reaching more than 500,000 households in fast-growing communities of greater Houston.
In East Texas, the company publishes a cluster of 16 primarily paid non-daily publications in isolated markets. The Colorado group consists of 11 paid and controlled-distribution weeklies serving some of the nation's fastest-growing areas between Denver and Colorado Springs.
In making the announcement, American Securities said Westward offers "an outstanding platform to expand through acquisition, and its management team has shown that it is proficient in integrating acquisitions." The management team, which includes chief executive officer Robert McMaster, remained in place.
CNHI Buys TV
Community Newspaper Holdings, Inc., which has built one of the nation's largest newspaper companies over the past six years, acquired two broadcast television stations in Augusta and Columbus, Georgia.
This is the Birmingham, Alabama-based company's first acquisition outside of newspaper publishing, but Reed says the company is on the lookout for media properties that fit the company's strategy.
CNHI acquired two Fox stations, WFXG-TV in Augusta and WXTX-TV in Columbus from Fisher Communications for $40 million.
Weekly Front
Morris Multimedia of Savannah, Georgia acquired the weekly Murfreesboro (TN) Sun, a shopper with 30,000 distribution. Morris owns the competing daily in the market.
Morris also recently finalized a deal to buy the twice-weekly Platteville (WI) Journal, with 4,100 circulation. The company owns several other non-daily newspapers in southwest Wisconsin.
Stumpf Publishing added the 47,000-circulation Rochester (MN) Shopper to its stable of weekly publications in nearby Plainview, Elgin, Eyota, St. Charles, Lewiston, and Wabasha in southeastern Minnesota. The Stumpf family also owns publications in western Wisconsin.
Eddie Verdugo added two publications to his growing Southern California publishing operation. Verdugo's Community Media Corp. acquired legal notice publications serving Los Angeles and Orange counties.
Shore Publishing, which owns seven weekly newspapers in southern Connecticut, purchased the East Lyme Times and Waterford Standard. Separately, The Day Publishing Co. of New London, Connecticut, made an equity investment in Shore Publishing. The reach of the weekly group now extends from Old Saybrook to East Haven.
Landmark Community Newspapers, Inc., of Shelbyville, Kentucky, acquired the weekly Clear Creek Courant in Idaho Springs, Colorado. The newspaper will augment LCNI's MetroWest group, which includes newspapers in neighboring Evergreen.