---
Resurgence of Activity Heralds Stronger Deal Year
Private Equity Groups Form New Company with Acquisition of 10 Dailies, 12 Non-Dailies
A pair of private equity firms bought a group of community newspapers stretching from Ohio to Oklahoma in the largest new publishing platform to be created since the launch of Liberty Group Publishing in 1997.
The new company, Heartland Publications, acquired 10 daily newspapers and 13 non-dailies in seven states from Community Newspaper Holdings, Inc. Birmingham, Alabama-based CNHI said this is the last major divestiture of smaller newspapers it will make in the near term as it continues to pursue its strategy of acquiring daily newspapers in larger markets.
In the Heartland
Equity for Heartland Publications was supplied by Wachovia Capital Partners in Charlotte, North Carolina, and/p /pThe Wicks Group of Companies in New York.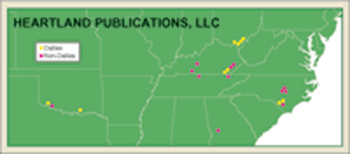 For Wachovia, this is its first
foray into the newspaper industry. Wicks owned Independent Media Group, a newspaper group that operated dailies and weeklies in Wisconsin, Michigan and Nebraska until 1999, when its newspapers were sold to Lee Enterprises and Liberty Group Publishing.
The two firms are backing James McGinnis, an experienced community newspaper operator who most recently was president of Murphy McGinnis Media. Murphy McGinnis, which was sold to an affiliate of MCG Capital Corp. at the end of 2003, owned four dailies, 11 paid weeklies and a number of free-distribution weeklies in the Duluth-area of northeastern Minnesota and northwestern Wisconsin.
McGinnis, who will be president and chief executive officer of Heartland, also is an investor in the company.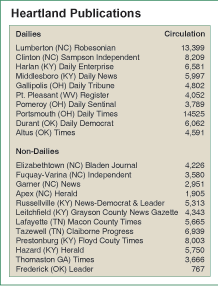 This deal is part of a trend in the industry that has seen nine private equity concerns make significant investments in newspapers over the past 18 months. We expect this trend to continue as a favorable lending environment and other factors make newspaper investments attractive to these firms.
Large Platform
Heartland executives say they plan to build on the platform they acquired from CNHI.
The new company will start with dailies and paid county-seat weeklies in Ohio, West Virginia, Kentucky, Tennessee, North Carolina, Georgia and Oklahoma. The largest dailies are the 14,800-circulation Portsmouth (OH) Daily Times and 13,000-circulation Lumberton (NC) Robesonian.
CNHI Chief Executive Officer Mike Reed said his company is actively looking for daily newspapers with circulation of 20,000 or more. The company continues to own 86 dailies, the second largest number in the U.S.
Swap Meet
Lee Enterprises and Liberty Group Publishing exchanged daily newspapers to enhance regional publishing operations.
Lee picked up dailies in Burley, Idaho and Elko, Nevada, close to its newspaper in Twin Falls, Idaho. Liberty added the Corning (NY) Leader to augment its western New York operations and the Freeport (IL) Journal-Standard in northern Illinois.
Elsewhere, Gannett gave up its only newspaper in Georgia to get two dailies and two non-dailies in the Nashville area from Morris Multimedia of Savannah, Georgia.
In addition to the Nashville Tennessean, Gannett now owns three other dailies and a number of non-dailies in the Nashville orbit.
The 22,000-circulation Gainesville Times is now Morris's largest daily newspaper. Morris also has an interest in a weekly newspaper group in nearby Winder.
Pacific-Sierra Winds Up
Pacific-Sierra Publishing concluded its newspaper divestiture with the sale of daily newspapers in Turlock and Madera, California. Late last year Pacific-Sierra announced the sale of the daily Merced Sun-Star and other publications to the McClatchy Co. and a separate deal involving two dailies to a management-led group.
Morris Multimedia, which owns the daily Manteca Bulletin and non-dailies north of Modesto, acquired the Turlock Journal on the south side of Modesto. A group led by Madera editor Chuck Doud bought the Madera Tribune near Fresno.
Blue Skye
Skye Media, Inc. took an equity position in three daily newspapers serving suburban areas of Washington, D.C. and a suburban Richmond, Virginia non-daily group. The dailies – the Northern Virginia Journal, Montgomery (MD) Journal and Prince George's Journal – are distributed in some of the most affluent communities in the country.
Skye Media is headed by James McDonald, former publisher of the Philadelphia Metro, the country's first free major market daily. Skye Media investors include the previous owners of the newspapers.
Examiner Alive and Well
Billionaire investor Philip Anschutz, founder of Qwest Communications, acquired the San Francisco Examiner, a group of non-dailies in the Bay Area and a printing operation from the Fang Family.
The Fangs had owned the Examiner since 2000, when Hearst acquired the San Francisco Chronicle from its JOA partner and sold its San Francisco daily.
Anschutz' management team, which includes Scott McKibben, former head of MediaNews Group's Oakland-based ANG Newspapers, will try to breathe new life into the now free Examiner daily.
LA Group Grows
Dean Singleton added a pair of weekly newspapers in Long Beach to his Los Angeles Newspaper Group.
MediaNews Group acquired the Grunion Gazette and Downtown Gazette from John and Fran Blowitz, who bought the struggling Grunion Gazette in 1979. The free-distribution weeklies have carved out a strong niche in several Long Beach communities.
MediaNews Group owns the daily Long Beach Press-Telegram and Daily News of Los Angeles among other dailies and non-dailies in the Los Angeles market. The company will operate the Press-Telegram and Gazette newspapers as competing publications.
Other Non-Daily Deals
A handful of deals involving non-daily newspapers took place in the first quarter as well.
Swift Newspapers, owner of the Vail (CO) Daily, acquired the weekly Vail Trail from Knox Publishing. The 11,000-circulation weekly will be operated independently of the daily.
Pulitzer, Inc. continued to execute its strategy of attaching non-daily publications to its daily newspapers. In southwestern Oregon the company bought the weekly Umpqua Post in Reedsport to augment its daily in Coos Bay.
Journal Register Co. acquired the Portuguese-language weekly O Jornal distributed in Rhode Island and Massachusetts. O Jornal has a circulation of 14,300 in 30 communities with an estimated Portuguese population of 370,000. JRC's central New England cluster consists of five dailies and 25 non-dailies.
Knight Ridder added a group of suburban weeklies to its Fort Worth (TX) Star-Telegram operation. The Alliance Regional Newspaper Group consists of seven weeklies and a monthly in Tarrant and Denton Counties with combined circulation of 30,000.