---
Year Off to Fast Start
Activity in the first quarter of 2005, highlighted by Lee Enterprises' agreement to buy Pulitzer Inc., already has pushed deal volume to levels not seen in five years.
The $1.46 billion price tag on Pulitzer, along with the consummation of Gannett's acquisition of HomeTown Communications and other first quarter transactions, add up to a total dollar volume well in excess of any year since the recession.
By year-end, Dirks Van Essen & Murray expects the value of daily newspapers changing hands to be at least $2.5 billion, about average for the late 1990s before the peak in 2000.
This indicates the industry may finally be breaking free of the M&A doldrums that have kept activity at modest levels in recent years.
Lee Strikes Again

One catalyst is the acquisition by Lee Enterprises, which has been on a tear under Mary Junck and her management team.
In just a three-year span, Lee has now more than doubled the size of its company. Lee grew 50% with the acquisition of Howard Publications in 2002, and now is making a similar leap with Pulitzer.
The Pulitzer acquisition will add more than $440 million in revenue to a total of $1.14 billion at Lee. Furthermore, it will give Lee a new flagship in the St. Louis Post-Dispatch, along with 13 additional community dailies. Lee will move from 11th to 7th position in terms of total daily circulation.
These deals were significant not just relative to Lee, but for the whole industry. The Howard and Pulitzer transactions represent two of the seven largest deals in the last 15 years in terms of total daily circulation of the selling company.
Party Like It's 1999
The purchase price multiples – 13.5 times EBITDA and 3.3 times revenue – are typical of those seen for the largest deals when activity was at its height five years ago. Central Newspapers sold in 2000 for 13 times EBITDA, and many of the Thomson newspapers were sold for cash multiples even higher in that year.
As Lee takes on new debt for the Pulitzer acquisition, its leverage will be somewhat higher than normal for the company at an estimated 6 times cash flow. The public companies tend to operate at very conservative leverage levels of 2 to 3 times cash flow.
However, in three years it worked down debt from the Howard acquisition to just over 1 times cash flow, and expected synergies will make the new ratio lower very quickly.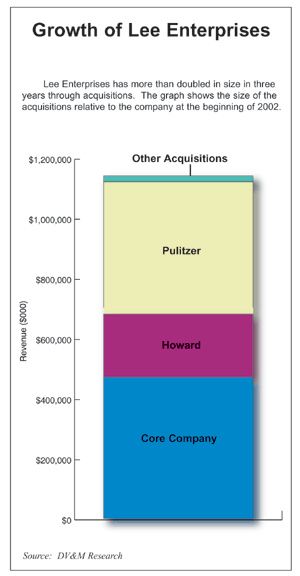 Heartland Grows
Elsewhere, Heartland Publications added its first newspaper since the company was founded about a year ago.
Heartland acquired the 8,200-circulation Williamson (WV) Daily News and two adjacent weekly newspapers from Mid-South Management. Heartland also owns the thrice-weekly newspaper in Prestonsburg, Kentucky across the state line.
Michael Bush, Heartland's new chief executive officer, said the company plans to grow through strategic acquisitions. Heartland now owns 11 dailies and 11 non-dailies.
Last year a Mid-South affiliate bought Heartland's newspaper in Thomaston, Georgia, which clusters with the company's daily in La Grange.
In a separate transaction at the end of March, Mid-South's affiliate acquired two non-dailies in Pickens County, South Carolina, where it owns another publication. Andrew Babb, Mid-South president, said the company is focusing on clustering in the Southeast.
Free Daily Sells
Knight Ridder bought a free daily newspaper operation that includes the Palo Alto Daily News and daily editions in four nearby communities. The Palo Alto Daily News was founded in 1995 by entrepreneurs and grew to distribution of nearly 60,000 on weekdays.
The Daily News moved into a void created when the daily Peninsula Times Tribune closed in 1993, leaving these affluent communities with no locally based daily newspaper. The free dailies fit with Knight Ridder's San Jose Mercury News in the competitive Bay Area.
Phillips Sells More
Rupert Phillips continued to scale back his newspaper holdings with the sale of three non-dailies serving suburban Richmond, Virginia communities.
The newspapers were acquired by Richmond-based Media General, which owns the daily Richmond Times-Dispatch. It represents the first foray into the Richmond suburbs for the company. The flagship Mechanicsville Local is distributed weekly free to 25,000 households in this fast-growing community north of the city.
Phillips sold the bulk of his company, including dailies in Florida and Arkansas, to a new company, HarborPoint Media, last year. He also sold his free-daily operation around Washington, D.C. to Philip Anschutz's Clarity Media Group, which has since converted it into the Washington Examiner.
Phillips continues to own non-dailies in Virginia and Alabama.
Notable
Stephens Media acquired an alternative news weekly and two other non-daily newspapers in Las Vegas, where it owns the daily Las Vegas (NV) Review-Journal. The alternative, CityLife, has weekly circulation of 72,000.
Harte-Hanks agreed to acquire the Tampa Flyer, a weekly shopper with 900,000 distribution in the greater Tampa market. This is the first significant print acquisition in many years for Harte-Hanks, which reported that it paid about $65 million for the operation.
The New York Times Co. bought About.com, an expert-advice web site, from Primedia for $410 million. The purchase price represented some good old-fashioned Internet multiples – more than 30 times EBITDA and 11.5 times revenue.
The New York Times also bought a 49% stake in Metro's free Boston daily for $16.5 million. The deal received Justice Department scrutiny, but was later approved.