---
New Owner Wants to Put Liberty Back on Growth Track
New York-based Fortress Investment Group LLC became the latest private equity firm to make a bet on newspapers by acquiring Liberty Group Publishing in June. With 66 dailies and more than 200 non-dailies, Liberty is the third-largest U.S. newspaper group in terms of number of daily newspapers, behind Gannett Co. Inc. and Community Newspaper Holdings Inc. Over the past three years, private equity firms have now made investments in newspapers with total deal volume of $907 million, excluding the recapitalization of Freedom Communications in 2003. Interestingly, the private equity players are piling into newspapers at a time when stock market investors are a little down on the industry.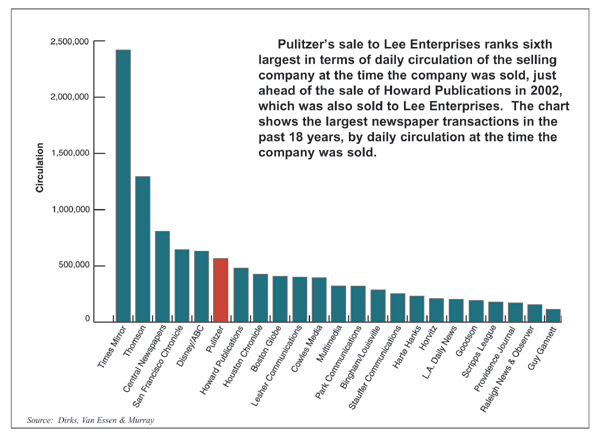 New Milestone
The Liberty transaction, along with Lee Enterprises' acquisition of Pulitzer Inc. and Gannett's purchase of HomeTown Communi-cations, have pushed deal volume for the year above $2 billion. Lee closed on the Pulitzer deal in early June. This is the first time the industry has reached this milestone since the peak of activity in 2000. Newspaper transaction volume averaged a little over $2 billion in the busy period of the mid- to late 1990s. Some 84 dailies have changed hands in the first six months of the year, another high since 2000.
Liberty to Grow
The principals at Fortress say they want to build Liberty into a larger enterprise and ramp up acquisitions again. Liberty was very active on the acquisition front in the late 1990s, following its formation in 1997. "Our strategy is to grow its EBITDA and free cash flow both organically and by acquiring additional community newspapers and other similar publishing assets," said Bill Doniger, a managing director at Fortress. "While the company hasn't made any material acquisitions for some time, we hope to restart that process in the near term and in fact are looking at new opportunities as we speak." Fortress, founded in 1998, has about $15 billion in equity capital under management. Its investments include financial services, real estate, media and telecommunications, transportation, healthcare, and energy and power industries. Doniger termed Fortress "long-term investors" who are committed to growing the company.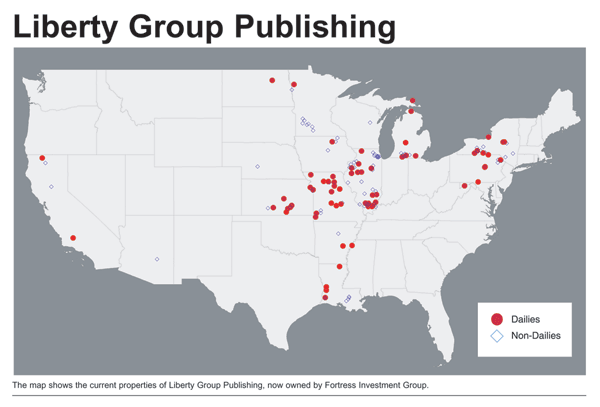 Origins in APC
Liberty was formed in 1997 when private equity firm Leonard Green & Partners bought 55 daily newspapers and a number of non-dailies from Hollinger International. Many of the top operating people in the newly formed Liberty had been with Hollinger and its subsidiary, American Publishing Company, which acquired numerous locally owned community dailies during the 1980s. Liberty was very active in the acquisition market in its early years. It built a group of non-daily newspapers in suburban Chicago through a series of purchases; bought family-owned operations in Louisiana, Kansas, West Virginia and Nevada; and completed a number of newspaper swaps. The build-up culminated in 2000 with the acquisition of three dailies in southern Michigan, which included the 16,000-circulation Adrian Telegram, still its largest daily. Since then, Liberty has made some small additions to its portfolio and traded a cluster of newspapers in Nevada and southern Idaho for dailies in Illinois and western New York last year.
New Owner in Boca
The only other daily to change hands in the second quarter was the Boca Raton News. Craig Swill, backed by private equity firm Housatonic Partners, bought the newspaper from owner Neal Heller, who had owned it since 2001. The newspaper has been through several ownership changes since Knight Ridder sold it in 1997. Swill is publisher of a free-distribution weekly publication in Coral Springs and some monthly products. He is a former investment banker.
More Freebies
Three new free dailies were launched in the second quarter as the trend continues to accelerate. Morris Communications started Bluffton Today in a fast-growing area of southeastern South Carolina near Hilton Head. It competes with dailies owned by McClatchy Co. Bluffton Today and publisher Larry Miller are experimenting with reader-driven content that is being provided through the newspaper's web site, in addition to delivering local news content in print and online. Knight Ridder expanded the free-distribution Daily News group based in Palo Alto, California, which it acquired earlier this year. The East Bay Daily News became the fifth masthead in the group. Sound Publishing started free-distribution daily products in its weekly markets around Bremerton in Washington.
Non-Daily News
American Community Newspapers added to its suburban Minneapolis group with the acquisition of a weekly and shopper based in Monticello, Minnesota. The Monticello Times and Sunday Shopper serve a rapidly growing area along I-94 between the Twin Cities and St. Cloud. ACN now publishes 43 weeklies and a daily in Minnesota. Knight Ridder's Fort Worth Star-Telegram extended its suburban group with the addition of a free-distribution weekly in Keller. Similarly the Los Angeles Times increased its suburban publishing group with the addition of weeklies in La Canada and Crescenta Valley. Direct marketer Harte-Hanks bought the Tampa Flyer, a weekly shopper with 900,000 distribution in the greater Tampa area. It represented a rare acquisition for Harte-Hanks outside of its core areas. The Sun Journal in Lewiston, Maine bought two weekly newspapers in Norway and Rumford Falls from Pulitzer Prize-winner Howard James. MediaNews Group bought the Original Vermont Observer based in Jamaica, Vermont. The Observer, with weekly distribution of more than 12,000, serves southern Vermont and southwestern New Hampshire. MediaNews owns several newspapers in New England, including the Brattleboro (VT) Reformer. Also in New England, Independent Publications Inc. acquired Cabinet Press of Milford, New Hampshire. Cabinet Press publishes the paid weekly Milford Cabinet and three free-distribution weeklies in southern New Hampshire. Independent Publications owns the Nashua (NH) Telegraph, among other newspapers in several states.