---
Smaller Markets Stay Hot
While much of the industry was focused on the drama surrounding Rupert Murdoch's bid for Dow Jones, acquisition-minded companies seeking small and mid-sized newspapers were busy adding to their holdings.
Several companies with plans to create significant companies in the community newspaper sector made major acquisitions in the second quarter, building on other deals consummated over the past 18 months.
GateHouse Media stayed on a roll, buying four dailies from Gannett Co. Inc. for $410 million and weeklies in Illinois separately. Two other growth companies – American Consolidated Media and Heartland Publications – expanded their geographic footprints, and privately held Paxton Media increased its presence in Indiana.
Meanwhile, Journal Communications Inc., like a number of other public publishing companies, trimmed its print portfolio in order to concentrate on its core newspapers.
By the end of June, deals involving 53 daily newspapers worth $14.2 billion had been announced, making 2007 already the biggest deal year in terms of dollar volume in the industry's history. Excluding Tribune Co.'s efforts to go private, other deal activity totaled $1.45 billion, a strong six months by itself.
Go-Go GateHouse
The GateHouse/Gannett deal was the largest in the second quarter. At press time, Dow Jones and News Corp. were still negotiating a potential $5 billion deal.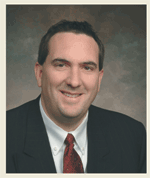 GateHouse took ownership of the Rockford (IL) Register Star, 61,782 daily circulation; the Huntington (WV) Herald-Dispatch, 28,075 daily circulation; the Utica (NY) Observer-Dispatch,42,266 daily circulation; and the Norwich (CT) Bulletin, 26,252 daily circulation.
GateHouse later agreed to spin off the Huntington daily to a local owner. The other three offered a nice fit with the company's existing newspapers.
In northern Illinois, GateHouse also owns the daily in Freeport, about 30 miles west of Rockford, and a suburban Chicago group. The Utica newspaper complements dailies in Herkimer and Little Falls, located in an adjacent county.
The Norwich operation in eastern Connecticut expands the company's growing cluster in southeastern Massachusetts. At the end of 2006 GateHouse bought nearby dailies in Taunton and Fall River, Massachusetts from Journal Register Company.
The Gannett deal comes on the heels of GateHouse's $380 million acquisition of seven dailies and a number of non-dailies in Illinois and Ohio from Copley Press in the first quarter.
These two 2007 deals give GateHouse several mid-sized newspapers, including five with more than 50,000 circulation, to complement its considerable small-market operations.
Since buying the former Liberty Group Publishing in 2005 as a platform, GateHouse has made $1.3 billion in newspaper acquisitions. It now owns 86 dailies, excluding Huntington. Backed by private equity firm Fortress Investments, GateHouse went public last fall with a promise to grow through acquisitions.
Heartland in the Southland
Heartland Publications moved more solidly into the Southeast with the acquisition of four dailies and 12 non-dailies managed and owned by Mid-South Management Co. Inc.
Family-owned Mid-South, founded by Phil Buchheit in 1953, consisted of properties largely clustered around its dailies in LaGrange, Georgia; Mount Airy and Laurinburg, North Carolina; and Union, South Carolina. The daily circulation of each is between 6,000 and 10,000.
The Laurinburg newspaper fills out a new operating group for Heartland in southeastern North Carolina.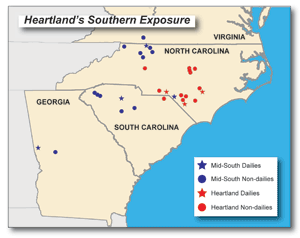 Last year Heartland bought the adjacent Richmond County Daily Journal in Rockingham and two weeklies to augment dailies in nearby Lumberton and Clinton and several non-dailies, most of which were part of the company's platform acquisition in 2004. The remaining Mid-South papers offer an expanded footprint.
Spartanburg, South Carolina-based Mid-South was operated by third generation family member Andrew Babb, who separately owned some of the newspapers included in the sale. His mother, Phyllis Delapp, was chairman of the company. She is the daughter of Phil Buchheit.
Babb had made several acquisitions for the company in recent years, including a non-daily group around Mount Airy; a weekly in Easley, South Carolina; and a twice-weekly in Thomaston, Georgia that had come from Heartland in a deal that sent Mid-South's West Virginia operations to Heartland.
Heartland, owned by The Wicks Group of Companies and Wachovia Capital Partners, now has 17 dailies and a number of non-dailies in the Midwest and Southeast.
ACM heads North
Dallas-based American Consolidated Media (ACM) moved outside of Texas and Oklahoma by buying Superior Publishing Corp., publisher of three dailies and several non-dailies in northern Minnesota, Wisconsin and Michigan.
Earlier this year ACM was acquired by Macquarie Media Group, a publicly traded investment vehicle listed on the Australian Stock Exchange. The Australian company has said it wants to build a newspaper company in the U.S. concentrated in local community papers.
Superior Publishing, owned by publicly traded MCG Capital Corp., fits the bill. The newspapers are clustered generally in the Duluth, Minnesota area and include dailies in Hibbing and Virginia, Minnesota and Superior, Wisconsin.
Charles R. Johnson, president and chief executive of Superior Publishing, will stay on to run the group for ACM.
Separately, ACM also bought a small daily newspaper in Grove, Oklahoma, which complements its operation in nearby Miami (OK).
ACM was founded in 1998 by former Dallas Morning News president Jeremy Halbreich. It now owns nine dailies and nearly 40 non-daily newspapers.
Paxton Takes Two in Indiana
Paxton Media Group bought two daily newspapers in eastern Indiana within 20 miles of each other in separate transactions.
Paducah, Kentucky-based Paxton acquired the 6,000-circulation Huntington Herald-Press from the Quayle family in April. The daily had been under ownership by the Quayle family, which includes former U.S. Vice President Dan Quayle, since the early 1960s.
In June, Paxton added the 17,278-circulation Marion (IN) Chronicle-Tribune, which it bought from the Gannett Foundation. Paxton now owns 10 dailies in Indiana.
Journal Sheds Weeklies
Journal Communications announced three separate deals to sell publishing and printing operations in New England, Ohio and Louisiana for about $30 million. The divestitures will allow the publisher of the Milwaukee Journal to focus on its newspapers in Wisconsin and Florida.
In New England, Hersam Acorn Community Publishing will acquire Journal's 11 community newspapers, five shoppers and two printing facilities in Connecticut and Vermont. Family-owned Hersam owns a group of non-daily newspapers adjacent to Journal's Connecticut group.
Gannett agreed to buy Journal's Central Ohio Advertiser Network, which consists of eight weekly shoppers, specialty products and a commercial printing operation. Gannett owns several daily newspapers in the same region (see map).
Finally, Target Media Partners bought three vehicle photographic publications and a shopper based in Louisiana from Journal. Target specializes in print and online local classified operations in several different niches.
Grosse Pointe Still Local
The longtime owners of the Grosse Pointe (MI) News sold the suburban Detroit weekly to a newly formed company led by local resident Robert Liggett, chief executive of Big Boy Restaurants International. Liggett will serve as publisher of the newspaper.
The Grosse Pointe News, with paid circulation of 11,870, was founded by Robert G. Edgar and had been owned and operated by the Edgar family for 66 years.
The newspaper serves one of the highest income areas in southeastern Michigan. The sale also included Pointe of Purchase, a weekly TMC, and YourHome, a weekly real estate magazine.
Other News
Times-Shamrock Communications, publisher of the Scranton (PA) Times and Wilkes-Barre (PA) Citizens' Voice, bought the nearby daily Hazelton (PA) Standard-Speaker from family owners.
The 20,000-circulation Standard-Speaker serves a market in the same county as Wilkes-Barre. W. Scott Lynett, a fourth-generation member of the Times-Shamrock owning family, became publisher of the Hazelton daily.
On the other side of the state, Tribune-Review Publishing Co. purchased the McKeesport (PA) Daily News from Scoop Sample's Latrobe Printing and Publishing Co. Tribune-Review owns six daily newspapers, a weekly group and a large shopper operation in the Pittsburgh area.
Landmark Communications acquired 100% ownership of the Annapolis (MD) Capital following more than 30 years of partnership in the 43,000-circulation daily. Landmark negotiated purchase of the controlling interest from the Merrill family following the death of publisher Philip Merrill.
American Community Newspapers established a new suburban presence with the acquisition of a non-daily group in the Columbus, Ohio region. The company bought the group of 22 newspapers from local owner Max Brown.
American Community Newspapers now has suburban publishing groups in Minneapolis-St. Paul, Dallas and northern Virginia.
Swift Communications swapped its two western Oregon weeklies for two agricultural publications in South Dakota. The ag papers were owned by Steve Hungerford's Country Media.
Separately, Swift bought a group of newspapers in Colorado's north-central ski country, including non-dailies in Winter Park and Granby. Swift owns dailies in Vail and Aspen, among others in Colorado.
Hearst Newspapers acquired two non-daily newspapers in west Texas in separate transactions.