---
Small Market Owners Find Opportunities Despite Slowdown
The announced sale of New York Newsday to Cablevision dominated the headlines during the second quarter. However, several experienced small market operators also saw excellent opportunities and took advantage of them.
Longtime newspaper owners Larry Perrotto, Jim Boone and John Tompkins all added to their holdings with strategic and non-strategic acquisitions. Deal activity has slowed in 2008, hampered by difficulties in the credit markets and a tough advertising climate for newspapers.
Through June 30, just eight daily newspapers changed hands. The $650 million Newsday acquisition represents a large percentage of the transaction value to date.
The slowdown in transactions is very similar to what happened in 2001. Following a record year in 2000, the 2001 recession dropped daily newspaper deal volume to $209 million for the year.
Dolan Shoots; He Scores
In the largest transaction of the year so far, Charles Dolan's Cablevision Systems Corp. of New York agreed to acquire Long Island (NY) Newsday, one of Tribune Co.'s biggest daily newspapers.
The $650 million deal includes the 410,000-circulation daily; its associated website, Newsday.com; a free daily newspaper in New York City, amNew York; and several regional magazines.
For tax reasons, Tribune will retain 3% ownership in a new company formed to buy the newspaper and related assets. Cablevision owns the rest.
Cablevision, one of the nation's largest cable television operators, has more than 3 million cable subscribers in the greater New York City area.
Cablevision believes cross-promotion and ad selling will benefit both operations.
Cablevision and its controlling Dolan family also own Madison Square Garden, the Knicks and the Rangers in New York.
Perrotto Adds in Indiana
Larry Perrotto's Community Media Group acquired the daily Monticello Herald Journal and related publications in northwest Indiana, augmenting a group of small market publications the company owns in the region.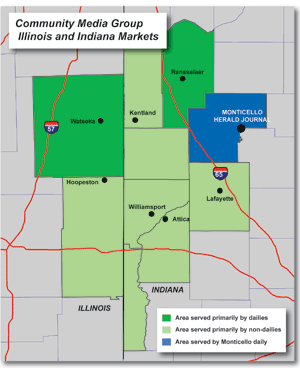 With the addition of the Monticello publications, the group now includes more than a dozen newspapers and shoppers spanning several counties in Indiana and northwestern Illinois. Other dailies in the cluster are located in Rensselaer, Indiana and Watseka, Illinois.
The latest transaction included the Herald Journal (daily circulation 4,500) and two shoppers – the Marketplace and Reminder – that supplement coverage in the home county.
The Monticello Herald Journal had been owned by Home News Enterprises for 26 years. Home News Enterprises is a family-owned newspaper company based in Columbus, Indiana. Home News will now focus on its publications around Indianapolis and in southern Indiana.
Boone Buys Family Paper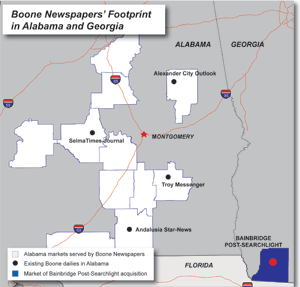 Jim Boone, one of the most successful small market operators in the southeast, added his 30th newspaper by extending his reach into Georgia.
An affiliate of Boone Newspapers Inc. bought the twice-weekly Post-Searchlight in Bainbridge, Georgia from longtime family owners Sam and Mary Ann Griffin.
Boone and its affiliate companies own daily and weekly newspapers in Alabama, Mississippi, North Carolina, Virginia, Ohio, Michigan and Minnesota. The 7,300-circulation Post-Searchlight, located in southeastern Georgia, is the company's first in that state.
The Griffins have been involved in publishing the 101-year-old Post-Searchlight since 1963. Their family founded the predecessor Bainbridge Post in 1907.
Boone of Tuscaloosa, Alabama is chairman of Boone Newspapers. Todd Carpenter of Natchez, Mississippi is president.
Tompkins Around the Globe
John Tompkins' News Media Corp. acquired three non-daily newspapers based in Globe, Arizona to increase his holdings in that state.
The newspapers had been owned by GateHouse Media, which got them as part of the original platform acquisition of Liberty Group Publishing in 2005. GateHouse CEO Mike Reed said the company did not see Arizona as a good "strategic or geographic fit" with the rest of the company.
The deal included the weekly Arizona Silver Belt in Globe, circulation 5,200; weekly San Carlos Apache Moccasin, circulation 1,800; and free-distribution Gila County Advantage.
News Media is the parent company of more than 70 small- and mid-sized daily and weekly newspapers nationwide. Among its holdings in Arizona are a group of weeklies in Tucson and a weekly in Page.
Mebane Exits ME
Bern Mebane's Crescent Publishing Co. sold its non-daily group in Maine's Midcoast area to a local competitor.
This is the third time that the group, based in Rockland, has been sold in the past decade. Local owner Richard Warren sold it in 1999 to Jeremy Halbreich's Dallas-based American Consolidated Media. Halbreich then sold it to Mebane's company in 2001 in order to focus on his Texas holdings closer to home.
The Maine group, known as Courier Publications, has six non-daily newspapers, including a tri-weekly in Rockland and weeklies in Camden, Belfast, Waldo, Bar Harbor and Augusta.
The newspapers were purchased by Village NetMedia, which began as a Rockland-based website known as VillageSoup. VillageSoup also publishes traditional print weeklies in two of the Courier's markets. These will be merged with the Courier newspapers.
Hot and Cold for Lynetts
The Scranton, Pennsylvania-based Lynett family made two acquisitions during the second quarter in very different climates.
In May, the family's company, Times-Shamrock Communications, agreed to buy the Virgin Islands Daily News, an 8,500-circulation daily covering the U.S. Virgin Islands and parts of the British Virgin Islands.
The newspaper's previous parent company is being reorganized through a Chapter 11 bankruptcy proceeding. The Virgin Islands Daily News is based in St. Thomas.
In June, the Lynett family's gaze swung to the north with the acquisition of two alternative weeklies in Cleveland.
Times-Shamrock bought the Cleveland Scene from Village Voice Media and the Cleveland Free Times from Times Publishing Co. The company plans to merge the two papers into the Scene.
Following the acquisition, Times-Shamrock owns five alternative weeklies. The other cities are Baltimore, Detroit, San Antonio and Orlando.
Other News
Bliss Communications of Wisconsin bought a shopper group with publications serving communities that are complementary to the Bliss newspaper portfolio.
Bliss acquired Community Shoppers Inc., which publishes shoppers in Walworth County, Janes-ville and Beloit, Wisconsin. Bliss publishes the daily newspaper in Janesville, among others. Bliss also operates radio stations.
Tribune-Review Publishing bought four weeklies in southwestern Pennsylvania, expanding its footprint in the greater Pittsburgh market. The Buttermilk Falls group, based in Vandergrift, has weekly household distribution of about 20,000.
Tribune-Review has nearly 200,000 daily newspaper subscribers and reaches more than 160,000 with its weeklies. In addition the company publishes a Pennysaver group with weekly distribution of more than 800,000 in greater Pittsburgh.
Target Media Partners acquired the South Florida and Wisconsin Auto Guide magazines and the website autoguide.com from Consumer Source Inc., a subsidiary of Primedia.
The Auto Guide publications are free-distribution, classified, dealer-oriented used car photo books.
Lee Enterprises sold the weekly Wood River (ID) Journal in the Sun Valley area to a new company led by publisher Jerry Brady, owner of the Idaho Falls Post-Register. Brady teamed with local investors on the acquisition.