---
More Deals Close in 2nd Quarter
Cox, Blethen papers among those getting new owners in 2009
The pace of newspaper acquisitions continued to accelerate in the second quarter of 2009, as buyers scooped up operations serving attractive markets around the country.
Already 16 daily newspapers have been sold in 2009, equal to the total for all of last year.
Deals announced or closed in the second quarter included the sale of the Maine newspaper operations owned by the Seattle Times Co. and three dailies owned by Cox Enterprises.
The buyers of these newspapers included long-time family owners, a private equity firm working with a veteran publisher and a local business owner venturing into newspapers for the first time.
While the advertising environment continues to be very challenging for newspapers and other media, these transactions are being financed with a combination of equity from the new owners and conventional loans from local and regional banks.
This reflects a growing belief among financing sources that the current difficulties faced by newspapers are driven largely by factors related to the recession, particularly in local markets.
On Maine Street

An investment group led by newspaper publisher Rich Connor in June completed its purchase of three daily newspapers in Maine, a leading web site and related publishing assets.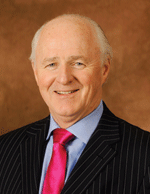 The acquisition included the state's largest newspaper, the Portland Press Herald/Maine Sunday Telegram; the state capital newspaper, the Kennebec Journal in Augusta; the Morning Sentinel in Waterville; local news and information web site MaineToday.com; and a number of non-daily publications.
The daily newspapers have a combined daily circulation of about 100,000 and 135,000 on Sunday.
Connor, a native of Bangor, Maine, was an executive for much of his career with Capital Cities Communications, later Cap Cities/ABC and then the Walt Disney Co. He was publisher in Wilkes-Barre, Pennsylvania from 1978 to 1986, and later was publisher of the Fort Worth Star-Telegram for 10 years.
Connor formed Lionheart Newspapers in the late 1990s to make newspaper acquisitions. Backed by private equity firm Weiss, Peck & Grier, Connor made an initial acquisition of a suburban Minneapolis publishing group in 1998.
The company built suburban operations in the Twin Cities, Dallas and Kansas City before changing hands. Today it is known as American Community Newspapers.
In June 2006, Connor teamed with HM Capital of Dallas to buy his old newspaper, the Wilkes-Barre Times Leader from the McClatchy Co. The newspaper was one of several spun off by McClatchy following its acquisition of Knight Ridder.
In this deal, Connor once again partnered with HM Capital, and the Portland office of Citizens Bank provided debt.
At a press conference in Portland announcing the sale, Connor said, "We believe there is a great market here for newspapers and online readership, and we're positive that we'll grow it."
The Connor Group, called MaineToday Media Inc., acquired the Maine newspapers from the Seattle Times Co. Seattle Times Publisher Frank Blethen and his family had bought the operation from Guy Gannett Co. in 1998.
Blethen said he will focus on his newspapers in Washington, which include the Walla Walla Union-Bulletin, the Yakima Herald-Republic, the Issaquah Press and others, in addition to the Seattle Times.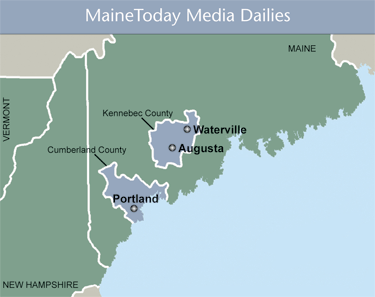 Texas Two-Step

Family-owned Southern Newspapers expanded in southeastern Texas with the acquisition of two daily newspapers and related publications and websites. This was the first of several divestitures announced by Cox Enterprises in the second quarter.
Southern bought the 11,100-circulation Lufkin Daily News and the 7,400-circulation Daily Sentinel in nearby Nacogdoches. Cox had owned Lufkin since 1976 and added Nacogdoches in 1989.
Founded in 1951, Houston-based Southern now owns 13 dailies and a number of non-dailies in three states. Many of its newspapers are concentrated in southeastern Texas, including the Galveston County Daily News, Bay City Tribune, Baytown Sun and others.
The company was started by Carmage Walls and is now operated by his widow, Martha Ann Walls, and their daughter, Lissa Walls Vahldiek.
See related story: Family-owned Southern Newspapers expands holdings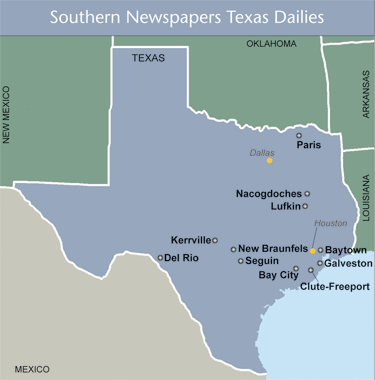 Waco Goes Local
In a related deal, Cox Enterprises entered into an agreement to sell another of its Texas community newspapers, the Waco Tribune-Herald, to local businessman Clifton Robinson.
The newly formed company, Robinson Media Corporation, is purchasing the 34,600-circulation daily, its companion publications and website. Cox has owed the Tribune-Herald since 1976.
See related story: Local Businessman and Philanthropist Wades into the Newspaper Business

Heading South.
In addition, Cox sold its direct mail operation in North Carolina to MailSouth, which is the largest independent provider of shared mail services nationwide.
The former Cox operation, known as Saving Source Direct, provides shared and solo mail services to more than 100 markets throughout North Carolina, reaching more than three million homes.
Prior to the sale, SSD, based in Tarboro, North Carolina, was managed as part of Cox North Carolina Newspapers.
A VIEW to a Deal

A local owner of weekly newspapers and a commercial printing business acquired a large non-daily group in southeastern Michigan from Journal Register Co.
Rick Burrough, owner of the VIEW Newspapers, bought the 170-year-old County Press in Lapeer and a dozen other publications in the deal, which was approved by the U.S. Bankruptcy Court. JRC filed for reorganization under Chapter 11 of the federal bankruptcy code in February.
A native of Lapeer, Burrough now owns 17 publications in eight counties with combined distribution of 255,000 in southeastern Michigan, central Michigan and the "Thumb" region of the state. His commercial printing operation, Michigan Web Press, is located in Davisburg, Michigan.
The VIEW newspapers serve the Lapeer area, Grand Blanc, Burton and Davison, east of Flint.
JRC acquired the Lapeer group as part of its $415 million acquisition of 21st Century Newspapers in 2004. A local family had owned the County Press for more than 60 years before selling to a group owner in 1990.
See related story: Burrough reaches deeper into Michigan's Thumb

Other News

The owner of the Metro Jewish News in Georgia acquired the Atlanta Jewish Times from Jewish Renaissance Media in Michigan. Founded in 1925, the Atlanta Jewish Times is published weekly with an estimated circulation of 5,200.
Bliss Communications sold the Ironwood (MI) Daily Globe to an investment group headed by Gary Stevenson, president of Stevenson Newspapers in Wyoming. Wisconsin-based Bliss had owned the Michigan newspaper since 1980.
A weekly newspaper division of the Washington Post Co. bought the Fairfax County (VA) Times, augmenting its suburban Washington, DC non-daily group. The seller was the Arundel family, which continues to own the Loudoun Times-Mirror and other non-daily newspapers in northern Virginia.