---
Buyers Have a Familiar Face
Acquisition activity continued at a moderate, but steady pace in the third quarter, with five daily newspapers changing hands in as many transactions.
The buyers included several privately held companies that have been among the most acquisition-minded in recent years — Paxton Media Group, MediaNews Group (through the California Newspapers Partnership), and 21st Century Newspapers. This indicates that considerable capacity remains in the industry for making acquisitions, despite record deal volume just two years ago and a lingering advertising recession.
In addition, Ottaway Newspapers, a subsidiary of Dow Jones, continued to buy properties after divesting several non-strategic newspapers earlier this year.
The number of properties available for sale is relatively light, but it hasn't been for lack of buyer interest. With a number of aggressive buyers pursuing newspapers, multiples paid for these newspapers have held up well, many of them close to those being paid in 2000 at the top of the market.
With the five dailies changing hands in the third quarter, a total of 14 transactions involving 35 daily newspapers have been announced so far this year with aggregate deal volume of nearly $1.2 billion.
The five deals involving dailies were: Paxton's acquisition of the Vincennes (IN) Sun-Commercial; the California Newspapers Partnership's acquisition of the Vacaville (CA) Reporter; Ottaway Newspapers' acquisition of the Ashland (OR) Daily Tidings; 21st Century's acquisition of Brill Media; and Womack Publishing's acquisition of the La Junta (CO) Tribune Democrat.
Paxton Adds 27th Daily
Paxton picked up the Sun-Commercial from the Gannett Foundation, which had received the newspaper operation as a gift from Gannett Co. the previous month. The Sun-Commercial is published six days a week with weekday circulation of 12,100 and Sunday circulation of 14,100.
It becomes the eighth Indiana daily owned by Paxton, giving the company combined daily circulation in the state in excess of 75,000. The closest Paxton newspaper operation, however, is across the Ohio River in Owensboro, Kentucky, approximately 120 miles to the south.
The Vincennes newspaper, just two years short of 200 years old, traces its origins back to the oldest newspaper in Indiana. Local legend has it that a 21-year-old Abraham Lincoln stopped to visit the owner while he and his family were moving their household from Indiana to Illinois and helped print one of the editions of the newspaper.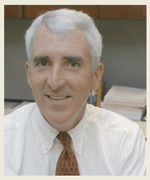 In more recent history, newspaper magnate Eugene Pulliam purchased two competing newspapers in 1930 to form the Sun-Commercial. Pulliam went on to purchase the Indianapolis Star and News and other Indiana newspapers. Later, with the addition of newspapers in Phoenix, the company became Central Newspapers. Gannett purchased Central Newspapers in 2000.
Paxton Media Group is a fourth generation, family-owned media company, founded in 1896 and based in Paducah, Kentucky. In addition to the eight Indiana dailies, the company publishes five in North Carolina, four in Arkansas, three in Georgia, three in Kentucky, and one each in Louisiana, Michigan, Mississippi, and Tennessee. The company also owns a 50% interest in the daily newspaper in High Point, North Carolina.
Combined circulation of the daily newspapers is approximately 347,000. The company also owns an NBC-affiliate television station in Paducah, Kentucky, and publishes more than 30 weekly newspapers and numerous specialized publications in the markets it serves.
Richard Rico sells to CA Partnership
Independent owner Richard Rico sold the 18,000-circulation Vacaville (CA) Reporter to the California Newspapers Partnership controlled by MediaNews Group of Denver, Colorado.
The Reporter becomes the 22nd daily newspaper in the partnership between MediaNews, Stephens Media of Little Rock, Arkansas, and Gannett. Total daily circulation of the California group now is 622,000.
The Rico family had been involved in newspapers in Vacaville since 1924 when Richard's father, John, began working as a printer's devil at the Reporter. John Rico acquired half of the ownership of the Reporter in 1932 and bought the other half a decade later.
Richard Rico assumed the publisher's role in 1972 and began a daily publishing cycle in 1983. The Reporter has long been noted for its editorial excellence, having been recognized by its peers as the best newspaper of its size in California on a number of occasions, including this year.
The Reporter covers a portion of rapidly growing Solano County, which is located midway between Sacramento and San Francisco. The California Newspapers Partnership owns nearby dailies in Vallejo and Woodland.
Rico constructed a 43,000-square-foot newspaper plant in Vacaville in 1993, which has ample capacity to add production work for other newspapers owned by the partnership. Dean Singleton, vice-chairman and CEO of MediaNews Group, noted that the Reporter was a major addition to the company's northern California newspaper strategy, giving the partnership both marketing and editorial synergies.
The California Newspapers Partnership was formed in 1999 when MediaNews Group and Donrey Media (now Stephens Media) contributed most of their California newspaper assets into a new venture. Gannett contributed most of its California newspapers shortly thereafter. The partnership has enabled the companies to consolidate a number of production facilities and offer advertisers a greatly expanded package of newspapers in a single buy. The partnership has also enabled the newspapers to share news resources.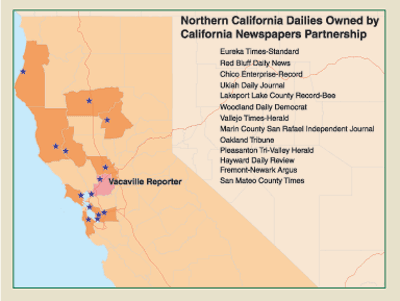 Good Tidings to Ottaway
Ottaway Newspapers made its third acquisition in 18 months when it bought the Ashland (OR) Daily Tidings, a 5,100-circulation afternoon daily, and the Nickel, a classified-advertising publication in Medford, Oregon with weekly distribution of 30,000.
The two publications, acquired from Lee Enterprises, will complement Ottaway's Medford Mail Tribune, a 27,000-circulation daily in southern Oregon.
Ottaway has been busy building around its core daily newspapers. Beginning in 2001, the company has acquired non-dailies in southern Maine and a daily newspaper in eastern Pennsylvania, in addition to its most recent addition in Oregon.
Dow Jones has said it is committed to growing its community newspaper division through strategic acquisitions. With the Oregon newspapers, Ottaway now publishes 13 dailies and more than a dozen weekly newspapers in 10 states.
21st Century Grows Again
After acquiring a large group of community newspapers south of Detroit earlier this year, Frank Shepherd's 21st Century Newspapers is on the move in Michigan again.
21st Century agreed to buy the newspaper assets of Brill Media Co., which includes the 12,000-circulation daily Mount Pleasant (MI) Morning Sun and non-dailies in Traverse City, Charlevoix, Gaylord, Tawas City, and elsewhere in central and northern Michigan. Brill had been forced by its bondholders to sell its newspaper and radio assets under Chapter 11 of the U.S. Bankruptcy Code.
With the acquisition, 21st Century now operates Michigan's largest cluster of newspapers/publications and has the broadest geographic reach of any newspaper group in the state. It includes four daily newspapers and 97 weekly newspapers and shoppers with total circulation of more than two million in northern, eastern, and southeastern Michigan.
Separately, 21st Century sold a group of weekly newspapers in suburban Flint to Newhouse Newspapers, which owns the Flint daily and seven other dailies in Michigan. The Flint weekly group was part of Heritage Newspapers, the group of community newspaeprs primarily south of Detroit acquired by 21st Century earlier this year.
Shepherd, Goldman Sachs Capital Partners II, and Kelso & Co. formed 21st Century in 1995. The flagship of the group is the 90,000-circulation Oakland Press in Pontiac. 21st Century also has formed a national advertising company, known as the Gorilla Newspaper Networks.
Womack Expands in CO
Virginia-based Womack Publishing Co., through a subsidiary, acquired the 4,000-circulation La Junta (CO) Tribune-Democrat and two weekly newspapers from family owners, adding to its presence in Colorado.
Womack bought the Telluride (CO) Daily Planet and a non-daily in Norwood, Colorado last year. With the latest acquisition, the company now owns two dailies, 18 non-dailies, and several magazines in Virginia, North Carolina, and Colorado.
The Tribune-Democrat had been owned by the Burtis/Lowe family for three generations, dating back to 1946. In announcing the sale, John B. Lowe characterized the sale as one third-generation family selling to another.
Weekly Front
Several deals occurred in the third quarter involving non-daily newspapers as daily and weekly owners continued to work on clustering opportunities.
Morris Communications acquired the weekly News & Farmer in Louisville, Georgia, about 40 miles southwest of Augusta. The 5,100-circulation newspaper serves Jefferson and Glascock Counties.
Gannett bought four weekly newspapers north of its daily in Sioux Falls, South Dakota. Combined circulation is approximately 4,000.
Separately, Gannett also acquired two non-daily publications and a commercial printing business from a company in Fond du Lac, Wisconsin. The group will complement Gannett's large cluster of dailies and weeklies in the eastern part of the state.
The Albrecht family bought the weekly Covington (TN) Leader, with paid circulation of 7,700. Jay Albrecht and his father Joe acquired the western Tennessee publication from Sandusky Newspapers, which had picked up the Leader as part of a larger deal that included dailies in Johnson City and Lebanon, Tennessee.
The Albrechts also own non-daily newspapers in Henderson and Brownsville, Tennessee.
Meanwhile, Sandusky acquired the 4,000-circulation Mt. Juliet (TN) News, a weekly newspaper serving a growing area near Lebanon. The paper was bought from local owners.
Bill Kirkland added to his presence in Maine with the acquisition of the 114-year-old Penobscot Times based in Old Town north of Bangor. Kirkland also owns weeklies in Farmington and Livermore Falls in southwestern Maine.
Eddie Verdugo expanded his holdings in southern California by acquiring two non-dailies in the El Cajon area. The acquisition includes the twice-weekly East County Californian, a product that resulted from the merger of the one-time daily El Cajon Californian and several smaller papers.
Verdugo's Community Media Corp. publishes several weekly newspapers in Cypress, Buena Park, Garden Grove, and elsewhere. Last year he acquired the Seal Beach Sun.