---
Publishers Add Non-Dailies to Build Bigger Clusters
Although the third quarter was light on daily newspaper deals, owners stayed busy buying non-daily publications — and in one case a radio station — to enhance print clusters in several markets.
The Copley Press, Inc., acquired two community newspapers to supplement its 75,000-circulation Torrance (CA) Daily Breeze. The newspapers, the weekly Beach Reporter and twice-weekly Palos Verdes Peninsula News, reach 62,000 households in affluent beach communities south of Los Angeles that complement the Daily Breeze's circulation.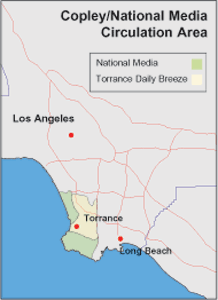 The acquisition will allow Copley to more effectively reach some of the most desirable communities in the South Bay and offer advertisers more attractive packages in combination with the daily.
The Beach Reporter and Peninsula News had been owned by Stephen C. Laxineta's National Media, Inc. Laxineta has just completed his term as president of the California Newspaper Publishers Association. San Diego-based Copley publishes nine daily newspapers with circulation of more than 700,000 and a number of non-dailies around the country.
Southeast Trade
Two newspaper owners in the Southeast swapped weeklies to improve publishing clusters. Andrew Babb, president of Mid-South Management and owner of Crescent Media Group, picked up the weekly Phenix Citizen of Phenix City, Alabama, from Millard Grimes, who got the Monroe County Reporter in Forsyth, Georgia.
The Phenix Citizen has begun printing at Crescent's daily newspaper in LaGrange, Georgia. The Phenix City newspaper had been founded by Grimes in 1955, then reacquired by his company last year. Babb had acquired the Monroe County Reporter in 2001.
Mid-South, based in Spartanburg, South Carolina, operates newspapers in Georgia, North Carolina, South Carolina, West Virginia, and Alabama.
Pulitzer Prizes
Pulitzer, Inc., through its subsidiaries, picked up three publications to augment three of its community dailies. The 3,500-circulation Forest Republican of Crandon, Wisconsin will join a cluster anchored by the Rhinelander (WI) Daily News, where it has been printed for 35 years.
In Oregon, Pulitzer acquired the Western World, a 2,700-circulation weekly serving Bandon in the western part of the state. Pulitzer publishes the daily Coos Bay (OR) World and a regional shopper in the market area. Finally, the company added HomeChoice real estate magazine to its cluster in Provo, Utah.
Southern Comfort
Southern Newspapers, owned by the Walls family of Houston, Texas, acquired the weekly Kerrville (TX) Mountain Sun, which has been in operation for nearly 125 years. Southern owns the Kerrville Daily Times and will continue to publish both newspapers. The Mountain Sun, with paid circulation of 3,600, had been owned by Dennis E. Thomas' Texas Heritage Newspapers.
Radio Days
Wendy McCaw, owner of the Santa Barbara (CA) News-Press, has struck a deal to buy a local radio station from entertainer Bob Newhart. Pending federal approval, the deal would be one of the first newspaper-radio combinations in the same market since media cross-ownership rules were relaxed by the Federal Communications Commission earlier this year. However, the implementation of those rule changes are far from certain.
The radio station, known locally as "KBOB," is one of only three independently owned radio stations on the South Coast of California. McCaw acquired the Santa Barbara newspaper three years ago.
Phoenix Rises
Gannett's Phoenix Newspapers, Inc., publisher of The Arizona Republic, acquired a majority interest in a company that publishes a Spanish-language weekly newspaper and entertainment guide in Phoenix and Tucson.
The Spanish language publications are the newspaper La Voz, with weekly distribution of 50,000, and entertainment publication TV y Mas, with distribution of 70,000 in metro Phoenix. TV y Mas also distributes 20,000 copies in Tucson. In addition, Gannett acquired two English-language products as part of the transaction.
Elsewhere, Gannett bought an 18,000-distribution shopper in Door County, Wisconsin, where it publishes the daily Green Bay (WI) Press-Gazette.
Daily Deals
Times-Shamrock Communications of Scranton, Pennsylvania acquired the 30,000-circulation Pottsville (PA) Republican & Herald to expand its presence in northeastern Pennsylvania. With the Pottsville daily, the company will reach approximately 500,000 households in that part of the state.
The deal involved two multi-generation newspaper companies that were founded within 11 years of each other. Times-Shamrock publishes daily newspapers Scranton, Shamokin and Wilkes-Barre, Pennsylvania, among others, as well as operating 13 radio stations and a distribution company.
The Republican & Herald had been owned by the Martz family since 1884.
Elsewhere, a consortium of private equity firms bought El Diario-La Prensa, New York's oldest Spanish-language newspaper for $19.9 million. The newspaper, with weekday circulation of 52,000, generated a reported $1.7 million in cash flow on $20 million in revenue.
The buyers included BMO Halyard Partners of New York; Clarity Partners of California; ACON Investments of Washington; and Knight Paton Media, a Toronto company headed by former Toronto Sun publisher Doug Knight. The newspaper competes primarily with Hoy, operated by Newsday.