---
Market Takes a Pause
After a dizzying first half of 2006, newspaper acquisition activity took a short breather in the third quarter.
However, with a number of daily newspapers on the market at the end of September, the total dollar volume for the year remains on pace to be the second highest in industry history.
Among the companies adding to their holdings in the third quarter was Heartland Publications, which made two strategic acquisitions in North Carolina and a third in West Virginia.
In addition, Lee Enterprises sold pieces of a shopper operation in the Pacific Northwest to three companies, and two northern Wisconsin dailies to a new company.
The Heart of the Matter
In North Carolina, Heartland bought the Richmond County Daily Journal in Rockingham and two adjacent weeklies from Community Newspapers Inc. (CNI) of Athens, Georgia.
In addition to the 8,000-circulation daily, the group includes the Cheraw (SC) Chronicle, with circulation of 6,350, and the Wadesboro (NC) Anson Record, circulation 4,900.

Separately, Heartland purchased three weekly newspapers in Robeson County from Stewart McLeod.
The two acquisitions supplement a cluster of existing Heartland newspapers, providing broader reach in the southeastern North Carolina region. The existing papers include the Lumberton (NC) Robesonian in Robeson County, the Clinton (NC) Sampson Independent, a non-daily in Elizabethtown, and a weekly group south of Raleigh-Durham.
This North Carolina cluster was part of the initial acquisition of 10 dailies and 12 non-dailies from Community Newspaper Holdings Inc. (CNHI) of Birmingham, Alabama that created Heartland in 2004.
In a third deal, Heartland bought the daily Logan (WV) Banner and a companion weekly from CNHI. The newspapers are adjacent to Heartland's daily in Williamson.
These recent deals are the first under Heartland's chief executive Michael Bush, who was named to lead the company in 2005.
Bush previously was a newspaper executive with MediaNews Group and Journal Register Company, among others.
Heartland, owned by private equity firms The Wicks Group of Companies of New York and Wachovia Capital Partners of Charlotte, North Carolina, currently has 31 paid daily and weekly newspapers in North Carolina, South Carolina, Kentucky, Oklahoma, Tennessee, Ohio and West Virginia.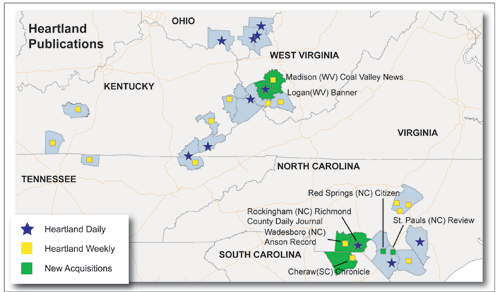 South Carolina Sale
In a separate transaction, Community Newspapers Inc. sold a group of four non-daily newspapers in South Carolina and Georgia to Morris Communications.
The newspapers complement Morris' other holdings in the area, including the Augusta (GA) Chronicle (home of the Morris corporate headquarters) and the Savannah (GA) Morning News.
The acquired papers include paid non-dailies in Barnwell, Hampton and Edgefield, South Carolina and Sylvania, Georgia. Total non-daily circulation is approximately 18,000.
CNI is owned principally by longtime newspaper operators Tom Wood and Dink NeSmith. The owners decided to sell the two clusters of newspapers as part of a financial restructuring of the company.
Wood and NeSmith will continue to own a number of daily and weekly newspapers in North Carolina, Georgia and Florida.
Shopper Shuffle
Canadian-based Black Press Ltd., which made a major investment in the U.S. earlier this year with the Akron (OH) Beacon Journal, added to its holdings in the Seattle area by agreeing to buy the Little Nickel and Nickel Ads Classifieds from Lee.
The publications, serving areas of the greater Seattle and Portland, Oregon markets, have weekly distribution of more than 375,000. Black also owns a weekly group, Sound Publishing, in the Seattle suburbs.
In addition, Target Media Partners bought Lee's shoppers and commercial printing in eastern Washington markets, including Spokane, Kennewick, Moses Lake, Wenatchee and Walla Walla. Target Media has advertising publications in 26 states.
Finally, John Tompkins' News Media Corp. bought Lee's twice-weekly and related publications in Newport, Oregon.
In aggregate, Lee reported that the three transactions were worth $51 million. For the last 12 months ended July 2006, the publications generated a total of $38.2 million in revenue, Lee reported.
Lee still owns dailies in the Pacific Northwest, including those in Albany, Corvallis and Coos Bay, Oregon and Longview, Washington.
North Country
Two experienced publishers bought Lee's dailies in Shawano and Rhinelander in northern Wisconsin.
The deal is the first for the new company, BlueLine Media Holdings, formed last year by Paul Seveska and Greg Mellis.
Seveska and Mellis both worked previously for Copley Newspapers, among others. Seveska also was a group publisher for Thomson Newspapers in Wisconsin.
The Wisconsin dailies were among the smallest owned by Lee. The Shawano daily was owned jointly by Lee and The Capital Times Co. in Madison.
New Family in Town
Newspaper publisher Bob Hively has started a new company, Family Publishing Group, with the purchase of seven weekly newspapers in western Tennessee and Mississippi.
Hively, who has worked for Gannett, Thomson Newspapers and 21st Century Newspapers among other companies, says he intends to pursue acquisitions in the Southeast and Midwest.
Other News
Edgar County Newspapers bought the daily Paris (IL) Beacon-News in the east-central part of the state. The Jenison family had owned the newspaper since 1926.
Tribune bought out its minority partner in amNew York, the quick-read free daily started in October 2003. Tribune now has full ownership of the publication.
Shaw Newspapers bought the weekly Osceola (IA) Sentinel-Tribune from family owners. The 4,000-circulation weekly and companion shopper serve a market near Shaw's publishing operation in Creston.
Wick Communications purchased an alternative weekly in Anchorage and several other publications. Wick publishes the non-daily Frontiersman in Alaska, among its 32 newspapers around the country.