---
Strategic Deals Aid Clusters
A number of newspaper companies made strategic acquisitions in the third quarter to expand existing publishing clusters.
Most of these acquisitions involved small daily newspapers and non-dailies that filled gaps in coverage or extended the footprint of the group.
Since these small-market newspapers generally are holding up better than larger dailies in this year's difficult advertising climate, the deals also can provide more stability to the performance of these clusters.
Brown Gets Busy
Brown Publishing announced several deals in the third quarter that will expand its presence in Ohio, as well as take it far beyond the borders of its home state for the first time.
The Cincinnati-based company bought the 2,460-circulation daily Bellevue (OH) Gazette, along with eight weeklies, three shoppers and a twice-monthly that reaches 70,000 rural homes. Combined paid circulation is approximately 17,500.
The newspapers had been owned by Gazette Publishing Co., one of the nation's oldest family-owned newspaper firms, which has operated in Bellevue for more than 130 years. Gazette Publishing was owned by the Callaghan family.
Separately, Brown acquired Dan's Papers and other publications serving the Hamptons in New York.
Dan's Papers and companion publications, including Dan's Hampton Style and Montauk Pioneer, enjoy a strong brand identity in the tony resort community. The newspapers were acquired from News Communications, which also owns The Hill, covering Congress.
Finally, Brown added two business weeklies – one in Fort Worth and one in Des Moines.
Prior to these acquisitions, Brown owned 18 dailies and 62 paid and free weeklies principally in Ohio.
Pioneering in Idaho, Utah
Pioneer Newspapers made a strategic acquisition of three weekly newspapers and companion shoppers in Idaho and Utah from Sun News, which was owned by the Marshall and Passey families.
The newspapers serve three communities in the intermountain region at the base of the Wasatch Mountains in northern Utah and southeastern Idaho.
The weeklies are the Tremonton (UT) Leader, Preston (ID) Citizen and Montpelier News Examiner. They are located near Pioneer's newspapers in Logan, Utah, and Pocatello and Rexburg, Idaho.
Preston earned fame as the location of the hit movie Napoleon Dynamite.
Founded in 1974, Pioneer is a family-owned media business controlled by members of the Scripps/Wood family.
ACM Adds Kansas
American Consolidated Media bought the Columbus (KS) Daily Advocate, weekly Baxter Springs (KS) News and a shopper, which are located near its Miami (OK) News-Record.
ACM, since being acquired by Macquarie Media Group in February, has grown to 70 newspapers in six states. The Kansas newspapers had been owned by Darrell Sumner and his two sons, Darren and Derek.
In a separate transaction, the Sumners sold the non-daily Aurora (MO) Advertiser to GateHouse Media.
The Sumners still own a group of newspapers in Oklahoma that includes the Okmulgee Daily Times and non-dailies in Henryetta, Checotah and Eufaula.
Black adds NW Titles
David Black, following two acquisitions in the Northwest last year, added two weekly newspapers, a regional shopper and two monthly business publications to his western Washington group.
The weeklies, also owned by the Marshall and Passey families, are located in Marysville and Arlington. The business publications serve Wenatchee and Bellingham.
Through his U.S. subsidiary Sound Publishing, Black has built a sizable group in western Washington. The company now owns 50 publications with weekly circulation of 850,000 (see map).
Last year Black bought King County Journal Newspapers from Horvitz Newspapers, which included a group of non-daily newspapers with combined circulation of nearly 225,000. In addition, Black acquired a large shopper operation from Lee Enterprises serving markets in western Washington and Oregon.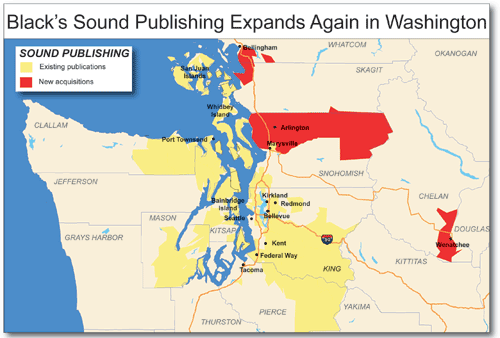 Paxton Gets More IN
A short time after acquiring two daily newspapers in eastern Indiana, Paxton Media Group picked up the daily LaPorte County Herald-Argus, which is located in a county where Paxton has a competing daily.
The LaPorte daily was owned by the Small Newspaper Group, based in Kankakee, Illinois, which has no other daily newspapers in Indiana.
With the addition of the Herald-Argus, the Paducah, Kentucky-based Paxton Media will publish 32 daily newspapers, including The News-Dispatch of Michigan City, about 10 miles from LaPorte in northwestern Indiana.
Earlier this year Paxton bought daily newspapers in Huntington and Marion, Indiana, in separate transactions. Paxton now owns 11 dailies in the state.
Other News
R. Jack Fishman's Lakeway Publishers of Morristown, Tennessee bought four weekly newspapers in eastern Virginia located in the "northern neck" region between the Potomac and Rappahannock rivers.
The newspapers had been owned by the estate of J.W. "Bill" Diederich, who died last year. The Diederich family had acquired them from Tribune Co.
Creative Loafing added alternative weeklies the Chicago Reader and Washington City Paper to its stable of alt titles. Creative Loafing, the second largest publisher of alternative weeklies, also owns weeklies in Atlanta, Tampa, Sarasota and Charlotte.
Manhattan Media acquired the alternative weekly New York Press from Avalon Equity Fund. The New York Press, established in 1988, will merge with Manhattan Media's Our Town Downtown.
Newhouse's Kalamazoo (MI) Gazette bought a neighboring weekly in Vicksburg. The South County Commercial-Express covers four communities in southern Kalamazoo County. The weekly had been owned by an individual.
Belo announced plans to spin off its newspapers into a separate publicly traded company called A. H. Belo Corp. The new company is expected to be formed during the first quarter of 2008. The newspapers include the Dallas Morning News and Providence Journal.