---
Newspaper Deals Still Getting Done Despite Difficult Environment
Established newspaper owners made acquisitions of eight daily newspapers during the third quarter, the most for a three month period so far this year.
Despite a tough deal climate, a couple of large companies picked up strategic newspapers and small-market operators found good opportunities in recent months.
So far in 2008, 16 dailies have changed hands for total transaction value of $883 million. Conditions in the credit markets and national recessionary pressures have made deal-making hard across a number of sectors.
Hearst Corp. and the Omaha World-Herald Co. expanded geographic clusters with acquisitions of mid-sized dailies in regions where they own other newspapers. Community newspaper publisher Scoop Sample added to his group in the Northeast.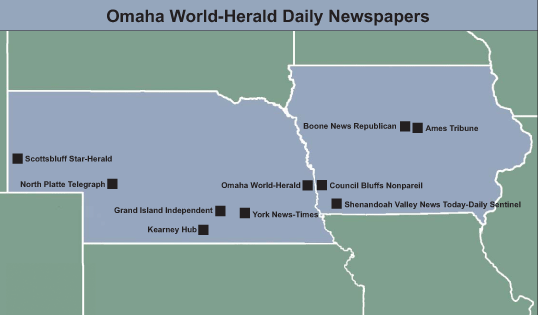 Hearst Takes CT

Hearst bought the 76,000-circulation Connecticut Post in Bridgeport and a complementary group of seven weekly newspapers from its partner, MediaNews Group.
In addition, Hearst took over management responsibilities for three other MediaNews Connecticut dailies – the Stamford Advocate, Greenwich Time and Danbury News-Times.
MediaNews said the transaction would help it "manage its balance sheet during a challenging economic environment."
MediaNews bought the Connecticut Post and the weeklies from Thomson Corp. in 2000, in one of a series of deals in which Thomson sold all of its U.S. newspapers.
MediaNews and Hearst partnered in the acquisition of the Danbury paper from Community Newspaper Holdings Inc., and the Stamford and Greenwich papers from Tribune Co. Both deals occurred in 2007. The Danbury News-Times was part of a package of newspaper sold to CNHI at the end of 2006 by Dow Jones.
A Grand Deal
The Omaha World-Herald Co. added two Nebraska dailies to its stable of newspapers in Nebraska and Iowa.
Omaha purchased the 20,500-circulation Grand Island Independent and 4,700-circulation York News-Times from GateHouse Media.
GateHouse had acquired the newspapers in 2007 as part of a larger deal with Morris Communications. Morris' ownership of the papers had dated back to its 1995 purchase of Stauffer Communications.
In addition to its flagship Omaha World-Herald, the company owns seven other daily newspapers.
In Nebraska they are the North Platte Telegraph and Scottsbluff Star-Herald in the western part of the state; and the Kearney Hub, about 50 miles west of Grand Island. In Iowa the company owns dailies in Council Bluffs (across the river from Omaha), Ames, Boone and Shenandoah. The newspaper group also includes 23 non-daily newspapers and 27 free distribution newspapers in two states.
The Omaha World-Herald Co. also owns a nationwide direct marketing business and interests in election services and investment banking operations.
Building in CareerBuilder
Gannett Co. acquired a majority stake in the online employment service CareerBuilder by buying a 10% share from Tribune for $135 million. Tribune retains about 21% ownership of CareerBuilder.
Following the transaction, Gannett owns 50.8% of the company. CareerBuilder will have revenue of $759 million in 2008, compared with $656 million for Monster North America, according to Wachovia estimates.
Texas Two-Step

Weekly newspaper publisher Jim Moser bought the Mexia (TX) Daily to complement his growing group in central and southeastern Texas.
Moser acquired the daily from CNHI, which had owned it since 1998. The Mexia paper had come over in a large transaction with Hollinger.
Moser also owns four weekly newspapers south of Mexia, including the Jackson County Herald-Tribune in Edna, where he is publisher.
Sample Scoops Up Three
Sample News Group bought three newspapers from GateHouse Media, including one that company head George "Scoop" Sample had formerly operated for 14 years.
Sample acquired the Sayre (PA) Morning Times, which he had run from 1977 to 1991, along with the Milton (PA) Standard-Journal and Oswego (NY) Palladium Times.
The Huntingdon, Pennsylvania-based company now owns 10 daily newspapers, including five others in Pennsylvania and two in Maine. Sample also publishes non-daily newspapers in these states and in New Jersey.
Take a Ride to Telluride
Newspaper operator Randy Miller bought the free daily Telluride (CO) Daily Planet and two companion weeklies from GateHouse.
In November 2007, Miller acquired a suburban weekly operation in Tucson from local owners. Miller is the former owner of the free daily in Boulder, Colorado, which he sold in 2005.
GateHouse bought the Telluride paper in 2005 from Virginia newspaper owner Charles "Zan" Womack, along with the daily in La Junta, Colorado.
Weekly News
Brewer Media, owner of four radio stations in Chattanooga, acquired the alternative weekly in the market, The Pulse.
The new owner expects to experience strong synergies between its radio stations and its new newsprint presence in the market.
Republic Newspapers sold four non-daily newspapers in North Carolina to Florida-based Gemini Newspapers. The sale included the Kings Mountain Herald in western North Carolina.
The Byrd family of western Virginia bought the weekly Clarke Times-Courier in Berryville, Virginia. The Byrds own dailies in Winchester and Harrisonburg.