---
Paxton Buys Durham for Large NC Play
Paxton Media Group snagged one of the nation's leading independent newspapers – the Durham (NC) Herald-Sun – in the largest deal of the fourth quarter.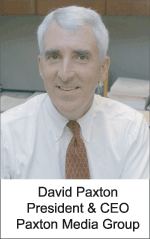 For Paxton, it capped a busy year in which the Paducah, Kentucky-based company significantly expanded its holdings in North Carolina. Earlier, Paxton had completed buying the re- maining 50% of the High Point (NC) Enterprise it didn't own.
The 50,000-circulation Durham daily is Paxton's largest newspaper and one of seven it now owns in North Carolina.
In total, Paxton publishes 29 daily newspapers in the Southeast and Midwest. With The Herald-Sun, combined daily circulation of the newspapers is approximately 370,000.
The company also owns an NBC-affiliated television station in Paducah, Kentucky, and publishes 14 paid weekly newspapers as well as more than 100 free distribution newspapers, shoppers and specialized publications.
A Good Fit
The Durham daily offers opportunities for synergies with the company's nearby dailies in Henderson, located along Interstate 85 northeast of Durham, and Sanford to the south. High Point is about 65 miles west of Durham.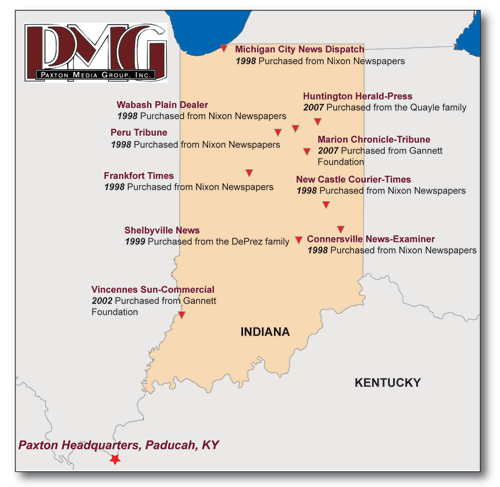 The Herald-Sun's market includes Duke University and the University of North Carolina at Chapel Hill, as well as the world-renowned Research Triangle Park, most of which is located in Durham County.
These attributes, along with the housing and retail growth occurring in the market, placed the Herald-Sun among the top five independently owned newspaper markets in the country, according to the DV&M Market Index.
The family of E.T. Rollins, Jr. had owned the Durham daily for 109 years. Paxton has been family-owned for four generations, dating back 107 years.
The only other daily newspaper to change hands in the fourth quarter was the McKeesport (PA) Daily News near Pittsburgh, which was bought by Scoop Sample's Latrobe Printing and Publishing.
Lee Grows in Black Hills
Lee Enterprises augmented its daily Rapid City (SD) Journal with the purchase of eight weeklies, two shoppers and a monthly gaming publication in the Black Hills of South Dakota and northwest Nebraska. The eight weekly newspapers have combined paid circulation of 12,800.
The seller, Steve Hungerford's Country Media, continues to own eight other community newspapers in South and North Dakota and Montana, and its two agricultural publications. In a separate transaction, Lee acquired the weekly Casper (WY) Journal where it owns the daily Casper Star-Tribune.
Not Far to Go in Fargo
Forum Communications, owner of the daily Fargo (ND) Forum, acquired Davon Press, which publishes a Fargo-area shopper, weekly newspaper and bi-monthly magazine. The shopper reaches more than 50,000 households in the market each week.
Donovan and Betty Witham, founders and majority owners of Davon Press, started the weekly West Fargo Pioneer in 1967.
More Free Dailies
New free-distribution daily products continued to pop up around the country.
Copley launched a free daily in northern San Diego County that competes directly with Lee Enterprise's North County Times.
Copley, owner of the San Diego Union-Tribune, is delivering Today's Local News to 75,000 homes Tuesday through Sunday in the Oceanside-Escondido area. Today's Local News is a broadsheet product with full service local news for the communities it covers.
Meanwhile Clarity Media Group converted the paid dailies it bought in the Maryland suburbs of Washington, D.C. into free-distribution products. Together with its free daily in northern Virginia, total distribution is now 200,000.
Another new daily is the Philadelphia Evening Bulletin, reviving a well-known former masthead in the market. The Evening Bulletin, launched by an entrepreneur, entered the crowded Philly market with an afternoon daily sold single-copy for 25 cents.
The Evening Bulletin was last published in 1982.
Noteworthy
American Community Newspapers, publisher of suburban non-dailies in Minneapolis-St. Paul, Kansas City and Dallas, completed a recapitalization with two private equity firms.
Spire Capital Partners (which previously owned a portion of the company) and Wachovia Capital Partners are the new owners of the company. Wachovia also is one of two partners in Heartland Publications.
Mainstreet Media Group acquired the competing weekly Pinnacle newspapers in its Gilroy and Hollister, California daily newspaper markets.
Tracie Cone and Anna Marie dos Remedios bought the Pinnacle in Hollister five years ago and turned it into a formidable non-daily operation, expanding into the Gilroy area. Cone and dos Remedios will stay on and operate the Pinnacles.
ImpreMedia added La Raza, the leading Spanish-language newspaper in Chicago to its stable of Hispanic publications. Over the past two years, ImpreMedia has acquired daily Spanish-language newspapers in New York and Los Angeles.
Hearst's Houston Chronicle bought the weekly Spanish-language La Voz in its market. La Voz, with weekly distribution of 100,000, was founded in 1979 by Cuban refugees.
The Washington Post acquired the online magazine Slate from Microsoft Corp. Microsoft has said Slate, which has about 6 million readers, has never been consistently profitable.
The industry lost Geraldo Rivera as an owner when he sold the weekly Red Bank (NJ) Two River Times in November.
Thomson Corp. sold its last advertising-based print products, a division that included American Banker and other papers targeted at financial industries. Thomson sold its U.S. newspapers in 2000.
Dow Jones agreed to acquire online financial news source MarketWatch Inc. for $519 million.
MarketWatch, founded in 1997, has two successful web sites and produces financial news television and radio programming.
A number of other media companies were reported to be bidding on the Internet company.
Radio entrepreneur Dex Allen bought a group of non-daily newspapers from Bob Page and his wife in the San Diego area. The three newspapers, serving Del Mar, Rancho Santa Fe and other areas, are distributed every other week.
Allen and his partners sold 26 radio stations owned by Commonwealth Communications for $41 million.
CanWest Global Communications acquired half of the Jerusalem Post from Hollinger International. CanWest bought most of Hollinger's Canadian newspapers in 2000.