---
CNHI, GateHouse Lead 4th Quarter
More than $900 million in newspaper deals were announced in the fourth quarter, capping an active year that saw the transfer of considerable daily circulation from public to private hands.
In the two largest deals of the last three months, Dow Jones sold seven daily newspapers to privately held Community Newspaper Holdings Inc., and McClatchy Co. agreed to sell the Minneapolis Star Tribune to a private equity firm.
Meanwhile, newly public GateHouse Media Inc. made two acquisitions, bucking the trend of public companies shedding non-core assets. GateHouse had a successful initial public offering in October by pitching a focus on smaller markets and a high dividend yield to investors.
CNHI Gets Ottaway Papers
CNHI made its largest acquisition in six years by buying a group of mid-sized dailies operated by Dow Jones' Ottaway Newspapers division.
The $282.5 million transaction included dailies in Traverse City, Michigan; Sunbury and Danville, Pennsylvania; Danbury, Connecticut; Santa Cruz, California; and Plattsburgh and Oneonta, New York.
Having bought four dailies from Ottaway in 2002, and adding three more in 2005 when it bought Eagle-Tribune Publishing, CNHI now has 14 dailies that used to be in the Ottaway stable.
With the deal, Birmingham, Alabama-based CNHI leapfrogged Gannett into first place in terms of largest number of daily newspapers owned.
Dow Jones said it would use the proceeds of the sale in part to fund its full-ownership acquisition of Factiva, which provides global business content and research products to subscribers.
Minneapolis Sale
McClatchy agreed to sell its largest newspaper, the Minneapolis Star Tribune, to a new entrant in the industry, Avista Capital Partners. The new company under Avista will be headed by Chris Harte, a former Knight Ridder publisher whose family is among the owners of Harte-Hanks Inc.
McClatchy said it would reap $160 million in tax benefits from the deal, in addition to the $530 million purchase price. The tax benefits will be applied against the tax gains generated by the sale earlier this year of 12 newspapers formerly owned by Knight Ridder.
Among those Knight Ridder newspapers sold by McClatchy were the Philadelphia Inquirer and Philadelphia Daily News.
The Inquirer and Star Tribune share several attributes. Both are metro newspapers (daily circulation 368,000 and 361,000 respectively); both have seen flat to declining revenue in recent years; and both are heavily unionized.
McClatchy said it planned no further divestitures and will complete the sale of the Star Tribune in the first quarter of 2007.
GateHouse Adds in MA
GateHouse extended its cluster in eastern Massachusetts by agreeing to buy dailies in Taunton and Fall River from Journal Register Co.
The $70 million transaction includes the 20,900-circulation Fall River Herald News and 9,400-circulation Taunton Daily Gazette, as well as a number of non-daily publications.
Earlier in 2006, GateHouse bought two large publishing groups in the greater Boston area to create one of the largest suburban groups in the country.
Separately, GateHouse acquired from family ownership the daily Canandaigua (NY) Messenger and 10 weekly newspapers serving the suburbs of Rochester.
Tennessee Waltz
American Hometown Publishing bought two non-daily operations in western Tennessee in separate deals, forming a cluster around Jackson.
The company, formed in 2005 by Dan Hammond, acquired weeklies in Humboldt and Dyer and an interest in a third in Trenton from privately held InfoStructure News Media. All of the newspapers are located in Gibson County north of Jackson.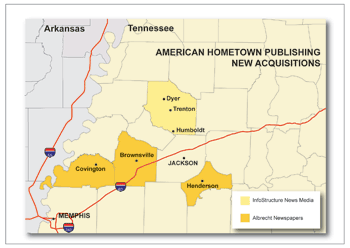 Separately, American Hometown bought family-owned Albrecht Newspapers, which includes weeklies in Covington, Henderson and Brownsville, south and west of Jackson.
Joe Albrecht, president of Albrecht Newspapers, is retiring. However, his son Jay will remain publisher in Covington.
Make It Black
Not just the coffee is black in Seattle.
Canadian David Black made his second acquisition in the greater Seattle area in 2006, adding family-owned King County Journal Newspapers. The group included the 41,500-circulation King County Journal and a number of non-daily publications with combined circulation of nearly 225,000.
Earlier in the year, Black bought a large shopper group from Lee Enterprises in western Washington and Oregon.
These two acquisitions will supplement his existing Sound Publishing group, which serves attractive suburban communities around Seattle.
Other News
Hearst Corp. agreed to buy the Torrance (CA) Daily Breeze and non-daily publications from Copley Press. The paper ultimately will be operated as part of MediaNews Group's Los Angeles publishing cluster.
Tony Allegretti's Main Street Media bought the 5,000-circulation weekly Ramona (CA) Sentinel from private owners. The newspapers augments the company's publishing group in the greater San Diego area. Main Street also owns newspapers in northern California.
The Delphos (OH) Herald, owned by Murray Cohen, acquired the Business Journal of West Central Ohio, which has been published for more than 20 years.