---
Brisk Deal Pace Keeps Going in 4th Quarter
The year ended with a number of significant announcements, as the pace of newspaper deals remained strong through December.
Two of the year's most active acquirers – GateHouse Media and American Consolidated Media – both made transaction announcements valued in excess of $100 million each, adding small and mid-sized market dailies to their respective portfolios.
Separately, family-owned Sample News Group increased its presence in Maine with the announced deal for the Brunswick Times Record, which had been owned by the Niven family for four generations.
Maryland Crabcakes
American Consolidated made its largest acquisition to date with its agreement to buy the assets of Chesapeake Publishing Corp., publisher of two dailies and several non-dailies along the top half of Maryland's Eastern Shore.
Chesapeake's dailies are the Star Democrat in Easton (circulation 16,600 daily and 17,600 Sunday) and the 13,200-circulation Cecil Whig in Elkton. Chesapeake also publishes a number of paid non-daily publications that fill in the geography between the two dailies, as well as free publications closer to Baltimore (see map on page 3).
Chesapeake had been owned by Whitcom Partners of New York, representing the families of Edward Barlow and Robert Blank. Barlow and Blank, along with other partners, previously had owned the New York Herald Tribune, International Herald Tribune and Parade Magazine, among other media investments.
In a separate deal, American Consolidated bought three dailies and several non-dailies in southeastern Ohio from Brown Publishing. The publications include dailies in Athens, Circleville and Logan.
Dallas-based American Consolidated was founded by Jeremy Halbreich in 1998 and became part of Macquarie Media Group in February 2007.
GateHouse Gets Dailies
Continuing its buildup of small-market newspapers, GateHouse acquired 14 dailies principally in the Midwest from Morris Communications.
The newspapers are located in Kansas, Michigan, Nebraska, Oklahoma, South Dakota, Tennessee and Florida.
In making the announcement, Morris said it would focus on its larger newspaper markets and use the proceeds to pay down debt. With the $115 million acquisition, GateHouse now owns 100 dailies.
Mainely in Maine
The Niven family, which has owned the Brunswick (ME) Times Record for more than 100 years, agreed to sell the mid-coast daily to the Sample family, which owns several newspapers south of Portland.
The Sample family got its start in the newspaper business more than 60 years ago in western Pennsylvania, but now owns publications in several states in the northeast and mid-Atlantic.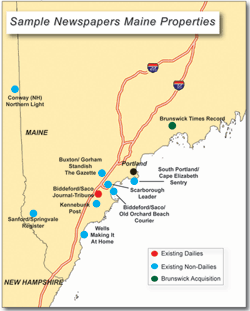 The Samples bought the daily Journal-Tribune in Biddeford-Saco in 1996 and have since added weeklies in southern Maine and a shopper in Conway, New Hampshire to the group.
The Brunswick Times Record will extend the cluster to 19 communities north of Portland. The Sample family also is acquiring a new production facility, opened in 2006, as part of the deal.
Exploring Tucson
Randy Miller, former owner of the free daily in Boulder, Colorado, bought EXPLORER Newspapers, publisher of a free weekly operation serving communities northwest of Tucson.
The Tucson operation was purchased in 1993 by Melanie Larson, who sold it to Miller at the end of November. A former Lee Enterprises executive, Miller sold the Colorado Daily to E.W. Scripps.
American Profile Sold
New private equity owners took over the growing Publishing Group of America, publishers of American Profile and Relish, supplements targeted to small-market newspapers.
Bain Capital Ventures and Shamrock Capital Growth bought the business from Quadrangle Capital Partners. Quadrangle had taken majority ownership in 2001 from founder Dan Hammond.
Shaw Grows in IL
Family-owned Shaw Newspapers added the DeKalb (IL) Daily Chronicle to its suburban Chicago publishing group. The DeKalb newspaper will become part of a Shaw division that includes dailies in Crystal Lake and Geneva, as well as two weekly groups.
Shaw acquired the Daily Chronicle and affiliated publications from Lee Enterprises.
Other News
The Bradley family's News-Press & Gazette Co. bought the Daily Star-Journal in Warrensburg, Missouri from local owners. The 4,500-circulation daily joins the Bradley's growing group near Kansas City.
Hearst Corp. bought daily newspapers in Stamford and Greenwich, Connecticut from Tribune Co. The newspapers will be managed by MediaNews Group.
Tribune also sold the alternative Valley Advocate in Connecticut to Newspapers of New England. Target Media Partners bought the Recycler Classifieds in Southern California from Tribune.
Journal Communications bought the weekly Clintonville (WI) Tribune-Gazette from GateHouse Media.