---
Q4 ends briskly
Strong activity at year-end shows deal market gaining momentum entering 2011
An otherwise tepid deal year, 2010 ended with a flurry of sales that included dailies, weeklies and niche publications.
With the newspaper business generally stabilizing late in the year – and smaller markets beginning to show improvements in ad revenue – the increased pace of transactions bodes well for 2011.
Fourth quarter 2010 deals included the sale of the Ames (IA) Tribune and clustered newspapers in central Iowa and numerous business publications once owned by Ohio-based Brown Publishing.
The Ames deal, along with the sale of the Honolulu Advertiser earlier in the year, were the largest transactions of 2010.
In addition, other significant deals were in the works at year-end that were expected to close in the first quarter of 2011.
Cyclone Sale
The management team at Stephens Media now will have to buy "Beat Iowa"" t-shirts.
The Las Vegas, Nevada-based company acquired two daily newspapers and related non-daily publications in central Iowa, including the Tribune in Ames, home of the 28,000-student Iowa State University Cyclones.
In addition to the 9,100-circulation Tribune, the cluster consists of a county-seat daily in neighboring Boone, a series of weeklies and shoppers serving communities north and west of the capital city in Des Moines and a county-seat weekly newspaper in the northern Iowa community of Algona.
The newspapers were sold by Midlands Newspapers Inc., a subsidiary of the Omaha World-Herald Co. Omaha had bought most of these newspapers in 1999 from local owners that included Michael Gartner, Gary Gerlach and a third partner.
Omaha said it made sense to generate cash from its investment in these central and northern Iowa newspapers since they were outside the company's primary market area of Nebraska and western Iowa.
Stephens's holdings consist of more than 50 publications from North Carolina to Hawaii. The Las Vegas (NV) Review-Journal is its largest newspaper.
In a separate fourth quarter deal, Stephens also acquired the Lincoln County Record in rural eastern Nevada from local owners.
Brown Divestitures
The new owners of the former Brown Publishing newspapers (its senior lenders) sold most of the company's business journals in a series of fourth quarter transactions.
The buyers included those with strategic interest, former owners and a private equity firm with interests in the business publication sector. In total, Ohio Community Media sold 15 publications, as well as numerous niche titles associated with these publications, in six deals.
Among the strategic buyers, Paddock Publications acquired the Business Ledger in Naperville, Illinois, serving western suburban Chicago communities.
Paddock, publisher of the suburban Chicago-based Daily Herald, launched a monthly magazine for business leaders in the northwest suburban communities just prior to buying the Business Ledger. The two publications remain independent but will complement each other.
Another strategic buyer, Utah Media Partners, bought Utah Business magazine, the longest running business magazine in the state. The glossy monthly magazine will turn 25 in 2011. Utah Media Partners also publishes Hometown Values magazine, Utah's largest circulation magazine.
Three of the transactions involved sales to former owners. Connie Wimer, who founded the weekly Des Moines (IA) Business Record and dsm magazine, bought her old publications back. She had sold them to Brown in 2007.
Another founder, Kevin Evans, got back ownership of his relocation guides in Austin and Dallas. He also acquired similar guides in Phoenix and Tucson, which had been added under Brown ownership.
Finally, Richard Connor and his wife repurchased the Fort Worth Business Press, which he sold to Brown in 2007. Connor is the former publisher of Fort Worth Star- Telegram and currently is CEO and part owner of both MaineToday Media Inc. and the Wilkes-Barre Publishing Co., which own and operate daily and weekly newspapers in Maine and Pennsylvania respectively.
In the sixth transaction, private equity firm Virginia Capital Partners financed the acquisition of three business publications in South Carolina and a statewide monthly, including the flagship Charleston Regional Business Journal.
Virginia Capital also financed the acquisition of Virginia Business magazine from Media General earlier in 2010.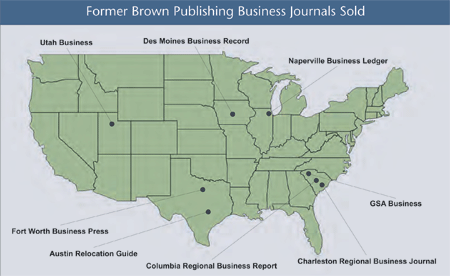 On Broad Street
Newly formed Broad Street Media closed on a transaction to buy a suburban publishing group from Philadelphia Media Network, the new owners of the Philadelphia Inquirer, the Philadelphia Daily News and philly.com.
Broad Street's principals include brothers Clifford and Stuart Richner and Darwin Oordt. The Richners' primary business is Richner Communications, publisher of community newspapers and shoppers on Long Island, New York. Oordt is a veteran suburban newspaper and shopper publisher.
The suburban Philadelphia group reaches nearly 700,000 households weekly in the city's northeastern and eastern communities.
In a separate transaction, Richner Communications acquired the weekly Oyster Bay Guardian serving north shore Long Island communities.
Louisiana Purchase
Louisiana State Newspapers acquired two community dailies and a companion TMC weekly serving markets along the Gulf Coast of Louisiana. The acquired dailies were the Daily Review in Morgan City and the Franklin Banner-Tribune, both located in St. Mary Parish.
Louisiana State Newspapers, a division of the Moody Company of Lafayette, now owns 30 newspapers, including four dailies, 26 non-dailies and a number of TMC products.
In announcing the deal, Darrell Guillory, chief operating officer of Louisiana State Newspapers, said, "We have been in the newspaper business for nearly 50 years and plan to remain in the business for a long time."
The St. Mary Parish newspapers had been owned by the Shirley family. Doyle E. "Red" Shirley, who got his start in Spartanburg, South Carolina working for Phil Buchheit, became part-owner of the Morgan City newspaper in 1973.
His two sons, Steve and Andy, owned and operated the newspapers prior to the sale.
Buyout King Buys Paper

The Reston family sold the Vineyard Gazette, published on Martha's Vineyard, Massachusetts, to Jerome Kohlberg, co-founder of the famed New York investment firm Kohlberg Kravis Roberts & Co.
The newspaper had been in the Reston family since it was acquired by former New York Times executive editor and columnist James B. "Scotty" Reston more than 40 years ago. Prior to the sale to Kohlberg, the newspaper had been owned and operated by Scotty Reston's sons, including his namesake and author James B. Reston, Jr.
In addition to the 164-year-old weekly newspaper, Kohlberg bought the Gazette's historic 1760 building, which he donated to the Martha's Vineyard Preservation Trust.
Other News

Womack Publishing, based in Danville, Virginia, made a strategic acquisition in the southern part of the state to supplement its non-daily group.
Womack acquired the News Progress, which serves communities in western Mecklenburg County. The company owns non-daily publications in Virginia and North Carolina.
Private equity firm Hamilton Robinson Capital Partners sold the Long Island Pennysaver, Town Crier and related publications to another investment firm, Wafra Partners.
The publishing group, known as All Island Media, reaches more than 700,000 homes weekly on Long Island with its free-distribution publications.
A group of fired Washington Times executives and the newspaper's founder, the Rev. Sun Myung Moon, bought the struggling metro daily from Moon's son.
The newspaper was acquired for the value of its debt and liabilities.
Independent Newspaper Group, based in Revere, Massachusetts outside Boston, added two titles to its stable of community non-daily newspapers.
The company, owned by the Quigley family, bought the Jamaica Plain Gazette and Mission Hill Gazette from local owners. The Quigley's group serves communities including Chelsea, East Boston, Charlestown, Winthrop, Back Bay and others in the Boston area.