---
Acquisition activity heating up:
Stephens, Buffett and other private investors snapping up newspapers
The first six months of 2012 saw the most active period of newspaper acquisitions since the beginning of the Great Recession, as private investors moved in to claim major publishing assets and some of the most-storied titles in the industry.
Since the beginning of the year, deals have been announced involving nearly 60 daily newspapers, including the Orange County (CA) Register, the Richmond (VA) Times-Dispatch and the Philadelphia (PA) Inquirer.
Both Warren Stephens and Warren Buffett, who began buying newspapers in late 2011, continued to add to their portfolio companies in 2012. In addition, a number of new players emerged on the scene, creating a shifting ownership landscape. The announced sales of all of Freedom Communications' newspapers in a series of transactions fueled a large portion of the activity.
Buffett's BH Media Group bought most of the newspapers owned by publicly traded Media General, all of which are located in the Southeast. Separately, Buffett agreed to acquire two daily newspaper operations in Texas.
Stephens' company, Halifax Media Group, added newspapers in North Carolina and Florida owned by Freedom. At the end of 2011, Halifax announced a deal to buy the New York Times regional newspapers (it closed in early 2012), most of which are in the Southeast.
In a third significant transaction, entrepreneur Aaron Kushner led a group of investors who agreed to purchase the Orange County Register and Freedom's other western newspapers.
Southern Comfort
Berkshire Hathaway's subsidiary BH Media Group reached agreement in May to buy all of the newspapers owned by Media General, except the Tampa (FL) Tribune and related publications, for $142 million. Media General is continuing to look for a buyer in Tampa.
The sale of the newspapers, driven by issues related to Media General's long-term debt, was accompanied by a separate refinancing package from Berkshire Hathaway.
The deal includes 18 daily newspapers and numerous non-dailies principally in Virginia, North Carolina, South Carolina and Alabama. BH Media will be managed by executives at the Omaha World-Herald Co., which Berkshire Hathaway acquired last year.
Many of the largest newspapers are located in Virginia, including the flagship Richmond Times-Dispatch, which was the foundation of Media General. Also in Virginia are the News & Advance in Lynchburg and the Daily Progress in Charlottesville.
Media General will continue as a publicly traded company that primarily owns and operates network-affiliated television stations. A related story about the history of Media General and its newspaper acquisitions begins on Page 4.
Berkshire – Take 2
In separate transactions, Berkshire Hathaway's Omaha World-Herald Co. also agreed to acquire two daily newspaper operations in Texas.
In the first, Omaha added the 20,000-circulation Bryan-College Station (TX) Eagle, home of Texas A&M University. Berkshire Hathaway acquired the operation from The Evening Post Publishing Co. of Charleston, S.C., which had bought it from Belo in 2000.
The Eagle was the only newspaper in Texas owned by Evening Post, and the company said it decided to sell it as part of a diversification strategy with its holdings, which include broadcast television stations among other businesses.
Texas A&M, home of the Aggies, is the nation's sixth largest university with nearly 50,000 students.
In a nearby university town, Omaha also agreed to buy the 34,000-circulation Waco Tribune-Herald, home to Baylor University. The Waco daily had been acquired by the local Robinson family in 2009 from Cox Enterprises.
Baylor University is undergoing tremendous growth, including plans for a 50,000-seat football stadium following the tenure of Heisman trophy-winning quarterback Robert Griffin III.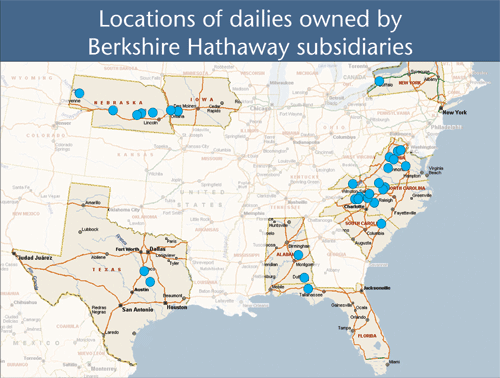 Freedom is Just Another Word
Freedom Communications dismantled its newspaper portfolio in a series of first and second quarter transactions, effectively ending the company founded by R.C. Hoiles in 1935. Freedom earlier sold its broadcast television stations.
The sale of Freedom's newspapers is occurring in six separate transactions. In the second quarter transactions, Halifax Media Group took the North Ca­­­rolina and Florida properties; AIM Media Texas LLC acquired the company's newspapers in Texas; Versa Capital Management bought four Midwest daily newspapers; and 2100 Trust LLC agreed to purchase the flagship Orange County Register and the remaining western publications.
In total, Freedom has sold, or agreed to sell, 26 daily newspapers and numerous non-daily publications in the deals. These are detailed below.
Transaction 1. In addition to the western newspapers, 2100 Trust agreed to acquire the corporation, Freedom Communications Holdings, Inc., which emerged from bankruptcy protection in 2010. The western group consists of seven daily newspapers – five in California, including the Orange County Register; the Yuma (AZ) Sun; and the Colorado Springs (CO) Gazette.
Newly formed 2100 Trust is led by Aaron Kushner, a Boston-area entrepreneur, who assembled a team of investors for the transaction.
Transaction 2. Halifax's group included six daily newspapers in North Carolina and two serving markets in Florida's panhandle region – The News Herald in Panama City and the Northwest Florida Daily News in Fort Walton Beach.
Earlier this year, Halifax closed a deal to acquire the New York Times regional group, which included newspapers in Florida and ­­­­North Carolina.
Transaction 3. Newly formed AIM Media Texas, which includes longtime newspaper executive and owner Jeremy Halbreich, bought four daily newspapers in Texas from Freedom – three located in the Rio Grande Valley of South Texas and the Odessa American in west Texas.
Halbreich recently was the chairman and chief executive of Sun-Times Media LLC, owner of the Chicago Sun-Times. Previously he founded and headed Texas-based American Consolidated Media and was president and general manager of the Dallas Morning News.
Transaction 4. Versa's deal included four daily newspapers in Ohio, Illinois and Missouri, which it added to its newspaper company, Ohio Community Media. Versa made its first foray into the newspaper business in 2011 with the acquisition of Ohio Community Media, which consists of the former Brown Publishing newspapers in the western part of the state.
One of the Freedom newspapers, the Lima (OH) News, fits neatly into the former Brown footprint in western Ohio.
Transactions 5 and 6. Earlier in 2012, Freedom sold the Seymour (IN) Tribune to family-owned Home News Enterprises of Columbus, Indiana. In addition, Freedom sold two daily newspapers in eastern New Mexico to Gary Stevenson and Gary Ellis, who also own newspapers in Michigan and Wyoming.
Texas, Again?
A company formed by family owners of the Victoria (TX) Advocate and other investors acquired two daily newspapers and a weekly group in northeast Texas from ASP Westward.
The new company, Texas Community Media LLC, bought the 23,000-circulation Longview News-Journal, Marshall News Messenger and 12 paid weeklies located in the northeast corner of the state.
ASP Westward got the two dailies from Cox Enterprises in 2009 and integrated them into its existing weekly platform. ASP also sold its operations in Colorado in a separate transaction (see below) in the first half of 2012.
One of the new owners, Stephen McHaney, is president of the new company and will move his family from Victoria to Longview to assume the role of News-Journal publisher. The Victoria Advocate has been owned by the same family for three generations.
Texas, Last One, Really
American Community Newspapers (ACN) sold its suburban Dallas newspaper group, Star Community Newspapers, to 1013 Communications, which also publishes suburban newspapers in Phoenix.
The Plano-based Star Community Newspapers consists of 15 community-based publications, with distribution of more than 325,000 principally north of Dallas. The flagship Plano Star Courier is published on Thursdays and Sundays.
The acquiring company is a partnership between longtime newspaper executives Randy Miller and Arne Hoel.
Separately, ACN sold its suburban newspapers in northern Virginia to a new company, HPR Hemlock LLC.
The group includes Leesburg Today, Ashburn Today and the Arlington Sun Gazette, among other publications. This represented the last of four transactions in which ACN sold all of its suburban operations in various parts of the country.
Elsewhere in the 'Burbs
Veteran publisher Jerry Healey acquired a group of suburban publications serving markets south of Denver from ASP Westward.
The group, Community Media of Colorado, publishes 12 newspapers with distribution to more than 125,000 households along Colorado's Front Range south of downtown Denver and north of Colorado Springs.
The weeklies serve Castle Rock, Highlands Ranch, Lone Tree and other desirable communities in the region.
Healey formed a new company, Macari-Healey Publishing Co. LLC, to make the acquisition.
Versa-Tile
In addition to the papers acquired from Freedom, Versa Capital Management added the Wilkes-Barre (PA) Times Leader in the first half of 2012.
The Times Leader, with circulation of 36,000 daily and 57,000 Sunday, and its companion publications serve a series of communities in northeastern Pennsylvania.
The newspaper has been through a number of ownership changes in recent years. Its longtime owner Capital Cities/ABC in 1997 merged with Disney, which then sold it and other newspapers to Knight Ridder.
McClatchy acquired Knight Ridder in 2006, then sold the Times Leader and a number of newspapers in a subsequent spin off.
Philly Cheesesteak
A group of Philadelphia businessmen bought the Philadelphia Media Network, which owned the Philadelphia Inquirer, the Daily News, Philly.com and affiliated publications.
The group, led by Lewis Katz and George Norcross, paid $55 million to buy ­­­­­the dailies from the hedge funds and financial firms that had owned them since emerging from bankruptcy in 2010. It represented the fourth sale of the properties in six years.
The sale mirrored a deal at the end of 2011 in which local business titans bought the Chicago Sun-Times.
Other News
Ogden Newspapers acquired the Northern Virginia Daily in Strasburg, Virginia. The Wheeling, West Virginia-based company bought the paper from local owners Pat and Dee Keister.
The Northern Virginia Daily was started by Pat Keister's father in 1932. Ogden owns newspapers in West Virginia, Pennsylvania, New York, Ohio, Indiana, Michigan, Minnesota, Iowa, North Dakota, Florida and Hawaii.
The 20,000-circulation Lawton (OK) Constitution passed from local owners to local owners. Bill and Brad Burgess purchased the newspaper from Don and Steve Bentley, whose family had owned the publication since 1910.
Investor S. Donald Sussman acquired a 75% stake in the company that owns the Portland (ME) Press Herald/Maine Sunday Telegram, the Kennebec Journal in Augusta, the Morning Sentinel in Waterville and related properties. Sussman, a former hedge fund manager and philanthropist, formed a new company, Maine Values LLC, to make the purchase.