---
Dozens of papers change hands as newcomer CherryRoad Media expands and local owners step in
More than 160 newspapers have changed hands during the first eight months of the year. CherryRoad Media Inc. made headlines this month with its acquisition of 20 titles from Gannett Co., Inc. Founded less than a year ago, CherryRoad now publishes 27 titles in seven states.
From coast to coast, independent, local owners are also acquiring papers. Some are content to own a single title while others are building clustered groups.
CherryRoad goes big
In one of the biggest stories of 2021, CherryRoad Media acquired 20 newspapers from Gannett earlier this month. The newspapers are published in Kansas, Nebraska, Iowa, and Missouri.
The daily newspapers acquired include: The Leavenworth (KS) Times, Dodge City (KS) Daily Globe, Newton (KS) Kansan, Garden City (KS) Telegram, Hays (KS) Daily News, and Independence (MO) Examiner.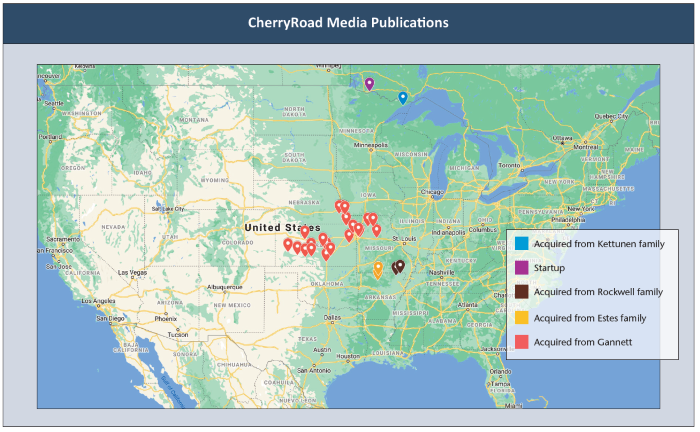 This marks the largest acquisition to date for new kid on the block CherryRoad, which first entered the newspaper industry in late 2020 with the purchase of the weekly Cook County (MN) News-Herald. It has since acquired four titles in Arkansas, one in Alabama, and started a new title in International Falls, Minnesota in July.
International Falls is home to approximately 6,000 residents. When Jeremy Gulban, CEO of CherryRoad, learned the existing publication serving the community was being closed, he saw an exciting opportunity and decided to run with it. After meeting with community leaders, plans were quickly set in motion and just a few weeks later CherryRoad distributed Volume 1, Issue 1 of its newest publication, the Rainy Lake Gazette. The paper came to fruition just two weeks after the doors closed at the International Falls Journal.
Gulban stated in a press release that his intentions are always community-driven, sharing, "The last three weeks have been the most rewarding of my career. To see how the community in International Falls has rallied together to help us get this initiative off the ground validates the importance of community newspapers.
"In speaking with people in the community over the last several weeks, a common theme has been a sense of regret that they took for granted the previous paper would always be there."
Gulban further explained his intent was to continue the legacy of the paper long into the future, "…enabling technologies that play an important role in the digital fabric of the community…"
As papers throughout the country have ceased production throughout the past few years, Gulban believes, "In order to better fight against these economic forces, a local newspaper needs an infusion of creativity, energy, and resources."
Gulban shared, "I hope this story inspires other communities to appreciate and support their community newspapers. It is most interesting that this entire effort started with a discussion with our elected officials about the importance of the continued publishing of legal notices in our community newspapers, which is essential for the well-being of these institutions. While this story has a happy ending for International Falls, it is a stark reminder for all of us to do all we can to ensure this scenario does not occur in other communities."
CherryRoad Media is a whole owned subsidiary of CherryRoad Technologies, a Parsippany, New Jersey-based technology company that has been in business since 1983.
CherryRoad Technologies provides complex technical solutions and system integration services to large enterprise customers, particularly state and local government entities.
Phillips Media Group adds five
Phillips Media Group acquired five publications from Gannett, including the daily Baxter Bulletin in Mountain Home, Arkansas, and four papers in Missouri: The Big Nickel in Joplin, the Rolla Daily News, the Kirksville Daily Express, and the NEMO Trader in La Plata.
These publications are all located within the general footprint of other Phillips Media Group properties.
Phillips Media Group was founded by Rupert Phillips, who served as the publisher of the Baxter Bulletin in the 1970s before buying his first paper, the Mountain Echo of Yellville.
Phillips has a long history of buying and selling papers, including with Gannett. In the past, Phillips purchased several Gannett-owned papers like El Diario, New York's largest Spanish language paper, and the Honolulu Star-Bulletin.
Independents buy in Missouri
Three independent Missouri publishers acquired titles from Gannett, bringing local ownership back in several communities.
Vernon Publishing, owned by the Vernon family, acquired a group of publications in the Lake of the Ozarks region of Missouri, including the Lake Sun and Vacation News.
The company already published three other newspapers in the area, The Advertiser in Eldon, The Index in Hermitage, and The Tipton Times. Trevor Vernon also serves as mayor of the city of Eldon, Missouri.
Westplex Media Group acquired the Moberly (MO) Monitor-Index, the fourth community newspaper in Westplex's portfolio.
Westplex is owned by Tim Schmidt, who has nearly 20 years of experience in the newspaper industry. Schmidt founded Westplex in 2018 when he purchased the Montgomery Standard, a weekly newspaper in Montgomery City, Missouri. Schmidt added a second weekly newspaper in October 2019 when he acquired the Warren County Record in Warrenton, Missouri. In August 2020, Westplex acquired its third newspaper in Missouri, the Mexico Ledger, from Gannett.
The third local Missouri publisher to acquire Gannett titles was Sexton Media Group, which acquired the Neosho (MO) Daily News and the Aurora Advertiser. Sexton Media Group is owned by Jimmy and Rhonda Sexton, of Neosho.
In addition to these two newspapers, Sexton Media owns two other local publications, The News-Dispatch and River Hills Traveler.
Kansas locals also step in
In August it was announced that Larry Hiatt, the owner of the Columbus (KS) News-Report, and a group of local Southeast Kansas families were acquiring the Pittsburg (KS) Morning Sun from Gannett.
According to Pittsburg attorney Kevin Mitchelson, a new company was formed by local families with the goal of keeping the newspaper locally owned. Hiatt, who was an employee of the Morning Sun in the 1960s, assumed the publisher position.
The Morning Sun dates back to 1887 and has been owned by Stauffer Communications, Morris Communications, Gatehouse Media and Gannett during the past 50 years.
Earlier this year, Larry Hiatt also acquired the Cherokee County News-Advocate from Gannett, merging it with his family's Columbus News-Report publication that covers the same county.
Huskers changes hands
Nicholas Holdings, a company owned by long-time newspaper veteran Terry Kroeger, acquired Huskers Illustrated from Paxton Media Group.
Huskers, which focuses on University of Nebraska sports, was one of the operations PMG recently acquired from Landmark, but sits outside of Paxton's core footprint.
"We're delighted to have the opportunity to bring Huskers Illustrated to local ownership," Kroeger said. "As a University of Nebraska graduate, Husker athletics are personal to me and we're looking forward to providing quality content for fellow Husker fans."
Kroeger also owns Smith Kroeger, an Omaha-based marketing and communications company.
O'Rourke enters New Mexico
The operations Paxton Media Group acquired from Landmark included another outlier: the Las Vegas (NM) Optic. In late June it was announced that PMG had sold the title to O'Rourke Media Group.
"I'm excited to plant a flag in the state of New Mexico with the acquisition of the Optic," O'Rourke Media Group CEO Jim O'Rourke said. "I'm really looking forward to working with and investing in this talented, hardworking group of employees as we look to grow digital audience and revenue while continuing to publish an amazing print publication."
The family-owned and operated O'Rourke Media Group launched in 2018 and has quickly acquired community publications in Wisconsin, Minnesota, Vermont, and Arizona.
Champion Media tacks on weekly
Champion Media of the Carolinas, a family-owned company based in Mooresville, North Carolina, acquired the weekly Bennettsville (SC) Herald-Advocate. The paper was sold by Marlboro Publishing Company, which is owned by Bennettsville native Elisabeth McNiel, the third generation of family ownership for the Herald-Advocate.
Champion Media is owned by CEO Scott Champion and President Corey Champion.
Champion Media currently owns more than 20 newspapers in six states. Its largest footprint is in North Carolina with newspapers in Robeson, Sampson, and Bladen counties as well as the Laurinburg Exchange in Scotland County, The Richmond County Daily Journal in Rockingham, and the Anson Record in Wadesboro. The company also owns two South Carolina publications, the Newberry Observer in Newberry, and Sentinel Progress in Easley.
Mullen continues expansion
J. Louis Mullen, who acquired three papers earlier this year, added two more titles in September when he acquired the Red Oak (IA) Express and Glenwood (IA) Opinion-Tribune from Paxton Media Group.
Mullen, who sits on the board of the National Newspaper Association, now owns 20 newspapers in seven states that span the upper Midwest to the West Coast.
Mullen has grown this stable of papers through a series of acquisitions since 2013, when he acquired the Green River (WY) Star. He added the Thermopolis (WY) Independent Record in 2014; the Nugget Newspaper in Sisters, Oregon in 2017; and then picked up the pace by adding nine more titles in 2018 and 2019 and three in 2020.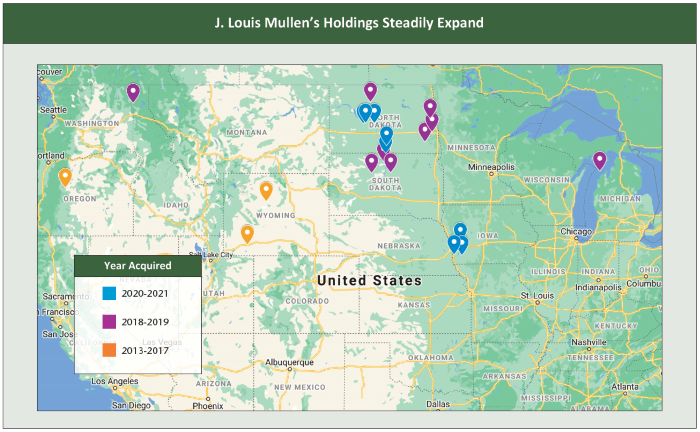 The Red Oak and Glenwood, Iowa newspapers were among the 46 newspaper operations PMG acquired from Landmark Community Newspapers earlier this year.
"PMG does not otherwise have a presence in Iowa and we prefer to focus on our current footprint" said Jamie Paxton, CEO of PMG. "We felt the Iowa papers would be better served by an owner with closer geographic ties."
Mullen said, "I'd like to thank Paxton Media Group for the opportunity to continue small community journalism and focus on the advancement of our industry. I've been lucky enough to find success in this market and wouldn't pursue investments in our industry if I didn't see a bright future."
Editors become owners in the Carolinas
Jonathan Vickery acquired his hometown paper from Gannett in July. Vickery had been serving as the weekly Barnwell (SC) People-Sentinel's editor before the purchase and has been with the paper since 2010.
Vickery, a lifelong resident of Barnwell, has won numerous awards for writing and photography from the South Carolina Press Association. The People-Sentinel has been publishing in Barnwell County since 1852.
Another editor became an owner in Columbus County, North Carolina. Justin Smith, editor of The News Reporter since 2018, purchased the 125-year-old company from Les High and Stuart High Rogers in August. Three generations of the Thompson-High family have owned the paper since 1938.
"I am honored that Les and Stuart have the confidence in me to carry on an institution that is so important to their family and to our community," Smith said. "The Thompson-High family is known across North Carolina and beyond for courage and excellence in journalism, and I intend to build on that tradition and honor their legacy."
Hume family expands in New York
The Daily Gazette of Schenectady, long owned by the Hume family, acquired The Leader-Herald in Gloversville from Ogden Newspapers.
Elizabeth "Betsie" Hume Lind, The Daily Gazette's board chairwoman, said, "As a family-owned newspaper, it gives everyone at the Gazette great pride knowing that we are continuing the mission and legacy of another family-owned newspaper like The Leader-Herald.
"Local newspapers help form the foundation of our communities, so making sure we preserve and enhance the journalistic offerings of The Leader-Herald for future generations is vitally important to us."
The transaction did not include the Leader-Herald's real estate, production equipment or commercial printing accounts. The daily had been owned by Ogden Newspapers since 1989.
Family enters the owner ranks in Missouri
After working at corporate-owned newspapers throughout Missouri for nearly 20 years, Jamey and D'Anna Honeycutt purchased The Clinton County Leader from Steve and Sue Tinnen. The Honeycutts are the 10th owners in the newspaper's history, dating back to its founding in 1895.
Since 2010, The Leader has won more than 100 awards from the Missouri Press Association for its community coverage, including two top awards for General Excellence and two Gold Medal awards as the best small-town weekly newspaper in the state.
Better Newspapers buys again
Better Newspapers Inc., owned and operated by the Hoskins family, added another five weekly newspapers in Illinois: the Greene Prairie Press, the Scott County Times, the Pike Press, the Calhoun News-Herald, and the Jersey County Journal.
The group had been owned by Campbell Publishing. Better Newspapers now owns 31 newspapers in Illinois and Missouri.
Hyde Media Group adds in Texas
Hyde Media Group, formed by Granbury attorney Paul Hyde in 2020 to purchase the Hood County News, acquired the weekly Springtown Epigraph, weekly Azle News and the bi-weekly Gatesville Messenger.
Hyde and Sam Houston, HCN's publisher and HMG's chief operating officer, said they are committed to covering local news. Since HCN was acquired last August, 15 additional full-time staffers have been hired, and subscriptions and advertising sales are up. With the additional newspapers, HMG now has 50 employees.
"The business plan that we put in place is working and I believe we can do those same things in multiple small towns," Hyde said.
Louisville alt changes hands
Euclid Media Group, a media company headquartered in Cleveland, Ohio, purchased the LEO Weekly, an award-winning alternative newsweekly publication in Louisville, Kentucky.
The acquisition marks the tenth for Euclid Media Group, whose multimedia portfolio includes the Cleveland Scene; Cincinnati CityBeat; Detroit Metro Times; the RiverfrontTimes; Out in STL; Orlando Weekly; Creative Loafing Tampa Bay; the San Antonio Current; Out in SA; and now, LEO Weekly.
Vander Veens add in California
209 Multimedia Corporation acquired the Gustine Press Standard and West Side Index newspapers from Mattos Newspapers.
The two newspapers, along with their websites and commercial printing operations, expand 209 Multimedia's holdings from Manteca in San Joaquin County through Oakdale, Ceres and Turlock in Stanislaus County and now Gustine in Merced County.
209 Multimedia Corporation is owned and operated by Kelly and Hank Vander Veen. In 2020 the couple acquired a group of papers Hank had been running for Morris Multimedia for years, including the Manteca Bulletin and Turlock Journal.
The West Side Index started publication well over 100 years ago in 1890. The Gustine Standard began publishing in 1910 and merged in 1995 with the Gustine Press.
Other News
Hartman Newspapers, LP sold The Port Lavaca Wave to Tania French's Something More Newspapers. The Port Lavaca Wave was founded in 1890 and has been owned by Hartman Newspapers for more than 40 years.
The Prial family sold the weekly Manhattan (NY) Chief-Leader to August Cooperative. The publication focuses on municipal government and civil servants, as well as issues affecting state and federal employees. It was founded in 1897 and had been owned by the Prial family since 1919.
Salem Publishing Company acquired the Rolla Daily News and the Pulaski County Weekly from Phillips Media Group.
Salem Publishing owns the nearby Phelps County Focus, a weekly newspaper launched in 2017 to compete with the Rolla Daily News. Publisher Donald Dodd plans to combine features of the Focus and Rolla Daily News into one publication, and the newspaper will continue to be named Phelps County Focus.
Phillips Media acquired the Rolla newspaper from Gannett in September and soon began negotiations with Salem Publishing, which also publishes The Salem News, a 102-year-old newspaper in adjacent Dent County. Salem Publishing also owns Action Graphics Sign Company and a commercial printing operation.