---
Daily Transactions Total $575.7 Million for Year
A series of significant announcements at year-end pushed totals for 2003 to some of the best levels since the beginning of the recession.
With renewed optimism about an economic recovery and many newspaper companies reporting strengthening advertising in recent months,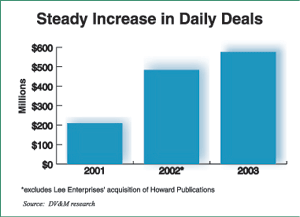 the year-end activity should portend an improved environment for acquisitions.
For the year, 31 daily newspapers got new owners in 13 separate transactions totaling $575.7 million. This marks the second year in
a row that underlying deal activity has improved since hitting bottom at $209 million in 2001.
Lee Enterprises' $694 million acquisition of Howard Publications, which involved 16 dailies, inflated the totals in 2002. Excluding that transaction, the 2002 totals were $483 million and 22 dailies.
The Big Non-Deal
The 2003 numbers do not include what was the highest-profile "non-deal" of the year: Freedom Communications. After a highly publicized process to provide liquidity to some of the family owners of Freedom, the company opted to recapitalize through a partnership with two private equity firms.
The agreement left the descendants of founder R.C. Hoiles in control of Freedom. The Dirks, Van Essen & Murray statistics include only those transactions that involve a change in control. Thus, it has been excluded from the 2003 totals.
According to published reports, the equity investment by Blackstone Group and Providence Equity Partners valued Freedom at about $1.7 billion plus $350 million in debt. Freedom operates 28 dailies, 37 weeklies and eight television stations.
The process attracted the attention of numerous private equity firms, as well as some of the largest U.S. newspaper companies.
Values Remain Strong
The interest in the Freedom assets, as well as other transactions in 2003, indicate clearly that values for community newspaper remain strong despite the effects of the national recession on advertising revenue.
Two of the largest deals of the year — the Stockton (CA) Record and Merced (CA) Sun-Star — were consummated at cash flow multiples close to those at the height of the market in the late 1990s.
The McClatchy Co. reported that it paid 13 to 14 times first-year cash flow (10 to 11 times cash flow after-tax) for the Merced daily; Ottaway Newspapers reported a multiple of 12 times pro forma cash flow after synergies and adjustments for the Stockton daily. The recapitalization at Freedom valued the company at similar multiples, according to a number of published reports.
Private Equity Money Returns
In addition to the Freedom recapitalization, a number of other private equity firms made investments in daily newspapers in 2003. Early in the year, American Securities Capital Partners bought Westward Communications, which publishes two dailies and a large non-daily group in the Houston area, as well as non-dailies in East Texas and Colorado. Heritage Partners made an investment in Enterprise News Media, publisher of the daily Quincy (MA) Patriot Ledger and Brockton (MA) Enterprise in the Boston area.
Additionally, an affiliate of MCG Capital Corp., which has been active in the newspaper industry primarily as a lender, acquired the equity of Murphy McGinnis Media newspaper group around Duluth, Minnesota. And the former management team of Pacific-Sierra Publishing used private-equity backing to buy two dailies and a number of non-dailies in California from their company.
The reason for the renewed interest from private equity firms is that newspapers have proven to be steady cash-flow producers through the recession, and interest rates remain low. With lenders becoming more aggressive, and private equity shops lowering their return expectations, newspapers have become more attractive as investments — particularly in the wake of spectacular dot-com crashes.
Our firm has been in discussions with more than 100 private equity firms that have a current interest in the newspaper industry, as many as we have had in many years. This trend should continue as the economic recovery gathers momentum.
Outlook Good
The public newspaper companies gave generally upbeat comments at year-end media conferences about the prospects for an advertising recovery in 2004. In addition, a number of privately held companies say they ended the year with several very good months.
After a year in which advertising finally eked out a small gain of 1% to 2%, forecasters now are optimistic about a 4% to 5% upturn in advertising revenue in 2004.
Of course, many newspaper executives predicted similar ad revenue increases of "mid-single digits" at the same conferences last year. However, the anecdotal information about strengthening ad buying in recent months is much more forceful than it was at the end of 2002.
A better advertising environment is good news for the acquisition market. More sellers are likely to come to market when monthly financials are improving. We expect another up year in 2004, building on the momentum at year-end.
Clustering Continues
Among the conventional newspaper companies making acquisitions, clustering continues to drive many deals. McClatchy, Times-Shamrock (Scranton), Ogden and Bryan Publishing all made daily acquisitions in adjacent or neighboring markets.
However, Ottaway's $144 million acquisition of the Stockton Record, the largest deal of the year, was not strategic in a geographic sense. Dow Jones, which is pushing to build its Ottaway community newspaper division, pounced on an opportunity to buy a sizable, stand-alone newspaper in a growth market.