---
Best Year Since 2000: 44 Dailies Sold in '04 as Activity Improves
Momentum in the newspaper merger-and-acquisition market continued to build in 2004 as more dailies changed hands than in any year since the start of the recession four years ago.
The level of activity was still well below average for the past 10 to 15 years due to a lack of sellers in the market. However, there were a number of positive indicators in 2004.
The continued flow of private equity money into newspapers and strong purchase price multiples bode well for improved deal activity in 2005, even though publishers remain cautious about the advertising climate.
For the year, 44 daily newspapers were sold in 23 separate transactions totaling $918.1 million. This represented the largest number of dailies to get new owners since the level of activity peaked in 2000. Some 135 daily newspapers were acquired that year, just before the onset of the recession.
The volume in 2004 was well ahead of the prior year when 31 dailies changed hands with total dollar value of $575.7 million.
New Companies Emerge
Not since the second half of the 1990s, when Community Newspaper Holdings Inc., Liberty Group Publishing and other familiar names got started, have so many new newspaper companies been formed in a single year.
Three companies made "platform" acquisitions in 2004 and have plans to create larger operations in the coming years.
Heartland Publications, backed by two private equity firms, bought 10 daily newspapers and 12 non-dailies from CNHI in the first part of the year. It was the largest first acquisition by a new company since Liberty in 1997.
The initial platform spanned seven states primarily in the Southeast and Midwest. Also in 2004, Sandler Capital Management created HarborPoint Media with the acquisition of a 30,000-circulation daily in central Florida, two dailies in Arkansas and several non-daily publications.
And Clarity Media Group, backed by the Anschutz Company, bought free-distribution daily operations in San Francisco and suburban Washington, D.C., in separate transactions.
Bigger Papers, Bigger Deals
Larger dailies generally were involved in transactions this year than in the previous three.
Journal Register Company acquired 21st Century Newspapers for $415 million in the largest deal of 2004. The holdings of Michigan-based 21st Century included the 67,750-circulation Daily Oakland Press and 45,500-circulation Macomb Daily, both north of Detroit.
Other sizable newspapers getting new owners in 2004 included the Durham Herald-Sun, daily circulation 50,100; the 30,000-circulation Leesburg (FL) Daily Commercial; and the 29,000-circulation High Point (NC) Enterprise, of which Paxton Media Group acquired the remaining 50%.
Except for Lee Enterprises' purchase of Howard Publications in 2002, which included a number of larger dailies, the bulk of the acquisition activity over the past four years has involved dailies under 10,000 circulation.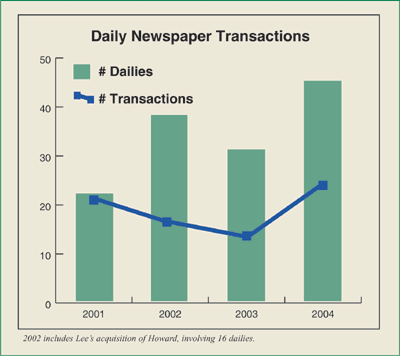 Outlook Improving
Although newspaper publishers are very cautious about the advertising climate in 2005, a number of factors remain bullish for the M&A market.
Interest rates are edging up, but still are low in historical terms. Banks continue to be aggressive in lending to newspaper buyers.
Because of the relatively modest deal activity in recent years, buyers have plenty of excess borrowing capacity and an appetite for acquisitions. Stand-alone dailies that came on the market in 2004 attracted a considerable amount of interest from both strategic and non-strategic buyers.
This leverage capacity and low interest rates have helped to keep multiples paid for dailies and weekly groups at or above the market peak.