---
Acquisitions Top $3 Billion; More than 100 Dailies Trade During 2005
The newspaper industry experienced one of its most active years in modern times during 2005, as several large transactions drove deal volume above $3 billion for only the fifth time in history.
The number and type of newspaper acquisitions in 2005 were reminiscent of the late 1990s, when the industry routinely saw the annual dollar volume of transactions reach levels of $2 billion to $3 billion.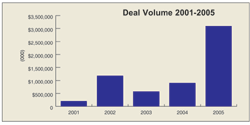 Activity peaked in 2000, then it screeched to a halt in 2001 coinciding with the recession. Volume has been slowly building back to pre-recession levels ever since.
For 2005, a total of 111 daily newspapers changed hands in 23 transactions totaling $3.09 billion. That was well ahead of 2004, when just 44 dailies got new owners in deals totaling $918.1 million.
Deja Vu
The trends are remarkably similar to those in the 1990s.
The industry had relatively light deal activity through the first half of the decade following a recession. That changed in 1995 when a number of large transactions pushed volume to more than $3.5 billion. These included Disney's acquisition of Capital Cities/ABC, which included its significant newspaper portfolio; Gannett's purchase of Multimedia; and the sale of the Raleigh (NC) News & Observer.
That kicked off six consecutive years of robust deal activity, culminating in a record year in 2000. Dirks, Van Essen & Murray believes the industry is headed into another prolonged period of strong deal flow.
Like 1995, capital is readily available, private equity money is investing in newspapers, acquisition-minded companies have paid down debt and those contemplating a sale are entering a market with healthy purchase-price multiples.
Although newspapers are somewhat out of favor on Wall Street, those buying newspapers in the private marketplace continue to see significant value in the industry's strong hold on local news and information at the community level.
Large Deals in 2005
In more parallels with 1995, the past year was marked by several large transactions that accounted for a big chunk of the dollar volume.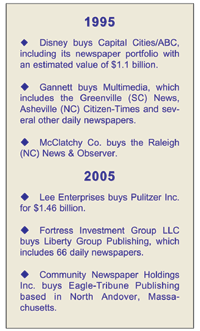 Lee Enterprises set the pace early in 2005 with the $1.46 billion acquisition of Pulitzer Inc. and its flagship St. Louis Post-Dispatch. In mid-year, Fortress Investment Group LLC bought Liberty Group Pub-lishing, which included 66 daily newspapers.
Later, Community Newspaper Holdings Inc. bought a large publishing cluster in New England anchored by the Lawrence (MA) Eagle-Tribune. Gannett and Knight Ridder struck two deals that moved several large newspapers between the two companies.
Free Dailies Get Respect
Three free daily newspaper operations were acquired by traditional newspaper companies in 2005, reflecting the fact that operators are embracing non-traditional ways of reaching certain markets or parts of markets.
Knight Ridder bought a free daily with five zones based in Palo Alto, California to supplement its coverage area of the San Jose Mercury News. The Palo Alto Daily News was founded in 1995.
Elsewhere, E.W. Scripps Co. acquired the Colorado Daily in Boulder, where Scripps owns the Daily Camera. Liberty Group Publishing added the Telluride (CO) Daily Planet as a stand-alone acquisition.
Meanwhile, Philip Anschutz' Clarity Media Group announced plans to launch a new free daily operation this spring in suburban Baltimore as it continues to test the model on a large scale in San Francisco and Washington, D.C.
Purchase Prices Strong
With plenty of liquidity in the acquisition market and a relatively low interest -rate environment, purchase prices expressed as multiples of cash flow remain at or near the peak levels of the late 1990s.
Although the volume of transactions has been low for the past several years, values have not diminished.
The strength has come from several fronts.
Strategic acquirers see real synergies in adding pieces to clusters of publishing operations. In addition, private equity has made significant investments in newspapers in recent years, aided by relatively high lending ratios. This has allowed the equity firms to pay market prices and still achieve their returns.
We see no immediate changes in these positive factors during 2006.