---
The McClatchy Co. made the headlines in 2006.
With its acquisition of Knight Ridder, subsequent spin-off of several of these papers and year-end sale of the Minneapolis Star-Tribune, McClatchy accounted for 91% of the $9.96 billion in daily newspaper transactions in 2006.
Even so, there were other stories during the year. The underlying deal flow was brisk, and prices expressed as multiples of cash flow remained strong. The vast majority of the newspapers sold were owned by public companies, which continue to be in disfavor on Wall Street.
This may be remembered as the year the metro newspaper fell from grace.
It would have seemed unthinkable a year ago that the big city papers in Philadelphia and Minneapolis would be sold to private equity interests. But with Wall Street's growing antipathy for public newspaper stocks, large tax bills due and increasing concerns related to online competition, this is in fact what happened.
At the same time, however, there was renewed interest in small and mid-sized markets.
Community Newspaper Holdings Inc. bought seven daily newspapers from Dow Jones with average circulation of about 24,000 each.
GateHouse Media, also an active acquirer, had a highly successful initial public offering late in the year with a focus on "hyperlocal" newspapers. Translation: We are not in any metro markets.
Canadian David Black made a big splash in the U.S., buying the Akron (OH) Beacon Journal and two publishing groups in western Washington. A number of family-owned companies added to their holdings as well.
For the coming year, we see another active year with prices holding for community dailies and non-daily groups. A wide range of companies continue to seek newspaper acquisitions, despite the bad news from the metro markets.
By The Numbers
For the record, there were a total of 25 transactions involving 76 daily newspapers announced in 2006.
The total transactional value of just under $10 billion was the second-highest in industry history, trailing only 2000 when such venerable names as Times Mirror, Thomson Newspapers and Central Newspapers exited. More than $14 billion in newspaper sales occurred in that year.
Interestingly, 60 of the 76 dailies changing hands in 2006 were sold by public companies. No other years in recent times even come close to that percentage.
This was driven in large part, of course, by the sale of Knight Ridder to McClatchy, and subsequent divestitures by McClatchy. In addition, Lee Enterprises, Dow Jones, Journal Register Co. and Triple Crown Media (in a swap) all sold papers in 2006.
The year 2000 was the last year with a high percentage of public sales, if Canadian-based public companies Thomson and Hollinger are included.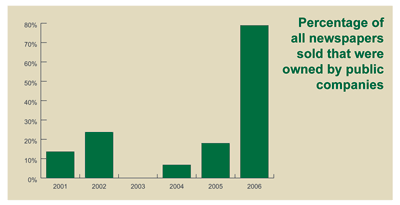 Prices Holding
The purchase price multiples for deals that were announced publicly confirm that newspapers in solid, stand-alone markets continue to command good values.
McClatchy reported that the spin-off of 12 former Knight Ridder newspaper operations for $2.1 billion represented a multiple of 11 times their trailing 12-month cash flows. Dow Jones reported that its sale of seven daily newspapers to CNHI was concluded at approximately the same multiple.
In handling more than half of the deals involving daily newspapers in 2006, our experience was similar to those publicly reported multiples. Purchase price multiples vary considerably depending on a number of factors, including growth in the market, the level of competition, and strategic interest among buyers.
Lending conditions remain favorable for buyers. Interest rates are relatively low, and the amount of debt buyers can put on a newspaper is at the high end.
Private equity continues to have a high interest in the newspaper sector, particularly in the wake of Fortress Investment Group's successful IPO with GateHouse. Private equity likely will continue to be on the buy side of transactions in the coming year.