---
1931-1955
1932 Victor, Bernard and Joseph Ridder sold their 51% interest in the Long Island (NY) Press to S.I. Newhouse.
1933 New Orleans became a two-ownership newspaper city when L.K. Nicholson's Times-Picayune took over the States as its evening paper in 1933. The Times-Picayune itself was a combination of the two New Orleans papers which survived the rigors of Civil War and Reconstruction years — the historic old Picayune and the Times-Democrat.
1933 Chattanooga Free Press was founded as a shopper by Roy McDonald. It remained independent until its 1998 sale to Walter Hussman of Wehco Media.
1933 Albuquerque Journal and Tribune created the nation's first joint operating agency.
1934 Roy Thomson bought his first newspaper, the Timmins (ONT) Weekly Press, for $6,000 — $200 down and $200 per month.
1935 Founded in 1920 by the Non-Partisan League, the Minneapolis Star boasted 6,250 stockholders and was hailed as a great experiment in cooperative ownership; it went into bankruptcy after four years of such control. In 1935 it was purchased by John Cowles, Gardner Cowles, Jr. and David Merwin, and placed under the editorship of Basil L. Walters.
1935 Newhouse acquired 51% of the stock of Newark (NJ) Ledger.
1935 Milwaukee Journal ownership passed to employees through an ESOP.
1935 R.C. Hoiles, self-styled Libertarian, acquired Santa Ana (CA) Register, founding what became Freedom Communications.
1936 Moses L Annenberg was fifty-eight years old when he bought the old and respected Philadelphia Inquirer for $13,000,000 in 1936. Convicted on an income-tax indictment, he made a civil settlement with the government to pay $8,000,000 back taxes, with $1,500,000 interest; but he did not thus escape a prison sentence of three years, imposed in 1940. Paroled in 1942, he died that year.
1936 At the age of 25, James H. Ottaway, Sr. purchased the Endicott, NY Bulletin for $56,250, founding what became Ottaway Newspapers.
1936 Scripps Howard bought Memphis Commercial Appeal, its flagship entering the new millennium.

1937 John S. Knight purchased the Miami (FL) Herald for $2.37 million.
1938 In 1938 the St. Louis Post-Dispatch began broadcasting its facsimile edition, consisting of nine small pages.
1938 Samuel Irving Newhouse, owner of the Newark (NJ) Ledger merged it with the Star-Eagle which he acquired in 1939 from Paul Block; the paper has since been called the Star-Ledger.
1939 On January 28, 1939 Cissy Patterson exercised her option to buy both the morning Washington Herald and the evening Washington Times from Hearst, and merged them into the Times-Herald, "Washington's only round-the-clock newspaper." The new paper published ten editions per day.
1939 Newhouse acquired Syracuse (NY) Herald and Syracuse (NY) Journal and merged the two papers.

1939 Governor James M. Cox of Ohio bought the Atlanta Constitution's rivals, the Atlanta Journal and the Georgian, and merged them into one highly successful paper.
1940 PM (for Picture Magazine), was begun in New York under the management of Ralph Ingersoll Sr., formerly publisher of Time. The new paper was a square tabloid of thirty-two pages, leaned heavily on pictures, printed no advertising (except a brief resume of leading offerings presented as news), departmentalized its news content and interpreted freely.
1940 John S. Knight acquired Detroit Free Press, a 109-year-old paper with the largest morning circulation in Michigan, for $3.2 million.
1940 The outstanding success in suburban daily journalism at the mid-century was Alicia Patterson's Newsday, published at Hempstead, just outside Queens Borough of New York City, for residential communities in western Long Island. Miss Patterson was the daughter of Joseph Medill Patterson, founder of the New York Daily News. Newsday was started from scratch in 1940 by Miss Patterson as publisher and her husband, Harry F. Guggenheim, of a family famous for its mining fortune and philanthropies, as president. A lively tabloid, loaded with advertising, Newsday became in the fifties the leading example of successful journalism in "suburbia."
1940 Don Reynolds bought 3 dailies in Arkansas and Oklahoma, which formed the basis of Donrey Media. The company was sold to Stephens Investment company in 1994 for nearly $800 million.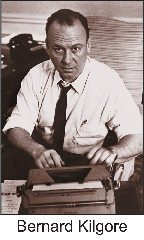 1941 Barney Kilgore became managing editor of Wall Street Journal and introduced the current Page One format.
1941 William Loeb purchased his first newspaper, the St. Alban's Daily Messenger, the oldest evening paper in Vermont.
1944 Eugene C. Pulliam purchased the Indianapolis News in 1948, continuing it as an evening paper under the same management as the Star, which he had purchased four years earlier.
1945 Barney Kilgore became chief executive of Dow Jones, and the architect of the paper as it exists today. He turned what was then still largely a financial newspaper into one that saw its beat encompassing all aspects of business, economics and consumer affairs, as well as all aspects of life that had an impact on business.
1946 New Englander James H. Gray, Sr. paid $250,000 for the Albany (GA) Herald, which became the flagship for Gray Communications.
1946 William Loeb purchased, along with Bernard, Victor and Joseph Ridder who put up 90% of the funds, all of the stock of the Union-Leader Publishing Co., Inc. of Manchester, NH. Sixty days later, Leonard V. Finder bought out the Ridders' interest.
1946 Hearst Newspapers had combined daily circulation of 5.3 million, or 10.4% of total daily circulation, representing the highest percentage of any group.
1946 The best-selling Autobiography of William Allen White was published by The Macmillan Company. Some think this is the best book ever written by a newspaper editor-publisher.
1947 Colonel Ira C. Copley died at the age of 83, leaving an estate estimated at $5 million. Copley acquired his first newspaper in 1867 in Aurora, IL. He had acquired the flagship San Diego Union and Evening Tribune in 1928.
1948 The biggest political story of the decade was the successful "one man campaign" of President Truman for reelection in 1948, and his surprise defeat of Governor Thomas E. Dewey. The best picture illustrating this story was the shot by Al Muto (International News Photos) of Truman the morning after the election reading the Chicago Tribune's edition with the premature banner, "DEWEY DEFEATS TRUMAN."
1948 Cissy Patterson died and left the Washington Times-Herald to seven of its managers and editors, who were at first labeled "overnight millionaires" and later dubbed "the Seven Dwarfs." Within a year after her death, the paper was purchased by her cousin, Colonel McCormick, to raise funds to pay the tax on her estate. In 1954, Colonel Mc Cormick sold the paper to Cissy's longtime rival, Eugene Meyer, who promptly shut the paper down and incorporated its best features into his Washington Post.
1949 Times Mirror starts television KTTV in Los Angeles.
1950 Newhouse acquired Portland (OR) Oregonian for $5.6 million, the largest newspaper transaction up to that time.
1950 Lee Enterprises Inc. was formed to purchase the remaining Lee family newspaper stock.
1952 Salt Lake Tribune and Deseret News formed the only JOA with two Sunday newspapers.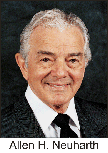 1952 Al Neuarth began publishing his first newspaper, SoDak Sports.
1953 Hearst turned down the opportunity to buy TV Guide for $75,000, which four years later was sold for $7 million and subsequently for $3 billion.
1954 Wall Street Journal was produced simultaneously in four cities (New York, Chicago, Dallas, San Francisco) by use of "Electro-Typesetter" units.
1954 Knight bought Charlotte Observer for $7 million; resulting in combined Knight circulation topping 1.5 million.
1954 At the age of 27, Frank Batten took over as publisher of Landmark Communications.
1955 William Davis Taylor, son of William O. Taylor and grandson of Charles H. Taylor, founder of the Boston Globe, became publisher of the Boston Globe.