A GateHouse Powerhouse Takes Shape in Boston Burbs
Back to News
---
With the acquisition of two sizable newspaper groups in the greater Boston area, GateHouse Media has created one of the largest suburban operations in the country.
With size, also comes terrific demographics: income levels more than one-third higher than the national average, high newspaper readership and strong growth trends.
The combination should prove to be an effective advertising platform in this attractive market. The individual newspapers generally are the leading providers of local news and information in their respective communities; and both organizations are pursuing aggressive, locally oriented online strategies.
These newspapers are "the first choice medium through which advertisers can most effectively reach their core customers and audience," said Mike Reed, chief executive officer of GateHouse.
In June, the company formerly known as Liberty Group Publishing bought Enterprise NewsMedia, serving markets primarily south of Boston; and Community Newspaper Co. (CNC), the largest community newspaper group in Massachusetts.
Enterprise NewsMedia published two dailies – the Quincy Patriot Ledger and the Brockton Enterprise – along with a strong non-daily group anchored by the Old Colony Memorial in Plymouth, one of the oldest mastheads in the country.
The Quincy and Brockton dailies had been family-owned for several generations until 1997, when financier Frank Richardson and former Ingersoll executive Jim Plugh put the two operations under common ownership.
Boston-based private equity firm Heritage Partners became majority owner in 2003 and controlled the investment until the sale to GateHouse.
The predecessor to CNC was formed in 1986 to acquire a group of newspapers north of Boston. Fidelity Capital acquired the platform in 1991, renaming it CNC. Over the next decade, Fidelity built the group into a large suburban operation through a series of nearly 30 separate acquisitions. CNC includes four dailies, the largest of which is the Framingham MetroWest Daily News.
Patrick Purcell's Herald Media bought CNC in 2001. Purcell will continue to own and operate the Boston Herald following the sale of CNC to Gatehouse.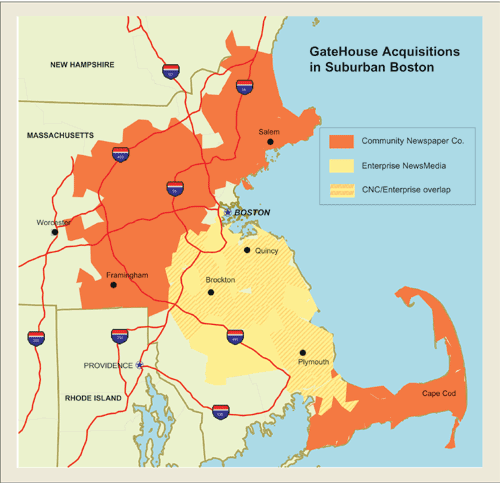 The combined Enterprise NewsMedia and CNC operation has a product in the majority of the communities in the greater Boston market.
Other than the two metro papers, the Boston Globe and Boston Herald, the largest print group outside this new combined operation is the Eagle-Tribune group, publisher of four dailies north of Boston.
Interestingly, GateHouse CEO Reed engineered the acquisition of Eagle-Tribune Publishing in 2005 for Community Newspaper Holdings Inc., where he was the chief executive prior to joining GateHouse.
CNC and Enterprise NewsMedia serve largely distinct markets, with some overlap in the communities between Framingham and Cape Cod. CNC overlaps with Eagle-Tribune in some North Shore communities.
In addition to the print products, both operations have an innovative online presence. Enterprise NewsMedia earlier this year rolled out the first of its "Wicked Local" online sites.
Enterprise NewsMedia executive Kirk Davis, who helped to develop Wicked Local and has served as the top executive at CNC as well, has been tapped to lead the combined operation.