---
Spun off as a separate, newspaper-only company in 1999, Pulitzer Inc. found itself in the enviable position of having $550 million in cash and no debt — bounty from the merger of its broadcast operations with Hearst-Argyle Television.
Since then, the company has invested heavily in its flagship St. Louis market through major acquisitions, plant expansions, and improvements to its print and online publications to create an integrated portfolio of products aimed at grabbing advertising market share and driving down costs.
With many of the pieces now in place and the economy beginning to show signs of improvement, the early returns for St. Louis are very promising.
"We believe St. Louis represents one of the best growth opportunities in our industry," said Terry Egger, senior vice president and publisher of the St. Louis Post-Dispatch. "And we also believe we have put a platform into place that is uniquely designed to seize those opportunities."
The investment began in earnest in 2000 when Pulitzer seized an opportunity to increase its ownership stake in the operations of the St. Louis Post-Dispatch from 50% to 95%. Indeed, Pulitzer executives were so bullish on the St. Louis market that the company followed up later that year with acquisition of the Suburban Journals of Greater St. Louis, the nation's largest suburban non-daily group with total distribution to more than 700,000 households. The two transactions represented a total investment of more than $470 million.
"We were very lucky to have the opportunity to increase our interest in the operations of the Post-Dispatch and acquire the country's largest suburban newspaper group within a very short period of time," said Bob Woodworth, president and chief executive officer of Pulitzer. "We now reach more than 70% of the adults in the market each week."
In June, Pulitzer implemented a key component of its St. Louis strategy when it restructured its retail sales staffs at both the Post-Dispatch and Suburban Journals. Earlier, the company had restructured national, major account, and classified automotive sales.
The moves effectively doubled the local retail sales force by eliminating duplicate sales calls on customers.
With this new structure, sales representatives at each publication are now able to sell the daily, weekly and niche products, and STLtoday.com, the market's largest online portal.
As a result, local territory retail advertising grew by 12% to 14% each month from August through October, compared with the prior year.
On the cost side, the company eliminated a free, non-subscriber product distributed weekly by the Post-Dispatch at an annual savings of approximately $3 million, and merged operations of STLtoday.com into the Post-Dispatch. At the same time, the company has beefed up editorial content in the daily, weeklies, and online offerings.
Pulitzer has taken the cash flow margin in St. Louis from the mid-teens a few years ago to the low 20s this year. The company's goal is to reach the upper 20s over time.
Similarly, Pulitzer has been busy building portfolios of multiple products in markets served by its 12 other daily newspapers, known as Pulitzer Newspapers, Inc. (PNI).
PNI has acquired a number of non-daily products in and around its markets, as well as creating platforms in attractive new markets such as Bloomington, Illinois.
These clusters of products have allowed the company to capture additional market share, as well as drive down costs. PNI has grown advertising revenue in each month of 2002 without the benefit of any major acquisitions this year. Cash flow margins at PNI have improved from the mid-20s to the high 20s, with mid-30s as the long-term goal.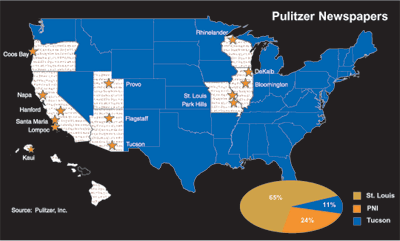 "In each of our markets we complement our strong daily papers with a variety of weekly and niche publications," said Mark Contreras, senior vice president for PNI. "We've strengthened that local market presence with an acquisition program that since 1999 has added nine weekly and niche publications located near our existing dailies."
Looking forward, Pulitzer is well-positioned to make additional acquisitions. Its balance sheet remains strong despite the spate of buying in recent years.
Woodworth says the company will look for opportunities both to enter new markets, as well as to add to its platforms in existing markets.
In the case of stand-alone new markets, the company is looking for properties that can "move the needle," which for Pulitzer means dailies with at least 30,000 in circulation.
"We are committed to growing this company," Woodworth said. "That means we are looking for opportunities to enter attractive new markets where we can execute our strategy of becoming the best way to connect readers and advertisers."