---
With a couple of acquisitions in 2006, David Black has turned a nice community publishing operation into one of the nation's largest suburban clusters.
Black entered western Washington in the early 90s when he bought a number of different weeklies serving communities on the Kitsap Peninsula and islands in the Puget Sound.
Sound Publishing, an affiliate of Victoria, B.C.-based Black Press, in the third quarter added two large shopper publications owned by Lee Enterprises – the Little Nickel serving western Washington and Nickel Ads Classifieds in western Oregon. Total distribution is about 375,000.
Finally, at year-end, Black closed on the acquisition of King County Journal Newspapers, serving communities east and south of Seattle.
This group of 11 newspapers were owned by the Horvitz family, which still owns newspapers in Washington and Tennessee.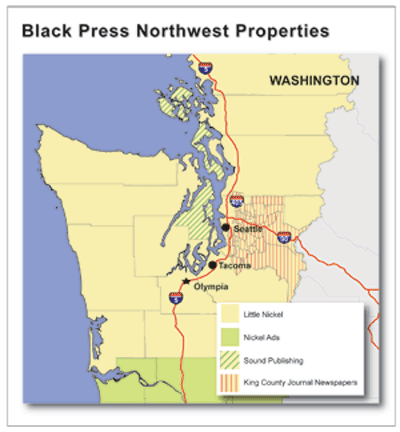 With these additions, the group has grown from about 150,000 distribution to more than 650,000 in western Washington alone.
Black Press is a private company that owns and operates 115 newspapers in western Canada and the U.S. Also in 2006, Black bought the 136,000-circulation Akron (OH) Beacon Journal, which was one of the Knight Ridder newspapers divested by McClatchy Co. In 2000 Black bought the Honolulu (HI) Star Bulletin.