Century Club: Number of dailies owned for 100 years or more grows
Back to News
---
There are now 88 daily newspapers that have been owned for more than 100 years by the same business entity or family, up from 74 in 2000. Many of these owners are families, and many are the founders of the newspaper.
The Snyder family in Celina, Ohio; the Jacobs family in Madison, Indiana; and the Shaw family in Dixon, Illinois are respectively in their 166th, 165th and 163rd year of ownership. These families are all now in their sixth generation of operators. Fifteen of the 20 longest owned dailies are owned by families or companies who own just a single daily newspaper.
Also at the top of the longest ownership list is The Deseret News in Salt Lake City, which has been owned for 164 years by the LDS Church.
Publicly traded McClatchy, Lee Enterprises and Gannett all have histories dating back more than 100 years. The Sacramento Bee, started by the McClatchy family in 1857, is the longest owned daily now under public ownership. Gannett founder Frank Gannett first tested the ownership waters 108 years ago when he bought a half-interest in the Elmira Gazette, which is still owned by Gannett today.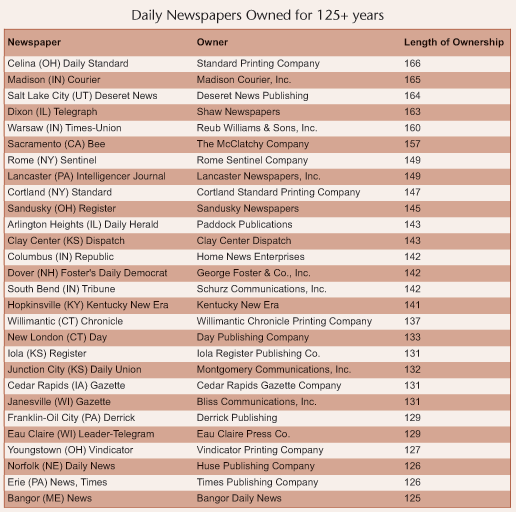 Owners staying the course
With all the challenges facing the newspaper industry there is no evidence that owners are hanging up the "for sale" sign at a more rapid pace than when times were booming. The average length of ownership of all daily newspapers in the U.S. has increased to 32 years, up from 28 years in 2000.
The increased longevity is the result of two factors. The first is perhaps the most obvious – not as many newspapers changed hands in recent years compared with the 1990s and first half of the 2000s. The second factor is many of the newspapers that have been sold recently are the same newspapers that were sold in the previous two decades. Very few newspapers that had been owned by the same family or entity for 20+ years in 2000 have been sold since that time.
The state with the fewest ownership changes is Wyoming. This is largely because the McCraken family owns half of the state's ten daily newspapers and has owned them for an average of 82 years. Hawaii has the shortest tenure of ownership due to recent turnover among its five dailies. North Carolina is close behind, resulting from numerous dailies changing hands in recent divestitures by Media General and Freedom Communications.