---
Hot growth markets used to be all the rage. But research by Dirks, Van Essen & Murray shows that newspapers serving smaller, rural and/or slow-growth communities tended to hold circulation and penetration better over the past five years.
The chart presented below shows circulation trends in the 10 best- and worst-performing states. It also shows two key variables: the growth rate of the number of households in each state between 2005 and 2009 and the percentage of total daily circulation in the state coming from newspapers with circulation less than 20,000.
We did not include the circulation of four national newspapers in this research: The Wall Street Journal, New York Times, Washington Post or USA Today.
Of course, it's all relative. Daily circulation fell by 10.7% in the second half of the last decade, and all but two states saw overall circulation decline over the period. Meanwhile, the number of households increased by 3.9% nationally.
What the chart does not show, but became very evident to us as we collected the circulation data, was that the very largest and very smallest of the daily newspapers reported the biggest percentage declines in circulation in the past five years.
Many of the largest metro dailies consciously reduced circulation that became too costly to continue. In some cases it was circulation that was far beyond the retail marketplace with little value to advertisers. In other instances it was costly and marginal high-churn circulation. More recently companies have aggressively increased circulation rates knowing that it will impact circulation negatively.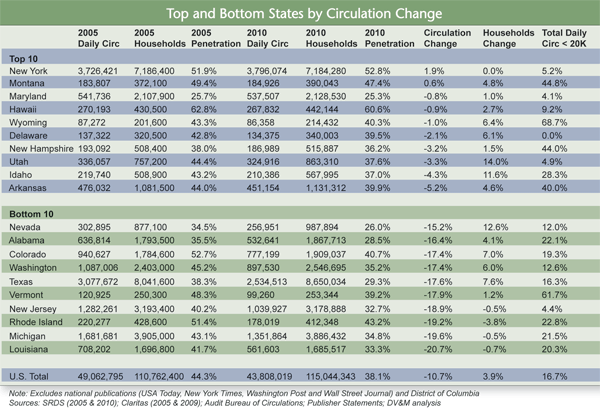 Other tidbits we observed over the five-year study period:
More than 70 dailies converted to non-daily cycles, closed, or adopted hybrid online/print or online-only strategies.
Losses of large JOA papers in Washington, Colorado and Arizona factored prominently in those state's circulation declines.
Saturday editions have increased; Monday editions have decreased.
The decades-long switch from PM publishing cycles to AM cycles continued.
No afternoon cycle dailies remain in DE, HI, UT and NJ. Just one afternoon daily is published in each of FL, ID, MD, NV, NH, SC and VT.