---
Classified advertising revenue numbers held up pretty well in most cases in 2005, with gains in recruitment offsetting difficult comparisons in automotive. So it might be understandable if publishers breathed a sigh of relief.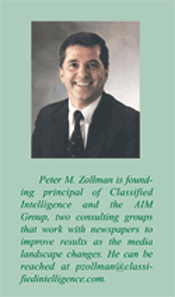 They'd better not.
More than a few publishers have considered Craig Newmark "Public Enemy No. 1" because of his brilliant free classified site Craigslist. But as the saying goes, "You ain't seen nothin' yet."
Google entered the free-classified field in November with Google Base, a do-it-yourself, post-anything-you-want database that – despite disingenuous claims by Google to the contrary – is directly targeting classified advertising. If you visit http://base.google.com, you'll see posting options for jobs and vehicles, homes and rentals – all free. Google Base is capturing classified ad content feeds from dozens or hundreds of classified advertising companies online, including CareerBuilder and the dot-jobs domain registrar. Google is encouraging anyone to post free ads, even providing tools if you have lots of ads (like an employer or a merchant.
To make matters worse, Microsoft disclosed in November that it, too, would offer free classifieds. Microsoft, at least, will limit its offer to private-party ads. But if you think Craigslist has been a challenge, wait until you see Google and Microsoft duking it out – with Yahoo, of course, in the fray as well, with HotJobs and its other classified and local verticals.
That brings up an interesting question: When was the last time you took a serious strategic look at your classified products?
* What (if anything) should you be offering free?
* What's the competitive landscape in your local marketplace?
* What's your market share? Is it shrinking or growing?
* Are local broadcasters / niche pubs / weeklies / others eating away at your revenue? And if so, do you have an effective strategy to combat them?
* How do you position your ads in the sales room, so advertisers know they're receiving online exposure as well as print coverage?
* Are your online products as good as they can be? Or at the very least, good enough? ("Good enough today" probably means "Not nearly good enough tomorrow.")
* Do you sell online only ads? And make sure they deliver excellent value?
Unfortunately for traditional publishers, the classified advertising landscape – like the newspaper market itself – is undergoing radical, fundamental change. And too many newspaper publishers are just beginning (or haven't yet begun) to grasp the underlying issues they need to deal with, like "multiple platforms and devices," "delivering the content (classifieds) rather than expecting users to fetch it," "intense price pressure because free ads are everywhere," and more.
Small-market newspapers have been somewhat insulated from this phenomenon for two reasons – they have not depended on classifieds (especially recruitment) as much for revenue as metros have, and the major dot-coms like Monster.com and AutoTrader.com initially focused their efforts on the largest markets.
That's changing. Monster, AutoTrader.com and other "traditional" dot-coms (i.e., pay for advertising placement) are getting smarter, faster, about tapping into local markets through telemarketing, direct mail, direct e-mail and broadcast tie-ins. And non-traditional classified sites like Craigslist, Google Base and Microsoft will make it tougher and tougher to charge advertisers in the traditional manner (i.e., "We run your ad, you pay for it.".
Because the transition from print to a multiple-media world is a rocky one, I offer few guarantees in my consulting business. But here's one I'm willing to stake the bank on: All advertising, whether classified or retail, newspaper or broadcast or online or mobile, will move toward a pay-for-performance model. In a few years, even the smallest advertisers will be able to understand how much revenue they're generating for every dollar they're spending in each medium they use – the yellow pages, the newspaper, radio, television, online, direct mail and more.
Sales will be much more sophisticated and much more data driven; at the same time, they'll be more self-service, especially with small accounts and some of your largest accounts.v This will cut both ways. If you deliver sterling results, and can prove it to your advertisers, you'll succeed. If not …
In the classified marketplace, "critical mass" will still be essential. If you can maintain the largest number of house, job, or auto ads in your local area, you'll have a fighting chance. But if you're not "best of breed" in your marketplace with your classified advertising tools – search, keywords, e-mail agents, online video, photo arrays for homes and cars, and so forth – you'll quickly lose out to the Google / Microsoft / Craigslist / Yahoo / Monster / Realtor.com (and who knows who else) competitors, who are focused on providing the best possible tools for advertisers and buyers.