---
Born in the small town of Merrill, Iowa, Connie Wimer moved to Des Moines in 1950 where she established herself as a competent, caring and sharing business leader.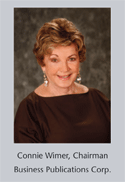 In 1981 Wimer purchased a small legal paper with a circulation of 700. In 1983 she expanded the publication, starting the Des Moines Business Record which now has a weekly readership of more than 20,000. Wimer was also the owner of Iowa Title Company from 1976 until 1985, when she sold the company to Amerus, remaining as president until 2001.
Wimer is involved in a number of boards including West Des Moines State Bank, Drake Journalism School, Morningside College and many others. In addition, she is the founder of Winefest Des Moines. She was the first woman to serve as chair of the Greater Des Moines Chamber Federation and the first woman to receive the Business Hall of Fame Award from the Greater Des Moines Committee.
Dirks, Van Essen & Murray asked Wimer about her recent acquisition.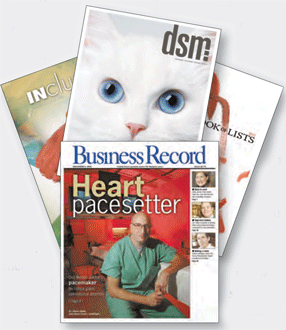 You were the original owner of the Des Moines Business Record and sold the company to Brown Publishing. Why did you sell it, and then why did you purchase it back? I started the Business Record in 1983 to fill a need in the community that I recognized. I had no previous experience or training in the publishing world and probably made every mistake in the book – but tried not to repeat them! As the years passed I looked for other needs and opportunities and eventually we were publishing 10 or 12 different newspapers and magazines for the local and regional market. In 2007 we were in the midst of our best year ever and I was approached about selling the company, which I ultimately did, primarily for estate planning purposes. When the company that bought it went into bankruptcy I immediately made an effort to buy it back. The reasons involved a love of the company and the extraordinarily talented and loyal staff. It had been a challenging three years for them and I knew I could give them a comfort level that would ensure that they would stay with the company. The company had done well those three years and it was a very good investment opportunity.
Business Publications has a very successful digital strategy. Can you discuss your success with generating revenue with your e-newsletters? Our most successful digital product is a daily news update that originated many, many years ago as a fax product and it has evolved over the years into what it is today. Because of its popularity and financial success, we are currently planning to increase it to two times a day. We have modeled other products on this publication, but focusing on specific industries, such as commercial real estate. Content is king, whether print or digital.
Do you see more of your business going digital in the coming years, or do you think the print model will persevere? We are in a constant state of planning and execution from print to digital, but I expect the print edition of Business Record and dsm magazine to be around for a long time.
What do you like about the B2B publishing space? I consider the Business Record a niche publication that is a combination of a local newspaper and a B2B publication. We have loyal subscribers that consider it a "must read.". It is extremely satisfying to own a company that is helping other businesses succeed, enriching the community with publications and events and providing information that is not available any place else.
Do you think there are advantages in the B2B space compared to traditional newspaper publishing? Definitely. The average reader age is a bit older than that of the dailies and they are still committed to print and that gives us just a little more time to experiment and find a viable business model as we all move into the digital world. We are also reaching a very targeted market – highly educated and affluent – which allows us to focus our content for a sophisticated audience. We don't have to try to be all things to all people.
Where do you see advertising revenue going in the next 12 months? I expect advertising revenue at our company to have a modest increase, perhaps 5 or 6%, in the next 12 months.