Cullis Family Adds Daily to Publishing Group in Ohio
Back to News
---
When Christopher Cullis brought the daily Northwest Signal in Napoleon into his northwest Ohio publishing group in November, he knew he would be adding value to his company.
What he didn't count on was getting reinvigorated in his work.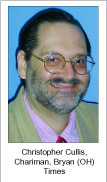 "The Northwest Signal has energized me in a way I hadn't anticipated," said Cullis, president and co-publisher of the Bryan Times. "I have enjoyed working with the staff and creating a new product for the readers and advertisers. I have also enjoyed how pleasantly I have been welcomed in the community of Napoleon."
The 5,600-circulation Northwest Signal is the first daily acquisition for the Bryan Publishing Co. The company also publishes the 11,200-circulation Bryan Times; weekly Leader Enterprise of Montpelier; Realty Northwest, a monthly real estate magazine; and shoppers that serve several counties in northwest Ohio.
The acquisition came about in part because of a long association between the Cullis family and the Kusers, who acquired the Northwest Signal in 1966. The Napoleon newspaper has been printed in Bryan for 10 years.
Cullis, however, has been readying his company for growth for several years by building a strong management structure and ensuring support from family owners.
Cullis currently spends his mornings in nearby Napoleon, while general manager Tom Voigt is spending three to four afternoons a week there. The former managing editor of the Leader Enterprise has taken the top editorial job at the Northwest Signal.
"I began laying the groundwork for such a possibility several years ago," he said. "This was done through family and one-on-one meetings. I had a tremendous amount of support from family members."
Christopher is the third generation of his family to operate the Bryan Times. His grandfather, Cass Cullis, purchased the Bryan Democrat in 1923, and his father Ford joined the business after World War II.