Delphos strengthens long-held Midwest holdings with Brown auction win
Back to News
---
At 81-years-old, Brooklyn-born Murray Cohen is no stranger to the newspaper business. After earning a journalism degree from the University of Missouri and spending two years in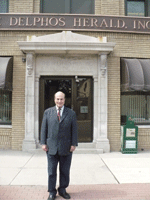 the army, Cohen began his career as a reporter for the Terrell and Tyler, Texas newspapers and became associated with Kuser newspapers. Cohen purchased his first paper in 1962. This daily, the Delphos (OH) Herald, remains the cornerstone of his company today.
Earlier this quarter Cohen was the successful bidder for a cluster of Ohio newspapers during an auction held in connection with Brown Publishing Co.'s bankruptcy proceedings. Prior to this, Cohen's most recent acquisition was made in 2008 when he purchased Iron River Publications, Inc. in Michigan. These acquisitions both included papers that were nearby or adjacent to existing Delphos Herald, Inc. holdings.
Cohen's newspapers span seven states (see map, previous page), and each is fiercely committed to its community. All Delphos Herald, Inc. newspapers must be members of their state press association and the Inland Press Association. Cohen leads by example, willing to take part in any project that will better the communities where he owns a newspaper. The Ohio Newspaper Association awarded Cohen with the ONA President's Award last year.
Dirks, Van Essen & Murray asked Cohen about the industry and his recent acquisitions.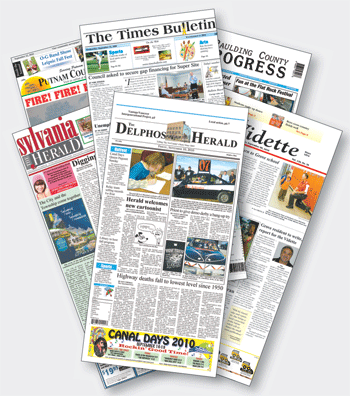 What led you to be a newspaper buyer during these trying economic times, especially with so much negative news reported on the industry? Most of our newspapers are doing fairly well and we are optimistic that newspapers will be around for centuries to come. They might not show the profit margins of the past, but community newspapers such as ours will be profitable and will continue to play a vital and helpful role in the communities they serve.
What attracted you to Van Wert, Putnam and its nearby markets in particular? The Van Wert Times Bulletin, Putnam County Sentinel and Putnam County Vidette have been good neighbors to Delphos and we see significant synergies in marketing as well as in printing of these publications, especially with our modernized high quality web press facilities. We also have long admired the professional quality of the staffs of these newspapers. As for the Ada Herald, we have always wanted to operate a quality newspaper in a university community and that's what we got with Ada Herald and its staff.
Where do you see advertising revenue going in the next 12 months in your markets? We are expecting advertising with our acquisitions to increase, along with increases in most of our other markets in the coming year.
You went from growing up in Brooklyn to being a reporter in Texas to buying a newspaper in Ohio. Definitely a change of scenery each time! What prompted you to buy the Delphos Herald and establish your company there? The Delphos Herald came up for sale just as I was ready to find a newspaper where I could be the majority owner. At the time I was operating an Ohio weekly newspaper for George Kuser, my mentor. George found the paper and was willing to help me get started, as he has helped so many people and so many worthwhile organizations throughout his life.
Will you be looking for additional acquisitions in the near term? We would be happy to acquire other newspapers. We love this business and profession.