---
Two former executives with Dow Jones' community newspaper division, Ottaway Newspapers, have started a mobile advertising service aimed at local businesses.
With an initial roll out in the Hudson Valley region of New York in September, Frugaldoo offers the opportunity for advertisers to get their goods and services in front of consumers when the consumer requests it via smartphone.
Here's how it works: You are strolling around town and remember that you need to buy a gift for your daughter's birthday. To shop you simply text the word "gift" to the Frugaldoo short code "frugal" (378425). Frugaldoo locates your mobile phone; searches its database; and Boom! It responds with ideas or offers from local businesses. A key advantage for the advertiser is the ability to target messages by geography, time of day, as well as keyword.
For example, a business can set up a campaign that responds to "food" with a deal on coffee in the morning, lemonade in the afternoon or beer in the evening. Also, the offers can be targeted geographically by limiting them to two, five, ten, fifteen or twenty miles from their place of business.
For the consumer, the advantage is that there is no need to register. Furthermore, deals are delivered only upon the request of the consumers, providing information when and where they want it.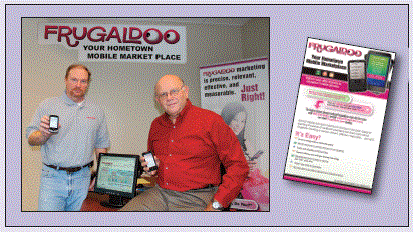 The company founders are Bill Zurilla, the former chief financial officer of Ottaway, and Pat Carr, Ottaway's former director of management information services. Since incorporating in August 2010, they have developed, tested and perfected the underlying technology.
They are currently pre-selling in the Hudson Valley. You may recall that Ottaway's headquarters was a converted farmhouse in this bucolic region. They hope to begin rolling it out to more areas and may partner with local newspapers as they do so.