---
With just eight daily newspapers finding new owners in the first half of 2008, there's no question that the deal activity in the industry feels pretty slow.
However, this situation is very typical for recessionary times; in fact, it mimics the last downturn in 2001 with a high degree of similarity.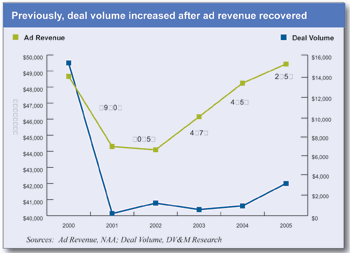 In both cases, the newspaper industry is coming off a record year in deals, and advertising revenue is experiencing significant challenges.
Here was the landscape during the last recession: The industry saw record transaction levels of more than $14.2 billion in 2000, driven by the sales of Times Mirror to Tribune Co., Central Newspapers to Gannett, and Thomson Newspapers to several buyers.
Other public companies, including Lee Enterprises and Media General, were active acquirers that year, as well as private companies such as Community Newspaper Holdings Inc. and MediaNews Group.
Ad revenue began to slide late in 2000, however, and during 2001 the industry was in the midst of full-fledged recession. By year-end, total ad revenue was down by 9.0% from the prior year.
In the face of lower revenue and cash flow, many would-be sellers were reluctant to come to market.
Only 22 daily newspapers changed hands in 2001, most of them small. Deal activity totaled a paltry $209.3 million for the year.
The largest paper sold was the 18,000-circulation Lansdale (PA) Reporter. The only buyer to complete more than one transaction was Darrell Sumner in Oklahoma.
But as the advertising environment firmed up for newspapers, so did the M&A market.
Advertising began to grow again in earnest in 2003, and transaction volume increased to a more typical $3.0 billion by 2005.
Fast forward to 2007:
Once again the industry saw record deal volume, easily outstripping 2000 with more than $20 billion in newspaper sales. Once again Tribune Co. figured prominently in the mix, as it went private in the year's largest transaction. News Corp.'s acquisition of Dow Jones also was a major factor.
Toward the end of the year, ad revenue began to swoon, and by the first quarter of 2008 the industry experienced another full-fledged ad recession. For the first three months of this year, ad revenue is off by 12.8%. By year-end analysts expect the decline to be about the same as it was in 2001.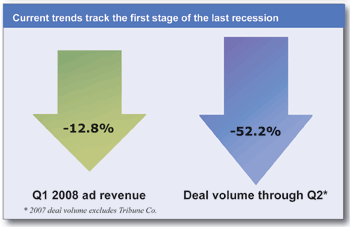 As in the last recession, a number of would-be sellers are on the sidelines. But one difference this time is severe difficulties in the credit markets, which is making it hard to finance deals in a number of industries, not just newspapers.
Dirks Van Essen & Murray expects the trends will continue to follow those from the early part of the decade: As ad revenue levels off and begins to grow, deal activity will return.
However, a return to more normal activity will also require the cooperation of the credit markets this time. That remains an unknown variable at this point.