Family-owned Southern Newspapers expands holdings with acquisition of two Texas dailies
Back to News
---
With the addition of the Lufkin (TX) Daily News and Nacogdoches (TX) Daily Sentinel, Southern Newspapers Inc. and its affiliated companies now operate 17 newspapers, with 11 in Texas, four in Alabama and two in Georgia.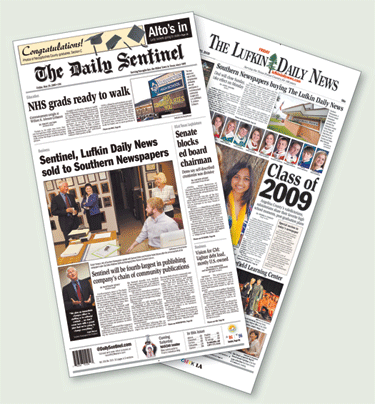 Southern Newspapers last acquired a daily newspaper eight years ago. The company has used a steady, conservative acquisition strategy during its nearly 60 years of existence.
Southern was started by the legendary Carmage Walls in 1951. Walls started his newspaper career with a part-time job in the mail room and worked in the industry for more than 25 years before launching his own company. His first three newspapers were in Cleveland, Cedarwood and Baytown, Texas. Southern continues to own the newspaper in Baytown today.
Walls freely shared with others what he knew about operating and acquiring newspapers. As a result, 22 separate companies owning more than 60 daily newspapers and numerous non-dailies can trace their roots to Walls in some manner today.
Carmage Walls' widow, Martha Ann Walls, and their daughter Lissa Walls Vahldiek, continue to own and operate the company. Although the company has divested a few of its dailies over the years, it generally has followed a course of adding a few dailies every decade. This steady growth strategy has enabled it to acquire with little or no debt.
When asked why Southern is acquiring newspapers at a time when so much negative news is being reported about the industry, Lissa Vahldiek, COO/vice president of the company said, "I really do not pay a great deal of attention to what other media outlets, including newspapers, report about the newspaper industry. I pay attention to the financial performance and health of our company. Southern is fortunate not only to have no external debt but also to have cash reserves and strong management."
Southern's newspaper markets are all in smaller communities by design. Vahldiek said that she believes this size market is a better place to publish because "it is easier to integrate into the community." She went on to say, "Our publishers must make community involvement and leadership his or her focus."
She said their most recent acquisitions don't necessarily have "synergies" with other Southern newspapers, where expenses can be dramatically reduced because of shared management or production facilities. However, she feels that Lufkin and Nacogdoches fit because they are conservative communities with stable economies that are isolated from metro areas. She also pointed to the inland location of these two Texas dailies as a positive, countering their dailies in Galveston and Baytown that are located immediately on the Gulf shore and are prone to suffer hurricanes every so often.
Having experienced various ownership changes with the company's acquisitions, she said each has its unique challenges and there are no real differences between buying papers from a large company like Cox Enterprises or from an independent operator.
See related story: Legacy of Carmage Walls