---
Federal antitrust officials ended their inquiry into Gannett's acquisition of HomeTown Communications Network, clearing the way for the nation's largest publisher to buy strategic newspapers in its southeastern Michigan and Cincinnati markets.
The closing had been delayed when the Justice Department asked for additional information about the transaction. However, the government closed the review and allowed the deal to take place.
In recent years, daily publishers in numerous areas have acquired non-dailies in their own markets, the largest of which was Pulitzer's purchase of the Suburban Journals of Greater St. Louis in 2000.
Moreover, the advent of free daily newspapers and online competitors, particularly in the classified arena, are making it more difficult to justify antitrust concerns regarding daily and non-daily combinations.
Well-Regarded Newspapers
HomeTown, owned by Philip H. Power and his family, publishes one daily and 62 weekly and twice-weekly newspapers with total circulation of more than 740,000. The company also publishes 24 community telephone directories with total distribution of nearly 1.5 million.
The newspapers are some of the most highly decorated of their type in the country, consistently winning regional and national honors for editorial excellence.
The group offers a terrific fit with Gannett's daily newspapers in Detroit, Lansing and Cincinnati. Gannett's dailies are part of joint operating agreements in Detroit and Cincinnati.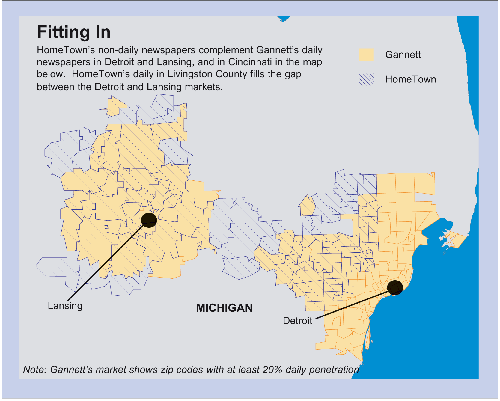 In southeastern Michigan, HomeTown's Observer & Eccentric group serves some of the highest income suburban communities in the greater Detroit area. HomeTown's Lansing group offers complete coverage of the market.
HomeTown's daily serves fast-growing Livingston County, which bridges the gap between Detroit and Lansing. HomeTown combined two non-daily newspapers in the county to create the Daily Press & Argus in 2000. Daily circulation is now nearly 14,000.
HomeTown's weekly group in the Cincinnati/Northern Ken-tucky area reaches the highest income and fastest-growing areas of the market.
Power built what ultimately became one of the largest suburban groups in the country, beginning with the acquisition of the six Observer newspapers in 1965.