---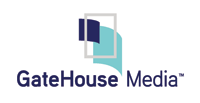 With the disappearance in recent years of such venerable names as Knight Ridder and Pulitzer, and other companies under pressure from investors, the publicly traded newspaper company is starting to look like an endangered species.
However, GateHouse Media Inc., the newspaper company formerly known as Liberty Group Publishing, is looking to buck that trend.
Coming on the heels of its major acquisitions in the Boston area, GateHouse has filed documents with the Securities and Exchange Commission to sell stock to the public. Currently the principal shareholder is Fortress Investment Group, a New York-based private equity firm.
If successful, GateHouse stock would be traded on the New York Stock Exchange under the symbol "GHS." GateHouse says it plans to pay a dividend to shareholders, but was not specific in its filings about the amount of the dividend.
In its documents, GateHouse reports pro forma 2005 revenue of approximately $384 million and earnings before interest, taxes, depreciation and amortization (EBITDA) of about $80 million.
These numbers included annualized results for its 2006 acquisitions, which include the two large eastern Massachusetts groups – Community Newspaper Co. and Enterprise NewsMedia. GateHouse said these two groups account for $180 million of the pro forma revenue, or about 47%.
At this size, GateHouse will be among the smallest publicly traded newspaper companies. Triple Crown Media, spun off by Gray Television at the end of 2005 as a separate, publicly traded newspaper and wireless company, reported 2005 revenue of just $54 million. Also on the smaller end, Journal Register Company has annual revenue of $557 million.
GateHouse believes its strengths lie in the dominant local franchises of its community newspapers, higher margins through geographic clusters and the stability of its cash flow.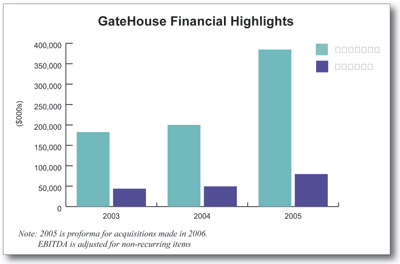 Additionally, since Liberty was formed in 1997, management has improved the combined cash flow of all of its acquisitions by 33% through integrating them into existing clusters, the company said in its filings. This excludes the recent additions in Massachusetts.
GateHouse says it intends to get bigger through organic growth of existing products, acquisitions within the "highly fragmented local media industry," and "the realization of economies of scale and operating efficiencies."