---
After 30 years of group ownership, the Yankton (SD) Press & Dakotan is once again locally owned. A management buyout was completed this quarter, led by current publisher Gary Wood and partners Robb Hicks and Gary Stevenson.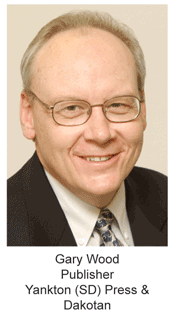 "Yankton has become home for me and my family," said Gary Wood. "It is a great place to live and raise a family and this purchase plants us firmly in the community for many years to come. The change back to local ownership is bucking the national industry trends, and I believe it to be a real positive for the employees and the community."
The new company, Yankton Media, Inc., bought the paper from GateHouse Media, which had just acquired the newspaper at the end of 2007 in a deal with Morris Communications. GateHouse indicated at the time they intended to spin off Yankton, as they didn't believe it to be a good fit with their other holdings.
Yankton Media secured its financing from First Dakota National Bank, crediting the local financial institution as being key in making the deal come together. The local bank said that it fully understood the importance of a good local newspaper and was delighted to play a role in bringing local ownership back to Yankton.
Along with Wood, partners Hicks and Stevenson bring substantial newspaper experience to the company. Hicks and Stevenson own numerous newspapers in Nebraska, Colorado and Montana through a series of partnerships. The only other daily newspaper they own is in Havre, Montana, which they acquired from Pioneer Newspapers in 2005. Stevenson also owns the daily newspaper in Sidney, Nebraska.
The new owners announced that they would immediately make an additional investment in pre-press and press equipment and likely relocate those functions to a different facility.
In addition to the Yankton Press & Dakotan, the group includes the weekly Plain Talk in nearby Vermillion, which is the home of the University of South Dakota, and three other controlled-distribution publications covering a broad area of southeastern South Dakota.
The Press & Dakotan was founded in 1861 just after Yankton was named the territorial capital. The paper operated as a weekly until 1875 when it converted to a daily as settlers came in greater numbers to the area during the Black Hills gold rush. The paper remained locally owned until 1979 when Topeka-based Stauffer Communications purchased the property. Stauffer owned the publication until their company was sold to Morris Communications in 1995. Morris subsequently added the Vermillion weekly publications in 1997. Last fall GateHouse acquired 14 dailies, including Yankton, from Morris Communications in a $115 million transaction.