---
Anthony Allegretti had been looking for an opportunity to start a new publishing company since 2000, when the last one he built was sold to two large newspaper groups.
His chance came at the end of 2003 when the McClatchy Co. agreed to buy the Merced (CA) Sun-Star, flagship of Pacific-Sierra Publishing's California newspaper group. Allegretti, who had been running Pacific-Sierra for nearly three years, quickly put together a management-led buyout for most of the company's remaining properties.
He and the Merced Sun-Star's publisher and Pacific-Sierra's senior vice president, Steve Staloch, formed Mainstreet Media Group to acquire eight newspapers in central and southern California, including two dailies south of Silicon Valley.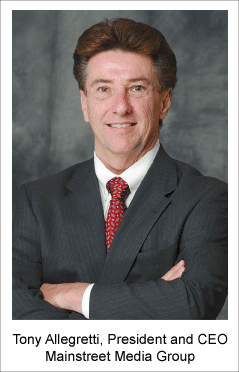 "It's been a long three years since Independent Media Group was sold, but the wait was worth it," said Allegretti. "We're excited to acquire eight quality newspapers, all located in a great growth state such as California."
The new company's central California newspapers include dailies in Gilroy and Hollister, as well as a twice-weekly in Morgan Hill, all of which are south of San Jose; the alternative newsweekly Good Times in Santa Cruz; and the twice-weekly Amador Ledger Dispatch in Jackson east of Sacramento.
In addition, Mainstreet Media Group got a group in the San Diego area consisting of the weekly La Jolla Light; The Log, a niche boating publication; a contract Navy publication; and a commercial printing operation.
Allegretti has more than 30 years of community newspaper experience, including senior-level positions with Park Commu-nications, Ingersoll Publica-tions and MediaNews Group.
From 1989 until the summer of 2000, he was president and chief executive officer of Independent Media Group (IMG), which grew from four dailies with annual revenue of $14 million to 44 publications with revenue of $47 million generated from newspapers in Wisconsin, Michigan and Nebraska.
Equity financing for IMG came from The Wicks Group of Companies, and the newspapers were sold to Lee Enterprises and Liberty Group Publishing in 2000.
Allegretti joined Pacific-Sierra in 2001 as president and CEO and brought Staloch in as publisher of the Sun-Star and senior vice president of Pacific-Sierra.
Staloch worked with Allegretti for 10 years at IMG as chief operating officer and publisher of the group's largest daily in Adrian, Michigan. Prior to joining IMG, Staloch held senior management positions with Cox Newspapers and earlier worked in the Knight Ridder and McClelland Newspapers organizations.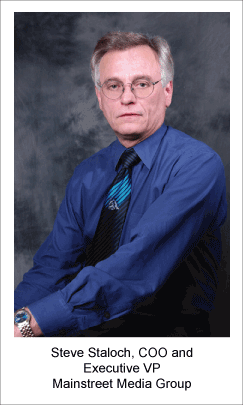 "We believe strongly in preserving the unique local voice of community newspapers and we understand that success depends entirely on how relevant our publications are to our readers," said Staloch. "We will also focus on synergistic acquisitions and growing Mainstreet Media Group quickly."
Pacific-Sierra Publishing was founded in 1995 as Central Valley Publishing with the acquisition of several newspapers in California's Central Valley from the Lesher Family Trust. The principal owner of Pacific-Sierra was Trust Company of the West, a New York-based private equity firm.