New Media Back in Vogue at Public Newspaper Companies
Back to News
---
Newspaper companies are looking once again at electronic media and technology companies that complement the printed page.
But unlike five years ago, when Internet companies seemed to be valued as a multiple of vapor, the industry's big players are buying real companies with real cash flow.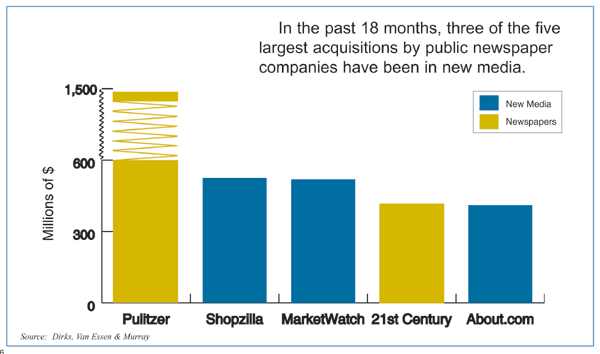 And the purchase prices reflect that. Indeed, three of the five largest acquisitions by the public newspaper companies over the past 18 months have been in the "new media" arena.
Most recently, E.W. Scripps Co. announced that it had agreed to buy online comparison-shopping company Shopzilla for $525 million.
In February the New York Times Co. reached agreement to acquire About Inc., which provides online consumer information through its web site about.com, for $410 million.
Dow Jones picked up MarketWatch Inc., an online provider of business news and financial information, at the end of 2004. The owner of the Wall Street Journal and Ottaway Newspapers paid $519 million, or $463 million net of cash for MarketWatch.
Combined, these three transactions totaled more than the value of all newspaper acquisitions in any year from 2001 to 2004 and are about equal to the value of Lee Enterprises' acquisition of Pulitzer Inc. this year.
These new media acquisitions demonstrate that the buying power of newspaper companies remains very strong despite the recent advertising recession.
Many of the industry's public companies have made investments in new media in recent months. Other notable transactions include:
PointRoll Gannett Co. Inc. in June acquired PointRoll Inc., an online marketing company that provides online advertising technology considered non-intrusive.
Topix.net Gannett, Knight Ridder and Tribune Co. joined forces in March to buy 75% of Topix.net, which finds and categorizes daily news across the Internet. Popularly known as "scraping," the web site monitors more than 10,000 online sources and provides links to news stories in more than 300,000 categories, including zip codes.
CrossMedia Services Gannett, Knight Ridder and Tribune also jointly acquired CrossMedia Services a year ago. CrossMedia converts print advertising, such as inserts and ROP ads, into interactive formats.
Slate The Washington Post Co. bought the online magazine from Microsoft Corp. at the end of 2004. Slate claimed six million unique users in the month prior to the acquisition.
CityXpress. Lee Enterprises and Knight Ridder made equity investments in May 2004 in CityXpress, which provides online auctions for newspapers.
Captivate Network While not an online company, Captivate offers non-traditional delivery of news and advertising through television screens in elevators. Gannett bought the company's assets in April 2004.