---
In the last three months, five independently owned daily newspapers announced they were selling to a newspaper group. Last year nine independents sold to groups.
This consolidation of ownership of daily newspapers is nothing new. It has been going on since around 1900.
At that time, 89% of the daily newspapers were individually owned. In the decade following, newspaper executives with last names of Hearst, Copley, Cowles, Ottaway, Scripps and Gannett began to assemble groups of daily newspapers.
By 1930, newspaper groups owned the majority of the daily circulation in the country, and by 1940, the majority of all daily newspapers were owned by groups. Today, 89% of all daily circulation is controlled by groups, and 84% of all daily newspapers are group-owned.
Dirks, Van Essen & Murray took a closer look at the past 25 years of this century-long trend. For the purpose of this research, a group was defined as a company owning two or more daily newspapers. There are several family-owned newspaper companies owning two or three dailies who prefer to call themselves independents; however, for the purpose of this research they are included with the groups. No free distribution daily newspapers were counted in this research.
Twenty years ago most newspaper transactions involved an independent owner selling to a group. The chart below shows that in 1985, 70% of the dailies sold fit this model.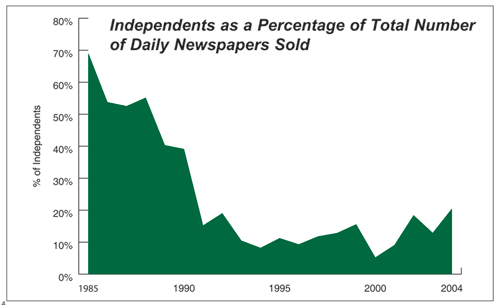 This percentage declined steadily in the next few years as groups began to sell to other groups, and the number of independents available shrank. In each of the past five years fewer than 10 independents have sold, although as a percentage of the small total number of dailies sold, the independents represent a higher percentage than they have in the past 15 years.
In 1975 there were 175 different newspaper companies that owned two or more daily newspapers, the highest number of newspaper groups ever. Today that number has declined to 125, due to a combination of two factors.
Sixty newspaper groups from the 1975 list no longer exist; 10 new groups have joined the current list. Closely-held companies like Nixon Newspapers, Goodson Newspapers, Seacrest Newspapers, Persis, Lesher and Worrell were sold, as well as larger publicly traded groups like Capital Cities, Stauffer Communications, Central Newspapers, Multimedia, Thomson, Pulitzer and Times Mirror.
New groups including Community Newspaper Holdings Inc., Community Newspapers Inc., Liberty Group Publishing, Horizon Publications, Heart-land Publications and American Com-munity Newspapers have emerged. CNHI with its 91 dailies is far and away the most significant new newspaper group to be formed in the last 25 years.
Twenty-five years ago there were 24 groups that owned daily newspapers with a combined daily circulation of 500,000 or more, and 13 of these groups had circulation of one million or more. Interestingly, the number of groups controlling at least 500,000 circulation, as well as the number of groups with one million or more circulation are exactly the same today. Total paid daily circulation is 55 million today compared with 62.5 million 25 years ago.
There was an overall decline of 55% in the number of independently owned daily newspapers over this period. The decline occurred in almost every state and cut across all circulation sizes.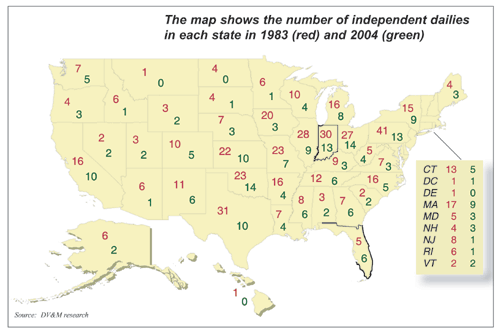 Only Florida has more independently owned daily newspapers today than 25 years ago. Vermont, the District of Columbia and South Carolina have the same number of independents.
North Dakota, Montana, Delaware and Hawaii now have the dubious distinction of having no independently owned daily newspapers, which no state could claim 25 years ago.
Pennsylvania had 41 independents 25 years ago, more than any other state. Today there are 13. Texas had the second highest number with 31. Like Pennsylvania, Texas lost two thirds of its independents in the last 25 years — today it has 10.
The greatest decline in independents has been among papers with less than 10,000 circulation — which represent about half of all dailies. The number of small independent dailies shrunk from 287 to 128. And, there are now fewer than 10 independents with paid circulation greater than 100,000.
The map shows the number of independents on a state-by-state basis. The 1983 data is in red and 2004 data in green.