Ownership Changes Leave a Consolidated but Still Competitive Landscape in SE Michigan
Back to News
---
Southeastern Michigan has been one of the most active regions in the country in terms of ownership changes over the past decade.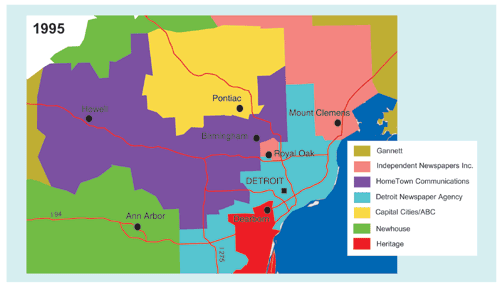 In 1995, the print landscape was highly fragmented, with a number of local and national owners of the dailies and non-dailies in the greater Detroit area. They ranged from individuals like the late automotive industrialist Heinz Prechter, who owned a strong non-daily group based in Dearborn, to the Gannett Co. Inc./Knight Ridder partnership that ran the two Detroit dailies. The number of different owners in the region totaled more than a dozen.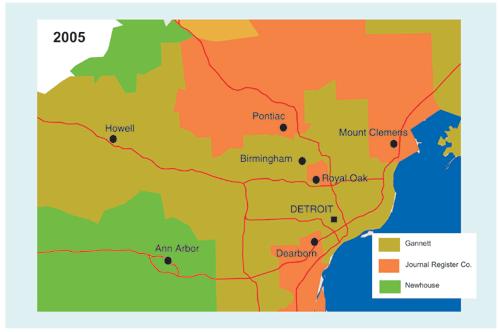 Fast forward to 2005 and there are just three major players – one of whom wasn't yet in the market. Here's how we got there.
The chief catalyst for change was Frank Shepherd, a longtime newspaper executive who had started his career in Port Huron, Michigan and was later president and chief executive officer of Stauffer Communications.
Shepherd recognized an opportunity to consolidate a number of pieces in the market.
Backed by private equity from Goldman Sachs and Kelso & Co., he acquired in August 1997 the Oakland Press in Pontiac from Capital Cities/ABC and Independent Newspapers Inc., which included dailies in Macomb and Royal Oak and weeklies in Lapeer County.
Shepherd's new company, 21st Century Newspapers, went on to make a number of additional acquisitions to build a significant suburban/exurban group.
In 1999, 21st Century added the locally owned Voice newspapers, non-dailies that publish six zoned editions in Macomb County. Shepherd's group also was busy building a group in the "Thumb" area of Michigan in a series of transactions.
In March 2002, the company added Prechter's Heritage Newspapers group, a collection of 17 publications serving the "Downriver" area south of Detroit. Later that year, 21st Century bought the daily in Mount Pleasant in central Michigan and a group of non-dailies covering much of northern Michigan.
This buildup ultimately was of sufficient size to attract the interest of Journal Register Co., which acquired 21st Century for $415 million in 2004.
Gannett, meanwhile, increased its presence in the area. At the beginning of 2005, Gannett acquired the last major independent group in the region – Philip Power's HomeTown Communications Network.
HomeTown published a daily in Livingston County, Michigan, and 62 weekly and twice-weekly newspapers with total circulation of more than 740,000 in the Detroit, Lansing and Cincinnati areas. HomeTown also published a group of local telephone directories.
Later in 2005, Gannett struck a deal to buy Knight Ridder out of the Detroit Newspaper Agency (DNA), which publishes the Detroit News and Detroit Free Press. Under a restructured Joint Operating Agreement, Gannett now owns the Detroit Free Press and a much larger percentage of the partnership, which now includes MediaNews Group. Gannett and Knight Ridder had been 50-50 partners since 1989.
With the HomeTown acquisition, Gannett's footprint now extends seamlessly from Detroit to Lansing, where it owns the daily Lansing State Journal.
The one mainstay through the transition has been Newhouse Newspapers, which has owned the Ann Arbor News and Flint Journal since it bought Booth Newspapers in 1976