---
Marion Chronicle-Tribune Largest of Paxton's 10 Daily Papers in Indiana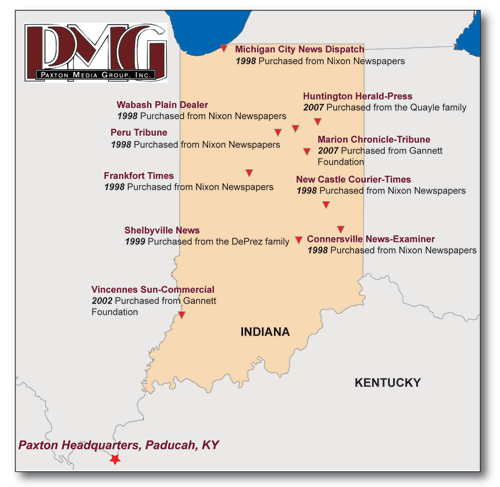 Paxton Media Group's headquarters in Paducah, Kentucky is not far from the Indiana border, but it wasn't until 1998 that it made its first foray into the state.
At that time, Paxton acquired Nixon Newspapers and its seven Indiana daily newspapers.
The company has since sold one of them, the Brazil Times, but its primary focus has been building in the state and in neighboring areas. In 2000, Paxton added the daily operation in Benton Harbor-St. Joseph, Michigan, just across the border from Michigan City, Indiana.
Two of its Indiana newspapers have been acquired from the Gannett Foundation – the Vincennes Sun-Commercial (a former Central Newspapers holding) in 2002 and the Marion Chronicle-Tribune in June of this year.
The Marion acquisition complemented another Indiana addition in the second quarter of 2007, the Huntington Herald-Press, just north of Marion. The Huntington paper was owned by the Quayle family, which also had ties to Central Newspapers and the Vincennes operation.
Paxton Media Group was established in 1896 with the purchase of the Paducah (KY) Sun. It is now in its fourth generation of family ownership.
The company owns 32 daily newspapers in the Southeast and Midwest. It also owns an NBC broadcast television affiliate in Paducah.
Paxton also has a concentration of newspapers in North Carolina, where it owns seven dailies.