Publishing Companies Ink Online Employment Ad Partnerships
Back to News
---
In an effort to stem the outflow of classified advertising to the Internet, protect their franchises and position for an inevitable future of coexistence with the web, most publishing companies across the country have spent a great deal of time over the last two years deciding between two important choices – build it themselves or partner up. Although a number of publishing companies have successfully built their own web-based classified platforms, others have chosen to actively seek Internet partners to prepare for the future.
And the race to the partnership altar is well underway. With the bulk of the deals cemented in 2006, nearly 30% of the daily newspapers in the country have established a partnership with one of the "Big Three" employment sites on the Internet – Yahoo! HotJobs, Monster and CareerBuilder.
The trend began gathering momentum in the late summer when the Philadelphia Inquirer and Daily News partnered with Monster following the dailies' sale by Knight Ridder.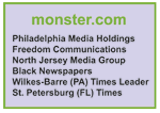 Monster further strengthened its industry partnership with a recently announced deal involving daily newspapers owned by Freedom Communications, North Jersey Media Group, the Honolulu Star Bulletin and two other ex-Knight Ridder newspapers. Late in the year the St. Petersburg (FL) Times dropped its CareerBuilder affiliation for Monster. By next April, nearly 50 daily newspapers will be in a partnership with Monster.
In late November came the news of a widely anticipated and significant partnership between Yahoo! and seven large publishing companies that will reinvigorate the internet company's HotJobs recruitment platform. Under the terms of this deal, more than 213 daily newspapers (Media General announced that it is joining the consortium in early December) will have the ability to post their employment ads to HotJobs and use the platform's technology to post their own online job ads.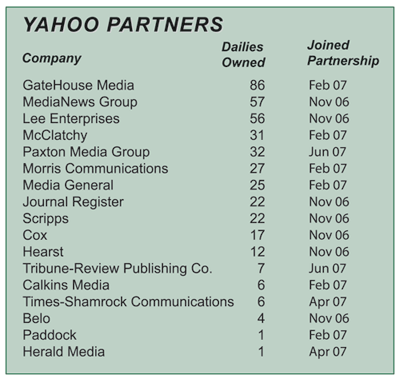 Dean Singleton called the deal "transformative." Singleton has long embraced partnering with companies others fear as competitors. MediaNews Group was one of the first to partner with Advo in the delivery of inserts. With the Yahoo deal he is willing to share the content generated from his local newspaper franchises in exchange for superior technology and reach.
CareerBuilder, jointly owned by Gannett, Tribune and McClatchy, ranks at the top of the Big Three in terms of number of listings and traffic statistics. The recruitment site not only services the employment ads of the owners' dailies but also has a number of non-owner daily newspaper partners as well. According to CareerBuilder's website, the platform currently has 157 daily newspapers participating in the service.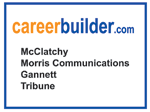 A number of locally generated consortiums have also sprung up around the country. CTjobs.com, for instance, is a regional job site in Connecticut with participation from nine daily newspapers across Connecticut and coastal Rhode Island.