---
Ten years ago, author Joel Garreau, then senior writer for the Washington Post, coined the term "Edge Cities" in describing new cities springing up throughout the country. His book of the same name described these fast-growing places as communities that had emerged as distinct cities within the shadow of larger urban areas.
A close look at the U.S. counties projected to have the fastest growth in retail sales over the next five years shows a continuation of this trend. More than half of the 25 counties projected to experience the highest five-year growth rates in retail sales are emerging "Edge City" areas like Loudoun County, Virginia, and Douglas County, Colorado.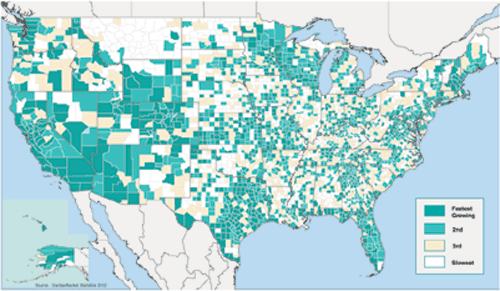 The U.S. map breaks down the five-year projected retail sales growth by county into four segments. The darkest colors shows those counties with the fastest projected retail sales growth, while the lighter-shaded counties are those projected to have the slowest retail sales growth.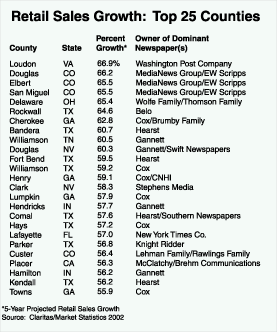 The table lists the 25 fastest-growing retail markets. It also shows the 20 different newspaper companies that can lay claim to all or part of these 25 fastest-growing counties.
It is important to realize that eight of these 25 fastest growing counties are relatively small, with a population of less than 25,000, and in some cases a relatively small retail base from which to start. The average population size of the 25 counties is 166,000. Of these 25, Clark County, which encompasses the city of Las Vegas, Nevada, is the largest with 1.5 million people. Custer County, Colorado is the smallest of the group with just 4,000 people.