---
Differences in performance between large- and small-market newspapers and those in different parts of the country point to recession as the main driver of lower 2008 ad revenue. However, newspaper publishers will have to adjust to lower revenue levels going forward.
The newspaper industry has been through painful recessionary periods before. Just look at 2001 when ad revenue fell by 9%.
But somehow this one feels different.
After a difficult 2007 this year is off to a tough start, particularly in the larger markets. The public newspaper companies that report monthly revenue are showing advertising declines in the 7% to 15% range for the first two months of 2008.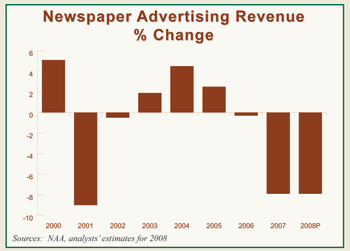 No one doubts at this point that 2007-2008 will be the worst two-year period for the newspaper industry in the post-World War II era.
These broad-brush looks at the industry, however, mask a much more diverse and complex picture – one where you get a very different perspective depending on size and geography.
Size in the sense that small-market newspapers tend to be performing better. Indeed, many companies oriented around smaller newspapers saw ad revenue increases in 2007, and some individual newspapers are showing up numbers this year.
Geography in the sense that newspapers in hot real estate markets, especially those in California and Florida, are showing the highest percentage declines as these markets cool.
"It's hard to call the newspaper industry one-size-fits-all right now," says William Dean Singleton, chairman of Denver-based MediaNews Group. "We've got some newspapers still showing revenue growth. At others, they tell us the world's coming to an end some days."
The primary culprits in the 2008 revenue decline are the major classified categories – employment, real estate and automotive.
As a result, it is not hard to see why the larger market newspapers, where these categories are a bigger part of the business, are feeling most of the pain. Small market operators like to say they "never had it to lose."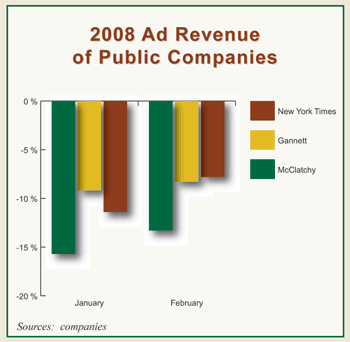 The central debate about the losses in these categories is how much of it is structural – that is, how much of it is gone for good.
Structural changes don't just refer to migration online. Consolidation in the retail, telecom and automotive sectors represent structural changes as well that have an impact on newspaper advertising.
In an effort to assess the industry view on advertising trends, we canvassed a number of chief executives at public and private companies operating small- and large-market newspapers.
While there are no easy answers, a general consensus emerged that at least half of the current downturn in ad revenue is attributable to national economic conditions and likely the percentage is much higher in medium-sized and smaller markets. This is business the executives expect to come back when the economy begins to grow again.
Most agreed that the industry is in transition and that expectations going forward will have to be more modest. When the business does return, it may be online where some newspapers cannot be as aggressive with rates.
Yet, the executives largely expressed expectations that revenue and profit growth will return sometime in 2009, depending on the severity of the current recession, and long-term optimism about the industry.
"We would be foolish to think classified will come back to where it was before," says David Lord, president of Pioneer Newspapers, which operates dailies and weeklies in the Northwest. "But I feel confident about the future. We have such a strong position in our communities. If we are smart and supplement our core products with ancillary products, both print and online, we will be fine."
The following are excerpts from our interviews with some of the industry's chief executives.
William Dean Singleton, Chairman, MediaNews
Group We've had structural changes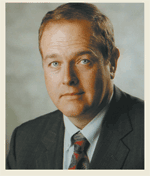 going on for several years and some of it is definitely permanent. Then along comes the recession. Newspapers start to see the recession trends six to nine months before the rest of the world does. We are the canary in the coal mine. You put structured change and recession together and it's a pretty nasty world.
Print advertising will never come back to where it was. It will probably continue declining; online will grow. In the 2nd and 3rd quarters of 2009, online will soar.
We will see revenue grow again, but we won't get the big bump we traditionally experienced.
Are we still going to have a good business? Sure. We will have to reset normal revenue levels. Now it's time to reset costs. The costs we are cutting today, we are not going to bring back.
I believe we will start to see profit growth no later than the second half of 2009. Right now we are modeling revenue stability and lower costs in the 1st quarter of 2009. MediaNews Group is a privately owned company that operates 67 daily newspapers in 13 states.
Michael Bush, President & CEO, Heartland Publications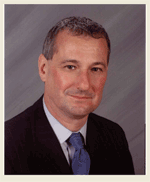 During 2007 we were able to offset most of our losses from the majors, national advertisers, and auto with local retail. We were able to overcome those through local, controllable accounts and new programs.
In the last week of November, local advertisers got scared, and from that time until now we've seen a lot of fluctuations there.
If we can keep our advertisers from believing all of the network news and concentrate on their own markets, we do okay. Overall it's still close to last year, and in a lot of our markets we are up. It tells me that it is more recession-related. Heartland Publications is a privately owned company with 32 small-market dailies and weeklies, primarily in the East.
Mike Reed, CEO, GateHouse Media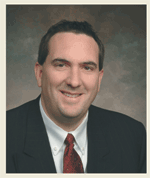 The majority of the declines we are seeing are in the classified categories – real estate, automotive and employment. These are transaction-based categories, and by that I mean when car dealers are selling more cars, they advertise more; when realtors are selling more houses, they spend more on advertising, etc.
There's no question that the economy is in a contraction mode. The rest of the business is performing pretty well. It's flat, which is what you would expect in a contracting economy.
When the economy improves, we will see the classified revenue come back. I do think it's more cyclical than secular in our markets.
Online has been proven to be a good medium for employment. We will control that in small markets. We will be the dominant provider in the smaller markets, whether it's print or online. We're seeing some pretty strong rates online for employment because it has proved to be effective.
In real estate and automotive there is still a good opportunity for newspapers to be the primary source for reaching out and touching customers. GateHouse Media is a publicly owned company with more than 100 daily newspapers, principally in smaller markets, spread across the U.S.
Jay Smith, President, Cox Newspapers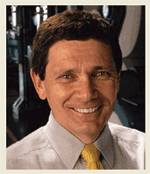 I am guessing that half (of the advertising losses) is structural and half is cyclical. The structural piece is the one about which we should be most concerned.
At Cox we are pushing very hard to build a better paper with our online operations. From the standpoint of revenue, that is our promise and our hope. We have to recognize that our mass medium, one-size-fits-all model – especially in our larger markets – probably is a thing of the past. We have to be serving readers with a newspaper that is relevant to them.
This too shall pass, and when it does we better have something in place to serve our readers and advertisers.
We should see – particularly online – some really exciting things happening in the second half of this year with the Yahoo partnerships. We are going to be able to do some things online that we never could have done on our own. Cox Newspapers is a privately owned company with 17 dailies and 26 non-dailies, including the Atlanta Journal-Constitution.
Jeremy Halbreich, Chairman, President & CEO, American Consolidated Media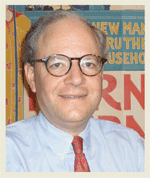 We finished 2007 with total revenue up in the low single digits. January and February pretty much the same story. It speaks to the health of the industry in these smaller markets.
Our larger markets are feeling some softness in real estate and auto. Retail has remained strong.
Some of it is structural; we are not going to see it come back. The real estate folks will come back because print in these local markets will continue to be an important vehicle for them.
The level of competition is not the same in the smaller markets. The online players don't have the scale they need in these markets, and we are positioned to provide the online needs of our local communities. ACM is owned by Macquarie Media Group, which is publicly traded in Australia, and owns small-market dailies and weeklies in the East, Southwest and Midwest.
Gary Pruitt, Chairman, President & CEO, The McClatchy Co.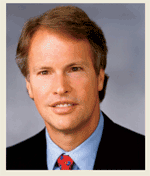 About 60% of our decline is still coming from California and Florida, even though newspapers in those states represent a little more than 30% of our revenue. The fact that there are such regional differences indicates to us that perhaps as much as half of what is going on this year is cyclical, since those states have experienced the most severe downturns in the housing markets.
Those papers were among our best performing papers before the recession and will be again after the recession.
There is reason to believe that 2009 will be a better year because U.S. recessions typically last about one year. With 31 daily newspapers, publicly traded McClatchy is the nation's third largest newspaper company.
David Lord, President, Pioneer Newspapers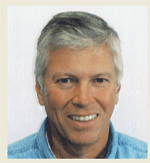 My sense is that it is largely driven by economic conditions rather than a migration online. We are noticing it most in real estate-driven markets.
We are monitoring the online competitors, and we did not notice any significant migration to online sites in employment and real estate.
We are seeing some gains in local advertising to offset the classified losses. We are also seeing increases in niche products and online. Pioneer Newspapers is a privately owned company with dailies and weeklies in the Pacific Northwest.
David Paxton, President & CEO, Paxton Media Group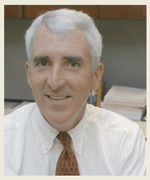 We certainly don't think we are losing share to other media. It's just that people aren't spending right now. The smaller markets are hanging in there better; the challenges are less fundamental and partly cyclical.
I have confidence that advertising dollars will stabilize and build back because I am not sure those advertising dollars have other places to go that are as effective as newspapers. Paxton Media Group is a privately held company with 32 daily newspapers in the Southeast and Midwest.