---
by Thomas J. Buono, BIA Financial Network
The television industry consists of more than 1,240 full-power commercial stations that generated more than $19 billion in advertising revenues in 2001. There are more than 200 separate TV markets in which Nielsen tracks ratings. Consequent-ly, there is an average of more than six stations per market, with more than 10 stations competing in a number of the larger markets. A total of 310 different companies own commercial full-power stations.
Despite the large number of stations and owners and media ownership hype, fewer than 200 stations have typically changed hands in any year. As shown in the chart, transaction levels exceeded 200 stations in 1995-1997. Much of this increase in activity was due to the 1996 Telecom Act, a booming economy, and the high profile of media. This resulted in some highly touted mega-mergers and large group deals that accounted for a majority of the station transfers.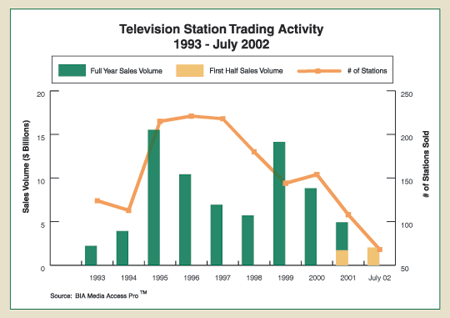 Since 1999 there has been a significant downward trend in the value and number of stations sold. In 2001, the slowdown in activity could be attributed to a downturn in the national economy, a softening of the advertising marketplace, and tightening of available financing. The downward trend has leveled off through the first half of 2002. Despite some rebound in the economy and an increase in television advertising, there have been fewer than 60 TV station sales through July.
The lack of transaction activity during 2002 is clearly tied to delays in the television ownership rule changes. We expect an active transaction marketplace for 2003. The increase in demand, as the networks and newspaper companies are allowed to pursue new acquisitions, is expected to push the volume of transactions and station multiples back to 1999/2000 levels. Those who can reach agreements and structure transactions prior to the rule change would benefit from the rebound in values.