American Consolidated Media Announces Purchase of Superior Publishing Corporation
Back to News
---
DALLAS, TX, JUNE 10, 2007 – American Consolidated Media LLC ("ACM") of Dallas, Texas has announced that it has purchased Superior Publishing Corporation ("SPC"), publisher of 19 publications in northern Minnesota, Wisconsin and Michigan. The announcement was made by Jeremy L. Halbreich, Chairman of the Board, President and CEO of ACM along with Charles R. Johnson, President and CEO of SPC. American Consolidated Media is acquiring SPC from MCG Capital Corporation (NASDAQ: MCGC), a Business Development Company. The transaction is expected to close by the end of June 2007.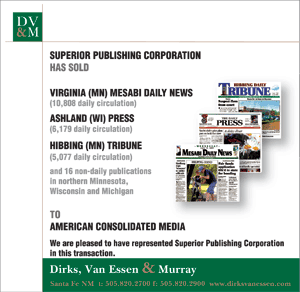 Dirks, Van Essen & Murray, a newspaper merger-and-acquisition firm based in Santa Fe, New Mexico, advised MCG Capital Corporation in the transaction.
"In the past month my associates and I have traveled northern Minnesota and Wisconsin on several occasions and we could not be more impressed by these communities and the people," Halbreich commented. "ACM has a broad strategy to build a newspaper company in the United States comprised of superior, high quality, local community newspapers with traditions of strong service to their local communities. The quality publications of SPC along with their management and employees fit this pattern perfectly."
American Consolidated Media was founded by Halbreich in 1998 and became part of Macquaire Media Group in February of this year. With the addition of SPC, the company will grow to 65 publications, including 9 daily newspapers, in Texas, Oklahoma, Minnesota, Wisconsin and Michigan. "This is a great fit and future for our employees, our newspapers and our communities. ACM has an aggressive strategy of growth and investment in the communities served by their publications. I look forward to working with and being part of the ACM team," Johnson said. He will remain as President and CEO of the SPC group of newspapers for ACM.
ACM is a wholly-owned subsidiary of Macquarie Media Group ("MMG"), a publicly-traded investment vehicle listed on the Australian Stock Exchange. MMG is based in Sydney, Australia and holds a portfolio of media businesses globally including 100% interest in Macquarie Regional Radioworks, owner and operator of 87 rural and regional radio stations located throughout Australia; 60% interest in Taiwan Broadband Communications, one of three leading cable television broadcasters in Taiwan; and, 13.8% interest in Southern Cross Broadcasting, a publicly-traded company with holdings in radio and television broadcasting located in the larger cities of Australia.
ACM currently owns and operates six daily newspapers in Alice, Brownwood, Stephenville and Waxahachie, Texas and in Miami and Grove Oklahoma; thirty-five weekly publications in McAllen, Brownsville, Harlingen, San Benito-Los Fresnos, Laredo, Edinburg, Rio Grande City, Bonham, Fannin County, Midlothian, Ennis, Red Oak, Italy, Alvarado, Ellis County, Erath County, Brown County, Ballinger, Winters, Hearne, Franklin, Calvert, Robertson County, Orange Grove, Premont, Jim Wells County, Kingsville, Freer, Robstown and Nueces County, Texas and in Ottawa County, Picher, Delaware County, Langley and Jay, Oklahoma; and, five specialty publications in Texas and Oklahoma.