American Hometown Publishing Acquires Tennessee Weekly Community Newspapers
Back to News
---
HUMBOLDT, TN, NOVEMBER 20, 2006 – Frank Warmath, president of InfoStructure News Media, Inc., announced today the sale of Tennessee weekly newspaper assets and a printing company to American Hometown Publishing, Inc. Terms of the transaction were not disclosed.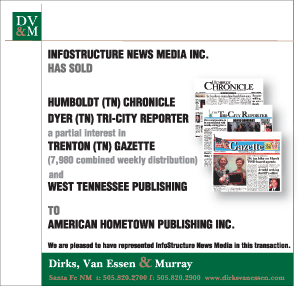 Included in the sale are the Humboldt (TN) Chronicle, the Dyer (TN) Tri-City Reporter, a percentage interest in the Trenton (TN) Gazette, and West Tennessee Publishing. The operations are concentrated in Gibson County, Tennessee.
Dirks, Van Essen & Murray, a newspaper merger-and-acquisition firm based in Santa Fe, New Mexico, represented the InfoStructure News Media in the transaction.
American Hometown Publishing, based in Nashville, TN, was formed in late 2005 by L. Daniel Hammond, who serves as the company's president and publisher. American Hometown focuses on acquiring and managing community newspapers. The company recently completed the acquisition of weeklies in Brownsville, Covington and Henderson, Tennessee. In addition to weekly holdings in Tennessee and Virginia, it owns and operates daily newspapers in Blackwell and Guthrie, Oklahoma.