Anteebo Publishers Sells Grosse Pointe (MI) News to Point News Group LLC
Back to News
---
GROSSE POINTE, MI, MAY 31, 2007 – Anteebo Publishers Inc. announced today it has sold the paid weekly Grosse Pointe (MI) News to Point News Group LLC. Terms of the transaction were not disclosed.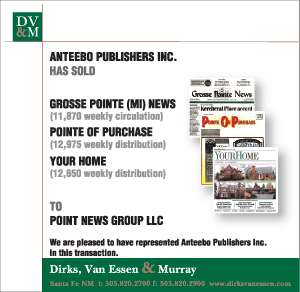 Dirks, Van Essen & Murray, a newspaper merger-and-acquisition firm based in Santa Fe, New Mexico, represented the family shareholders of Anteebo Publishers, a closely held corporation, in the transaction.
In addition to the 11,870-circulation Grosse Pointe News, the sale includes Pointe of Purchase, a weekly TMC mailed to 12,975 non-subscribers, and YourHome, a real estate magazine with weekly distribution of 12,650. The publications serve the five Grosse Pointe cities along Lake St. Clair.
The Grosse Pointe News was founded by Robert G. Edgar, and has been owned and operated by the Edgar family for 66 years.
Grosse Pointe resident Robert Liggett founded Point News Group LLC. Mr. Liggett is a local investor and CEO of Big Boy Restaurants Internationa